Technology is so advanced today that you can work as an audio editor from home. This makes it a good opportunity for people with sound-editing skills to jump into the freelance realm.
As a freelance audio editor, you'll work independently to complete the jobs contracted out to you by your clients. All tasks related to editing fall in your hands: sourcing, managing, mixing, and releasing the completed work to the client.
On top of the actual editing work, there's a business side to figure out, too. It's your job to register your company, find clients, manage expenses, and pay taxes.
You don't have to eat the entire watermelon at once, though; we've got you covered here, walking you through how to become a freelance audio editor one (sound) bite at a time.
​​​​
---
1. Get Real With Your Audio Editing Skills
We get that you want to dive straight into the freelance world.
Like anything worthwhile, you must plan if you want success.
Before you jump into the audio-editing business full-time, let's go over what you'll need to have as far as skills and experience.
Skills
If you're just learning about the role of an audio engineer, take some time to grow beyond the novice level. Most of your clients will want evidence of experience and proven skills.
Some clients might ask for your qualifications. It helps to have a bachelor's degree or certificate in sound engineering, but you may not need one if you have sufficient work experience as an audio tech.
Portfolio
Clients will likely ask to see a portfolio of your work. You should have one on your website. A portfolio is a compilation of your best work that shows how well you can edit audio.
Include any type of work you've done in the past:
Audio recording
Music production
Audiobook production
Mixing and mastering audio
Post-production audio
Restoration audio
Podcast editing
Audio transcription
Sound design
Use your portfolio to showcase your audio-mastering skills. Include a wide variety of work performed using different tools (Audacity, Adobe Audition, etc.) to highlight your versatility.
---
2. Handling the Money and Legalities: Budgets, Business Structures, and Taxes
Now it's time to set your business up for success by handling the paperwork.
From budgeting to paying the IRS, here's what you need to do:
Budgeting
You're serious about turning your skills into a lucrative business, so the first place to start is with a budget.
Make a list of your expenses. These must be covered whether you keep your day job and do editing part-time for a while or come up with another solution.
Then, make a second list of all the expenses you'll need to start your business.
You might already have all the pro tools and equipment to get started, which will be easy. If not, you'll have to come up with the funds to invest in high-quality essentials, like audio-editing software.
Use these lists to design a budget and stick to it. Write a business plan that predicts any challenges you may face as you try to move your freelance job into a full-time gig. Work to come up with solutions to those obstacles.
This planning process should take time. You want to put a lot of thought into the framework upfront, so it all runs smoother when you start the action steps.
Registering With the IRS
As soon as you are ready to start making money, you should register as self-employed with the Internal Revenue Service. This designation lets you write off your expenses as tax deductions.
There are two primary business structures to choose from: the sole proprietorship and the limited liability corporation (LLC). The biggest distinction between these structures is in asset protection.
In an LLC, your personal and business assets are separate. In a sole proprietorship, they aren't. If one or the other of your accounts is struggling, debtors can access both to cover your debts.
Related: The Advantages of Single Member LLC
Collecting Funds and Getting Licensed
Getting your employee identification number (EIN) is another important step. This connects your EIN to your income for tax purposes, letting you legally accept payments.
An EIN is usually required to get licensed, too. Check your state's requirements to find out if you need any licenses.
You'll probably need a general business license to show you're legit. A business license can come in handy if you're bidding on jobs with big companies.
Resources to Help
This part of the job setup is the toughest for many people. You're an audio editor, not a legal aid or accountant.
The good news is there are plenty of resources available to help you.
Everything you need to do to become a legal business entity is simplified with these three resources:
IRS.gov
The IRS has an incredible wealth of helpful resources and easy-to-follow instructions for small business owners.
SBA
The United States Small Business Administration provides access to free counseling services. You may be eligible for loans or grants through the SBA, as well.
Selfgood
Selfgood is an all-in-one resource for self-employed workers like you. An Alliance of Gig Workers membership gives you access to discounted legal help and support. When it comes time to get organized, file your taxes, or create contracts, Selfgood has you covered.
Join Selfgood today to start enjoying our benefits for freelancers!
---
3. Investing in Equipment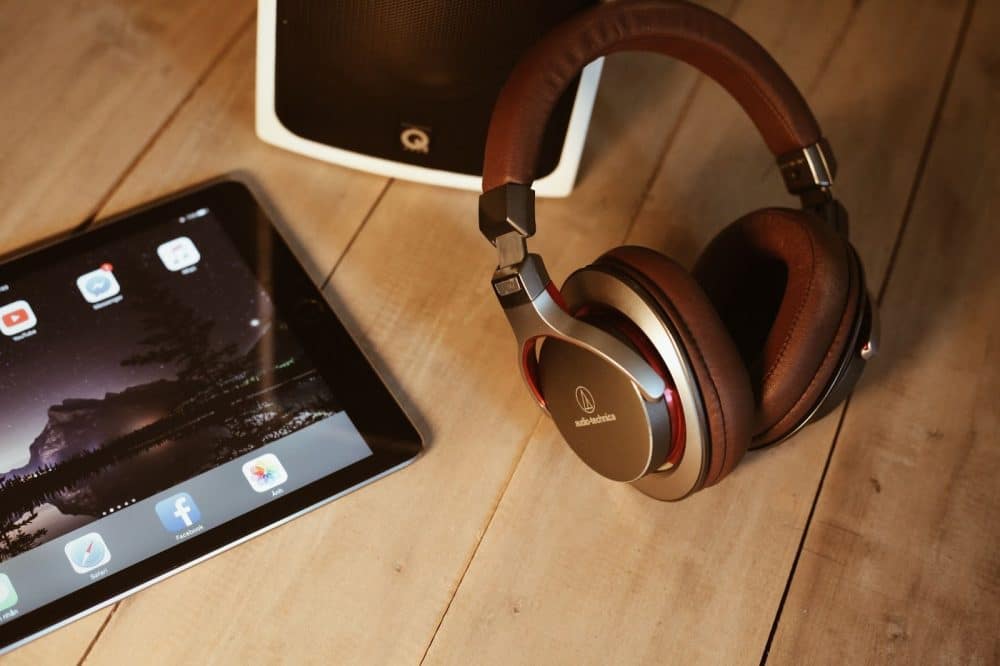 An audio editor is only as good as the equipment and software they use.
Your skills might be on point, but if your editing equipment is subpar, clients will notice.
Equipment Recommendations
As you're building your budget, you'll have some things you want and some you must have.
Look around for options in your price range, but don't skimp on these four vital pieces of equipment:
A Digital Audio Workstation (DAW)
A DAW is the software application you'll use to record, edit, and create audio files. It's the most integral part of your project management solution.
Your DAW is your best friend for working on audio-editing jobs. Focus on finding the right workstation first, and set up the rest of your workflow around it.
The ideal DAW will have the core features, like filtering, multitrack recording, and modification options. If there's a specific formats you prefer to use, make sure to buy software that has it.
For example, Logic is designed to work solely with Apple computers. Ableton is the Windows alternative.
Critical Accessories
Once you have your DAW, add some compatible accessories.
A midi controller, or grid controller, allows you to arrange music and create samples.
Studio headphones provide neutral sonic balancing for mixing tracks. Headphones help you hear what your song will sound like to others so you can correct any imperfections before releasing your work to the client post-editing.
You need an audio interface, too. When you're editing non-MIDI vocals and instruments, the sound doesn't always integrate with the rest of the music. Your audio interface allows you to translate live recordings to the audio file.
---
4. Marketing Your Business
Now that you have a portfolio and equipment, it's time to start finding clients.
Here are a few ways to get the word out about your services:
Social Media
Social media lets you promote your skills to people who might need your help in the future. It's also a smart way to get word-of-mouth referrals.
Social media networking is a skill all by itself, though. If you don't have the time, patience, or knowledge to be consistent, start with one platform. You can always expand when you're ready.
You might also consider hiring a social media marketer to do it for you. What you spend on the marketer, you'll recoup with more clients.
Search Engine Optimization
Search engine optimization helps you increase the visibility of your site in search engine results. In other words, you can get your site to show up in the search results when someone searches for "audio editors near me."
There's a lot that goes into SEO, but one of the most effective things you can do is start a blog on your website. Writing about topics related to your industry can drive traffic to your website, which can make your site appear in more Google searches.
As with social media, you may want to hire a professional to help you with SEO. This investment will pay for itself over time.
Use Freelancer Platforms
It's easier than ever to find freelance jobs.
Websites like Freelancer.com and Upwork have thousands of job listings from people who need your skills. Companies in New York, Los Angeles, and other cities around the world use these platforms to find independent contractors.
Create a profile, set your rate, and upload your portfolio. Look for listings that match your skills, and send a cover letter to the hiring client. You could have work within a day of signing up.
As you complete more jobs and make more clients happy, your rating increases. Other clients browsing freelancer profiles will see that you're known for quality work, and they may reach out to you without you even having to apply.
Instead of always looking for new job postings, you'll have a steady supply of work.
Tip: Don't Bite Off More Than You Can Chew on Freelance Platforms
Read every job description carefully when bidding on jobs. If it includes tasks you're not comfortable with, don't try to fake your abilities.
It's okay to work just outside your comfort zone to learn new skills as you go. However, going so far out of your scope will show in your work.
Freelancer platforms make it easy to exaggerate your skills to clients. This will hurt you in the long run, as your clients may leave poor reviews that don't go away.
Target a Specific Niche
Marketing to one niche can help you find consistent work. If one client is happy with your work, other clients in a similar niche might find value in your services.
For instance, let's say a videographer hires you to ensure that any voice-overs and sound effects match up with their motion graphics.
Once you complete that job, reach out to other video-editing companies. Some of them likely need audio producers. You can build a steady stream of clients this way.
This tactic also gives you exposure to a new side of your industry. Working in video production, for instance, you'll learn which skills you need to grow your business even more.
Would learning Adobe Premiere Pro, After Effects, or Final Cut make you a more valuable asset to music video editors?
Take e-learning courses to master those programs and expand your skill set. You'll be able to increase your rate moving forward.
---
5. Tidying Up the Other Stuff

A few last thoughts before you head off to apply for jobs.
As a small business owner, you have some tasks on your to-do list unrelated to audio production.
Your health is a priority. If you're sick, you can't work, which means you may lose clients as well as your income.
What are you doing about prioritizing your wellness?
You're more likely to go to the doctor for preventative care when you have health insurance. If you have a cold you can't shake, you'll schedule an office visit for antibiotics.
In other words, you'll get better faster if you don't have to pay cash for each visit. You think you're out of luck because you lost your employer-sponsored healthcare when you quit your job, but you're not.
You have Selfgood.
That Alliance of Gig Workers membership that got you discounted legal advice can also help you care for your health. Selfgood has a large membership pool of gig workers from all over the country, giving you access to affordable supplemental health insurance.
On top of those benefits, members get everyday discounts from hundreds of companies. It's an investment worth checking into while you're setting up your business.
Sign up for freelancer benefits today!
---
Conclusion
Now for the outro, if you will:
Freelance audio editors are in high demand. It can be difficult to find a knowledgeable editor with the right skills and equipment to do such precision work.
In other words, you could have a very successful career in the audio/video biz.
With help from Selfgood, you'll take your talents into the arena of audio mastering and come out triumphant.
Subscribe To SelfGood
Get up to date perks and Gigworker news. Easy. Simply. SelfGood. Subscribe.