Being a freelance barber comes with tons of great benefits. Some of these benefits create freedoms that traditional barbers just don't get to enjoy.
Making your schedule and forming long-term relationships with clients are just a few perks of the job.
But having your own business comes with some extra work to ensure that everything runs smoothly.
Ready to start your new career journey as a freelancer? Here's how to set up a business as a freelance barber.
---
How to Set Up a Freelance Business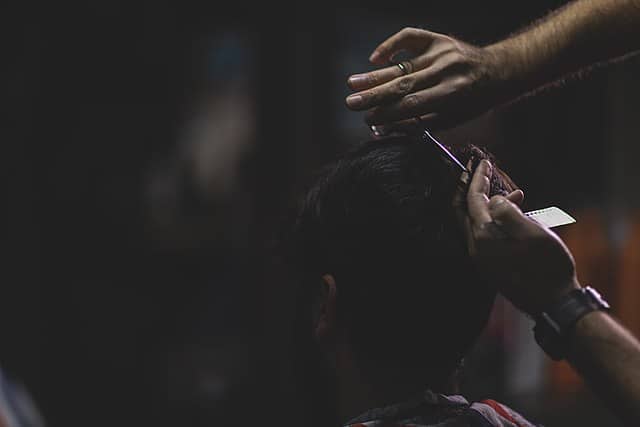 Now that you are looking to go into business for yourself, you'll have to take the time to set up your business properly. Setting up a freelance barber business is like setting up any other small business.
Here are the steps you'll need to follow to set up your freelance barber business.
Pick a Name
You'll have to pick a name for your hairstyling business. You can research other competitors in your area to ensure that your name is unique and eye-catching to clients.
Once you have your name, you will be conducting all of your business under that name. So make sure you like it and want it to stick.
Register Your Business
Now that you have a name, you can register your business. The most common way that small businesses register is as an LLC.
A limited liability corporation allows you to set up your business for just yourself. You can avoid some of the requirements that come with other small business registrations.
Once you register your business, you can start working and collecting money as a business rather than as an individual.
This can come with benefits like tax deductions that you wouldn't have had working as an individual.
Get an EIN
An EIN is your employer identification number that the IRS will use to collect taxes from your business.
You can sign up for one online and then make income for your hairdresser business.
Find a Location
As a freelance barber, you may end up going mobile. So instead of having a location, you can go to your clients.
You may also prefer not to work out of a traditional storefront. If that's where your heart is, consider converting a van or vehicle into a barbershop. This vehicle can then be mobile or stationary, making house calls to your clients.
Your next option is to rent a traditional space. Or, you can also rent space in an existing salon with barber chairs and bring clients to you if that's more your style.
Now that you know the steps to set up your business as a freelance barber, you'll need to understand some of the specific rules and guidelines you'll need to follow.
Subscribe To SelfGood
Get up to date perks and Gigworker news. Easy. Simply. SelfGood. Subscribe.
---
Specific Rules for Doing Business as a Freelance Barber
When it comes to being a freelance barber, there will be specific requirements you'll have to follow.
Most barbers will have already fulfilled these requirements before deciding on a freelance career.
But if you are just starting, here are some of the things you'll need to be a professional freelance barber:
Cosmetology License
Even if you aren't a freelance barber, anyone who works as a hairstylist will need a cosmetology license. The steps you need to take to acquire your license vary from state to state.
You can obtain a cosmetology license once you've completed beauty school. You can find a list of resources by state and beauty schools near you.
Once you have your cosmetology license, you can work as a male groomer anywhere. Whether it's a salon chair or as a mobile barber, you're ready to get creative and make beautiful styles.
Additional Regulations for Freelance and Mobile Work
Freelance professional barbers must meet additional regulations. In addition to your cosmetology license, you will need to ensure that you have the appropriate business licenses.
Keep in mind that every state will have different regulations for opening a freelance business.
Plus, you may have to apply for the appropriate licensure if you decide to open a mobile barbershop. Again, these vary by state, so it's a good idea to check out local resources to ensure you're ready for business.
Now that you have your business set up and are open for clients, you have to learn how to run it successfully.
Remember, you don't have to go it alone! Join
Selfgood
today to enjoy financial, legal, and everyday benefits as a freelancer.
---
Keep Track of the Business Side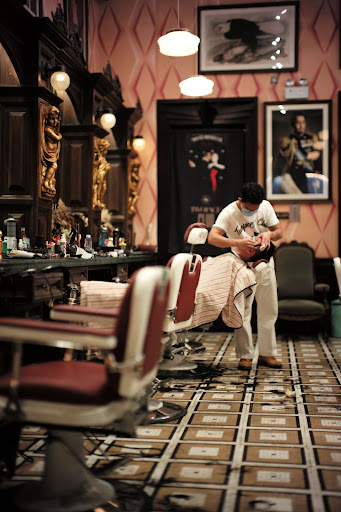 Being a modern barber allows you to work on something creative and rewarding every day.
And being a business owner can help you expand on that.
But there are a lot of moving pieces that you may not have realized that need to be taken care of when you first started your business.
To ensure your business runs smoothly, here are some ways to keep track of your business affairs.
Do you Need Permits?
Once you have your cosmetology and business licenses, you will be good to go to open your business. Be sure to keep track of your permits and when they are due for updates.
Cosmetology licenses expire after a specific time, which varies by state.
In most states, a cosmetology license expires every two years. You will have to take continuing education credits and renew your license to keep it valid while practicing as a freelance barber.
Some states require additional permits if you decide to be a mobile barber.
For example, mobile barbers in California have to fill out a mobile license form with a $150 fee.
Check Local Requirements
As we stated, requirements for offering your barbering services as a freelance professional vary by state.
Be sure to look into the requirements that the state you are practicing in has. This ensures your business is in the best legal shape.
---
How to Set Up Your Taxes as a Small Business
When you work for yourself, you have to pay business taxes.
If you used to offer haircuts in a salon, these are things that your employer handled.
As a small business, you will need to pay a self-employment tax of 15.3% in addition to income tax. These are the taxes your employer would have taken out if you were an employee.
But as a freelancer, you have to set up a system to pay these taxes yourself.
You can create a payment plan through EFTPS to pay your quarterly federal taxes throughout the year.
---
How to Keep Your Business Organized
You are running your own male grooming business. It's exciting and the job you love.
But remember: you must keep your business organized!
Here's how:
Organize Your Accounting
When you go into business for yourself, business accounting responsibility falls on your shoulders.
This means creating fair prices for your services, collecting the money from your clients, and keeping track of your expenses.
Many programs can help you keep track of everything and stay organized.
Another aspect that falls under accounting is your benefits.
When you were an employee, your employer offered you specific benefits.
Make sure you don't miss out on benefits and pay from your pocket. If you're a freelance barber,
Selfgood
has your back. Selfgood has affordable and flexible benefits that freelance and gig workers can utilize.
Invest in Liability Insurance
One of the last things you need to do for your business is to invest in liability insurance.
You may have an excellent rapport with your clients, but you want to make sure you keep yourself protected.
Maybe you get a new client that tries to sue you for causing an allergic reaction during the shampooing process.
It is a crazy situation, but you will be protected if you have liability insurance. You also need this insurance for your equipment to protect against damages.
---
Market Your Business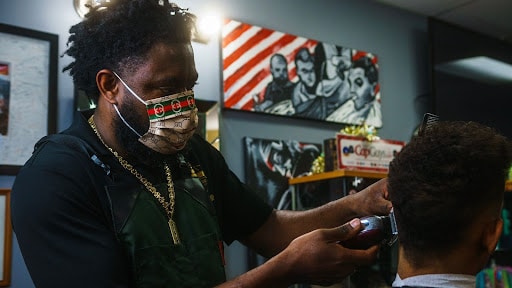 As a freelance and mobile business, you have many opportunities to market yourself. The only way you will grow as a freelance barber is with excellent marketing. Luckily, it's easier than ever to market yourself on a budget.
Digital Marketing
Digital marketing, the freelancer's best friend.
As an independent business, you should use digital marketing to your advantage. It's the easiest way to get the word out about your business to the most people possible.
Here are the specific steps to follow to design a digital marketing strategy for your freelance barber business:
1. Create a Website
Having a business website makes it easy for potential clients to find you and book appointments.
You can showcase your skills and products on your site for extra revenue. You can also optimize your website to come up in search engine results more often.
Having a website is a foolproof way to have clients find your business and book their appointments.
2. Social Media
Just having a website isn't going to cut it anymore.
But having a stunning Instagram showcasing your haircuts can help do the trick. You can even make videos on TikTok of hair transformations to reach more people.
If you offer additional services, like facials, this is where to show that off to help you stand out, too.
Social media is a free and easy way to showcase your talents and draw in more clients.
As long as you have coherent branding across your socials, your clients will be able to find and share your content easily.
3. Email Lists
When you become a freelance barber, one of the easiest ways to start is to bring your clients with you.
Use the digital world to your advantage and have your clients sign up for an email list. This is where you can put promotional opportunities and referral codes for your clients.
It gives your clients incentives to bring in more customers and make those customers want to stay.
Digital Advertising
Once you have your website and social channels set up, you can use digital advertising for your business.
The best part about digital advertising is that it is flexible to fit your budget. You can run an ad for as little as $10 if you want.
Creating digital advertising campaigns can help you expand the reach of your business and bring in more customers on a tight budget.
---
Benefits of Being a Freelance Barber
There are countless benefits to being a freelance barber. At Selfgood, we want you to know that we think you're incredible for blazing your path.
Here are just a few perks to relish:
Be Your Boss
Deciding to step out of the salon and create your own business is no easy task. But you did it because you want to be in charge of your own life.
When you own your own freelance barber business, you can do any style that you want without answering to anyone else.
Set Up Your Schedule
There is a ton of freedom that comes with being a freelance barber.
You get to create your schedule and only see clients when you want to. This can open up your world, allowing you to spend more time with friends and family.
Or maybe you just wanted some more vacation days to get your travel on. Either way, being a freelance barber ensures that you can work when you want.
Own Your Freedom
Another part of the freedom of going freelance is the financial gain. You don't have to worry about salon commission fees and renting out a chair when you work for yourself.
All of the money you earn goes directly back to you and your business.
Even though going freelance can be a challenge, it can be worth it in the end for financial freedom.
Getting Great Benefits
As a freelance worker, you don't have to miss out on the benefits that your corporate friends are getting.
And remember, you can use platforms like
Selfgood
to get customized benefits at the best rates. Being a freelance barber can be challenging, so make sure you keep yourself covered with incredible benefits from Selfgood.
---
Conclusion
Becoming a freelance barber is the first step to having freedom as a stylist.
You have the opportunity to create incredible bonds with your clients while expanding your business without limitations.
Working in a shop can feel secure. But starting your own business can take your craft to the next level.
As a freelancer, make sure you take care of yourself by investing in benefits by joining Selfgood.