Since the pandemic struck in early 2020, many people have realized that working from home is very easy. If you have all the digital products you need to do your job, you can work just as efficiently from the comfort of your own home as a remote worker or digital entrepreneur.
This new reality is driving two major trends:
Small business owners giving up their office spaces and going all digital
Full-time employees leaving their jobs to build digital startups
If you're here because you're thinking about becoming a digital entrepreneur, you've come to the right place. In this guide, we'll show you how to use digital technology to start your new business or transform your existing one.
---
What Is a Digital Entrepreneur?
A digital entrepreneur is a person who conducts their business entirely in the digital space.
In other words, all the digital entrepreneur needs is a great internet connection and a computer.
Types of Digital Entrepreneurs
When it comes to being a digital entrepreneur, the opportunities are endless. Whether you're selling products or providing a service, there are all kinds of business models that fall under the umbrella of digital entrepreneurship.
Here are some examples:
Tech Services
You might offer tech-related services like coding, app development, and website building.
If this is your business venture, you'd likely work as an independent contractor for other companies.
Digital Marketing
You might also work in content creation as a blogger, copywriter, or editor. Many companies hire freelancers to help with content marketing, and this is a good opportunity if you have writing skills.
E-Commerce
If you enjoy selling products, you can go into digital commerce. E-commerce allows you to set up digital stores to sell products to customers.
Plus, with dropshipping services like Amazon FBA, you can sell products without having to store inventory. This is amazing if you want to run a low-overhead business!
Art/Design
Creatives can benefit from becoming digital entrepreneurs, too. Whether you're working as a freelance graphic designer or selling prints on an online platform like Etsy, there are many opportunities to build a digital business around your artistic talents.
Media
There's plenty of room in the digital world for people who enjoy entertaining. Whether you're recording podcasts, making YouTube videos, or publishing e-books, there's no shortage of opportunity for content creators.
Education
In the past, if you wanted to be a teacher, you'd have to get a job at a school or educational institution.
But today, you can teach online courses without leaving your house!
Platforms like Udemy let you record your video courses and sell them to subscribers for an enrollment fee. So, if you're an expert in a particular topic or can teach methodologies in a specific field, you could make a living as a teacher (and without having to show up to class every week!).
Note:
Working as an independent contractor is a lot of fun, but you miss out on the benefits of being a full-time employee. But with products like
Selfgood
, you can have all the benefits that you'd get in a full-time job!
---
How to Become a Digital Entrepreneur
One of the best things about becoming a digital entrepreneur is that you don't need much experience — you can easily start your path on this new endeavor and learn as you go.
But, here are some steps you'll take in your journey to become a digital entrepreneur:
1. Know Your Market
If you already have a freelance business, you are a step ahead. Understanding your marketing and niche will help you make the transition to digital entrepreneurship.
For example, let's say you are a freelance photographer. You already know how to schedule photo shoots and price out your services
Now, it's time to translate that knowledge into a digital platform.
You can begin to research the different ways to offer your products and services across the digital space. If you are focusing on e-commerce, you can research the best platforms to sell your products on. If you work in copywriting, set up a sleek digital portfolio to market yourself to clients.
Every business will have its niche, so knowing exactly what type of business you want will help you transfer it into the digital ecosystem.
2. Create a Cohesive Brand
There are so many digital businesses out there already that it can be hard to stand out in the beginning. This is where a strong brand identity will come into play.
Having a visually stunning website and marketing materials can set you apart from other businesses.
Since your business is online, it's crucial to have a good digital presence. This means creating a great website and social media profiles for your business.
3. Keep Everything Organized
The key to being a successful digital entrepreneur is to keep your business organized.
As a freelancer, you may already use project management tools to keep everything in order, but making going all-digital may mean having to keep track of more moving parts.
Be sure to find a project management resource that helps you keep track of finances, projects, and scheduling.
Price Your Goods and Services Right: We offer another guide on how to answer "how much do you charge?".
---
What Are the Benefits of Being a Digital Entrepreneur?
Here are some of the biggest upsides of digital entrepreneurship:
Work From Anywhere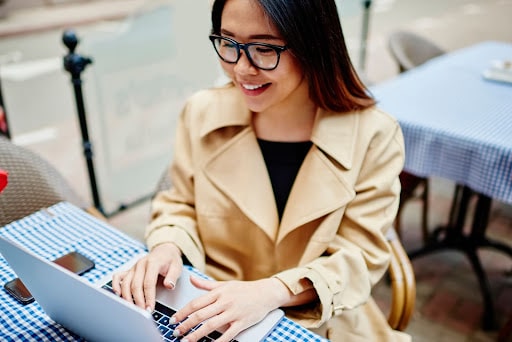 Many companies allow for remote work now, but running your own business means you'll always have the freedom to work from anywhere. All you need to run a digital business is a computer and a great internet connection.
Create Your Schedule
Working as a digital entrepreneur also means that you can set your schedule. You won't have to work 9-5 anymore.
You may even have the opportunity to work for a couple of hours a day and still make great money. Building your schedule also gives you time to focus on important things like family and friends.
Be Your Boss
Being a freelance digital entrepreneur means that you get to be your boss. You make all of the decisions for your business without worrying about anyone else's opinions.
Being in control allows you to grow and develop your business exactly the way you want.
Follow Your Passions
Being a digital entrepreneur allows you to follow your passions. You can take something that you enjoy and turn it into a profitable business.
Something that may have started as a small project can flourish into a full-time career. You can take any passion and turn it into a digital business.
Need Some Extra Financing? We Evaluate the Best Credit Cards for Entrepreneurs.
---
How to Take Your Freelance Business to the Next Level
If you already have a freelance business, there's no excuse not to be online. It may seem easier to conduct business in person, but getting your business on the internet will make it easier for clients to find you.
Once you have an online presence, you can take your current freelance business to the next level.
Here are some of the steps you can take to expand your current freelance business:
Create a Website
You're putting your freelance business at a disadvantage if you don't have a website online. Luckily, it is easy to create a website — website builders like Squarespace and Wix make it simple.
Once your website is up, you can set up tools to make it easier for your clients to book appointments and access your services. These include scheduling portals, online shops with shipping and tracking info, and galleries on your website to display your products.
Having a website is one of the easiest ways to connect with new clients. And with a bit of search engine optimization or SEO, it's an effective way to get discovered by prospective customers.
Scale Your Workload
To expand your freelance business, you must be able to handle a higher workload.
You may have started your freelance business as a side hustle or a way to make some extra cash, but when you become a digital entrepreneur, you can easily scale the workload of your freelance business.
The goal is to get so much work that your freelance business becomes your full-time source of income. By taking your business digital, you can connect with many new clients and take on more projects. If you create products, you may even get to the point where you need to subcontract an extra set of hands to help with shipping and customer services.
Scaling your workload will help legitimize your business, as well. Once people see the amount of work you are capable of doing, they'll see that you're the professional they should work with.
Market to Existing and Potential Clients
The only way you will be able to expand your business is if people hear about it. The best way to do this is through marketing.
Make sure to get your business on social media. This is a free and easy way to market your business to potential clients.
A cohesive social identity will help you find your target audience and get more customers.
Conducting business digitally allows you to keep in touch with existing clients, as well. Email automation is a great strategy for keeping clients up to date with your business. You can even send them offers via email like coupon codes or incentives to bring them back.
Your website, social media pages, and even email marketing will generate data about your audience and campaign performance. This data will help you understand how many people are looking at your business and what kind of people they are. You can then continue to tailor your business towards these audiences.
---
Managing Your Expanding Freelance Business
When you find your freelance business expanding, it may feel overwhelming at first. But, that means that you are becoming a successful digital entrepreneur.
There are a couple of ways that you can manage your expanding freelance business as it continues to grow:
Be Confident in Your Services
Your business is expanding because you are good at what you do. Be confident in the services you are providing as a digital entrepreneur.
Not seeing clients in person may make it feel like you aren't doing great work. But as your business grows, that's a sign that you're doing everything right.
Be sure to read reviews and feedback from clients and tweak your services accordingly.
Always be confident talking to clients and handling customer service requests. This will help you build those great relationships with clients digitally.
Continue Building Your Brand
As your business grows, so should your brand. You aren't just freelancing anymore as a digital entrepreneur — you are building an entirely digital business.
Ensuring that you have a cohesive brand will help legitimize you.
To create a cohesive brand, you may have to design new logos or rework your website and social profiles.
At some point, you may want to subcontract extra help to manage your online presence as well. This way, you'll be able to focus more on the other aspects of your business.
Manage Your Workflow
With your business expanding, you're going to need to figure out how to manage your workflow. There are great project management tools out there that you can use to keep track of everything.
Each industry will have different needs to keep track of. If you work in e-commerce, you can develop automated systems to track your orders and payments. If you work in content marketing, you may have to set up an email tracker to tell you when to follow up with clients.
Take Care of Yourself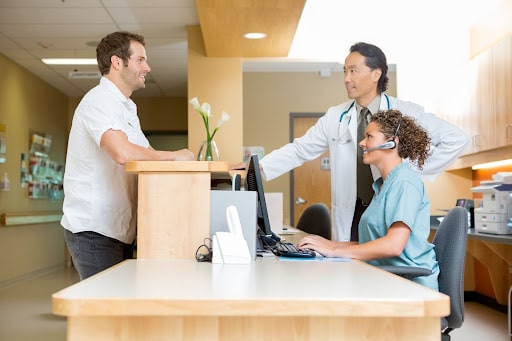 As a digital entrepreneur, you need to find a way to access benefits.
You are a business, and you should take care of yourself like a large business would if you were an employee.
Be sure to check out Selfgood for affordable benefits for gig workers. Look at the different benefit packages to find the right one for your lifestyle.
---
Conclusion
Digitalization allows you to turn your business idea or freelance gig into a full-time career.
We live in a digital age, so it only makes sense to have your business online as well. Once you take your business digital, it will be easier for clients to connect with you.
Your level of work can get better, too — what may have started as a side gig can turn into a legitimate online business.
When your business expands, make sure that you take advantage of the supplemental benefits offered by companies like Selfgood. As a digital entrepreneur, you know how to put yourself first, so don't put off enrolling in benefits.
Subscribe To SelfGood
Get up to date perks and Gigworker news. Easy. Simply. SelfGood. Subscribe.
Our Products
Everything you need in one place
Health Insurance
Customized insurance designed to meet your needs
Check Our Prices
Supplemental Health Insurance
Customized insurance designed to meet your needs
Check Our Prices

Life Insurance
Protecting the people you love
Check Our Prices