You have that rare passion that so many of us wish we had: you love fitness and working out.
If you're good at teaching others how to get in shape, pursue a career as a freelance personal trainer.
Maybe you've been down the road of working at an established chain gym, and you want to make more money. Or you've just realized that personal fitness is where your passion lies. Whatever the reason, you're ready to launch your own business as a fitness instructor.
Not sure where to go to get started?
We have the steps below to train you on how to become a freelance personal trainer.
---
1. Get Certified
You're working in the health and fitness industry, so before starting training sessions, you will need a certification to prove you know what you're teaching.
You can cross this task off your list by finding an accredited course online or near you.
Depending on your confidence in the field, you might want to jump right into the exam, or find a course that teaches you everything you need to know to pass the test and take care of your clients.
Either way, you must be at least 18 years old with a high school diploma or equivalent certification. You'll also need to have either an Emergency Cardiac Care (CPR) certificate or an Automated External Defibrillator (AED) certificate.
When looking at courses and exams, the most important factor to watch for is accreditation. If you want to ensure your certificate is accepted everywhere you apply, the certifying body must be accredited by the NCCA (National Commission for Certifying Agencies).
Ready to keep going?
The next step is to find your preferred path to passing your exam.
Once you take and pass this test, your personal training certificate is good for life (as long as you follow any continuing education requirements in your state).
Personal Training Certificate Options
Although you have to be picky enough to look for accredited companies, there are still plenty to choose from. Since they all go through the NCCA, you can be confident that you'll receive the knowledge you need to pass with any of them.
The biggest differences between programs are in:
How the information is presented to you
The cost
The time frame from start to exam
Which of these factors is the most important to you?
If you know that you learn best when you have direct access to a teacher, look for in-person courses. They can be online, but you should have an instructor assigned to you.
ACE Fitness
ACE Fitness certification programs are a popular avenue for self-paced learning with on-demand support. You can also see if any vocational colleges near you offer the program.
These certification styles usually take 30-42 weeks to complete.
Fitness Mentors
Check the Fitness Mentors Personal Trainer Certification when you want an accredited certificate that doesn't cost an arm and a leg. You'll still get all the study materials you need and exam access.
Because it's self-paced and self-taught online, it's cheaper. However, the average self-study time from start to exam is about six months.
I'm Good; Let's Just Take The Test
If you already have the knowledge and want the fastest path to your certificate, you can skip the courses and go straight to an exam.
Once you pay for the exam ($299), schedule it at a convenient testing location near you. You'll have your pass/fail results almost immediately and be able to start applying for work with the "passed" test printout in hand.
Other Time And Cost Considerations
One more thing for you to consider is your niche. We know you love fitness and enjoy helping people regain their health.
But which target demographic is your passion?
Besides the foundational personal training certification, you can add subspecialties that let you focus on niche areas. This will take more time, but it also means you can work where you wouldn't have otherwise had access.
Niche areas in personal training include areas like:
Youth
Geriatrics
Pre- and postnatal
Yoga
Strength training
Sports medicine
You can add as many specializations as you'd like if you don't mind the extra time it will take in a training program to learn the knowledge, plus the cost of passing more certification exams.
On top of the pleasure you get when you train clients that you're passionate about helping, you'll also get to charge more for your services.

Subscribe To SelfGood
Get up to date perks and Gigworker news. Easy. Simply. SelfGood. Subscribe.
---
2. Get Licensed
Certification and licensing are two different things. Getting certified means you've shown you have the knowledge to train people to increase their fitness. Getting licensed means you're legally allowed to do this in your state.
However, there isn't a universal requirement that everyone adheres to for licensing personal training. Check with your state government to find out if you need a license to be a trainer.
Federal Licensing And Other Requirements
Even if you get to skip the state licensure steps, you will likely still need a business license and an Employer Identification Number (EIN), especially if you plan to do freelance personal trainer jobs.
Why You Need An EIN
As a freelancer, according to the federal government, you're self-employed. Using your social security number to file self-employment taxes, you can operate as an individual business owner.
But if you want to get the perks of owning a business, you'll need an EIN.
The EIN is a nine-digit number assigned to your business. It allows you access to business-related benefits, like a commercial bank account, licenses, and certain tax deductions.
Possibly most importantly, you'll need an EIN to get business liability insurance. This is a must-have if you plan to open your own gym or fitness studio, or just as a freelancer.
Your certification automatically qualifies you as eligible for employment at almost any commercial fitness facility or to work from home or your client's home. Any of these roles will require you to have general and professional liability insurance (more on that later).
Read more: How Should You Register A Gig Business? Are You A Sole Proprietor, LLC, Or Independent Contractor?
---
3. Prepare Your Working Space
You've overcome the obstacles, have your certificate, and handled the government logistics. Now, it's time for the fun to begin.
As a certified personal trainer, you can operate in various locations, depending on your goals.
Independent Contracting
If you don't want to invest a lot of funds into equipment, consider renting an existing facility. You'll be an independent contractor in this role, paying the gym or fitness center to let you use their machines and space.
While you'll lose part of your fee when you pay per client, you'll gain the advantage of not investing in machinery costs and upkeep. However, you're limited to the hours the gym is open and must work your hours around when they tell you you're able to work.
Freelance Home And Outside Workouts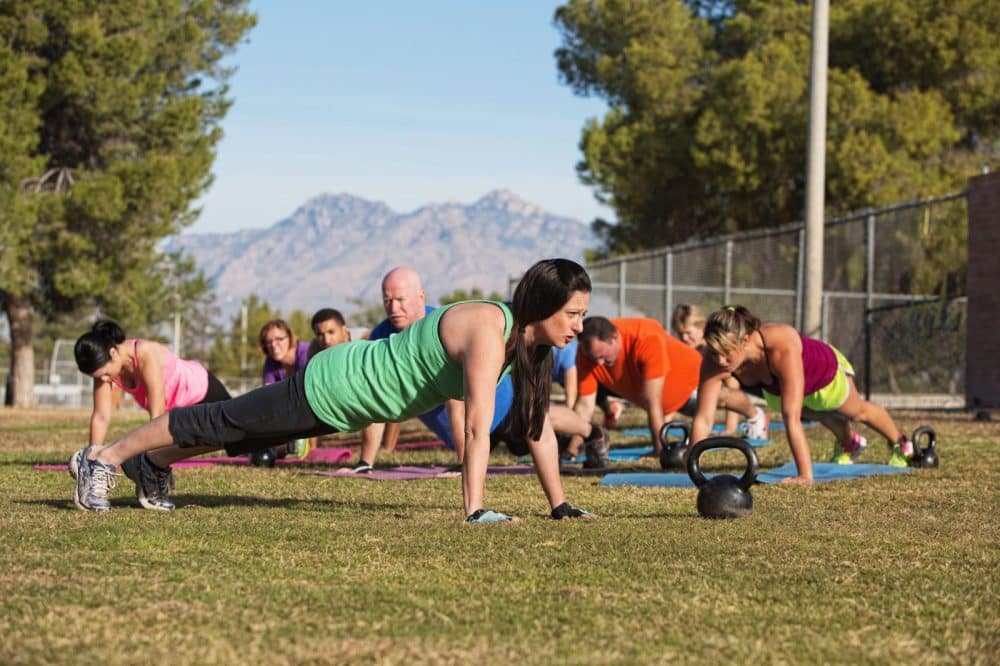 Home and outside workouts are ideal if you want to skip the independent contracting route and still avoid having your own facility.
You'll be expected to provide the basic equipment, location, and training program.
You can keep this simple if you specialize in fitness training that doesn't use many tools, like as a Zumba or yoga instructor. Your clients can bring their own mats and light weights.
If you schedule your time right, these settings can still provide you with full-time work.
Equipment
Merging "simple" training with the optimal fitness workout is possible if you keep the Optimum Performance Training (OPT) Model from NASM in mind. This model is used by freelance personal trainers worldwide because it doesn't take a lot of expensive equipment and covers all the bases.
To cover everything, you'll need sets of:
Medicine balls
Kettlebells
Resistance bands
Adjustable dumbbells
By only needing small and mobile equipment, you can cut costs and avoid needing to own your own facility.
Knowing how and where you plan on training your clients is an important step on your journey. But there is one more vital job to do before you can start being an official fitness trainer.
---
4. Get Insured
Injuries can occur at any phase and with any client, no matter how light the workout is or their fitness level.
As soon as you know how you plan on setting up your workspace, head to your insurance adjuster and take out a liability policy before you see your first client.
Your job description involves pushing people out of their comfort zones. This is necessary to help them achieve their fitness goals, but it can also be painful.
You can be held liable for damages when a client is injured during your session or when listening to your advice.
That's when general and professional liability insurance kicks in.
General Liability Insurance
General liability is the bare minimum policy you'll need to get started. With this coverage, you're protected in most cases of accidental injury.
For instance, if a client injures themself with your equipment or you damage their property while you're in a home personal training session, general liability covers the damage.
This coverage also protects you if you've been sued for slander, libel, or copyright infringement.
Professional Liability
As a certified personal trainer, your clients expect you to know what you're doing. So, if they're harmed because they listened to your advice or training plan, they can sue you for their medical costs and other damages.
Professional liability protects you from the financial liability of those damages.
Mitigate Your Responsibility With A Liability Limitation Contract
Many fitness professionals start their new client sessions with a legally binding contract that limits the trainer's liability.
You'll still need insurance, but when you put together a standard limitation of liability contract, you can avoid the hassle of getting sued for minor injuries.
Selfgood, a platform for freelancers like you, removes the headache of creating a legal document by yourself.
Law and other legal and financial help
are available through a Selfgood membership.
---
5. Start Seeing Clients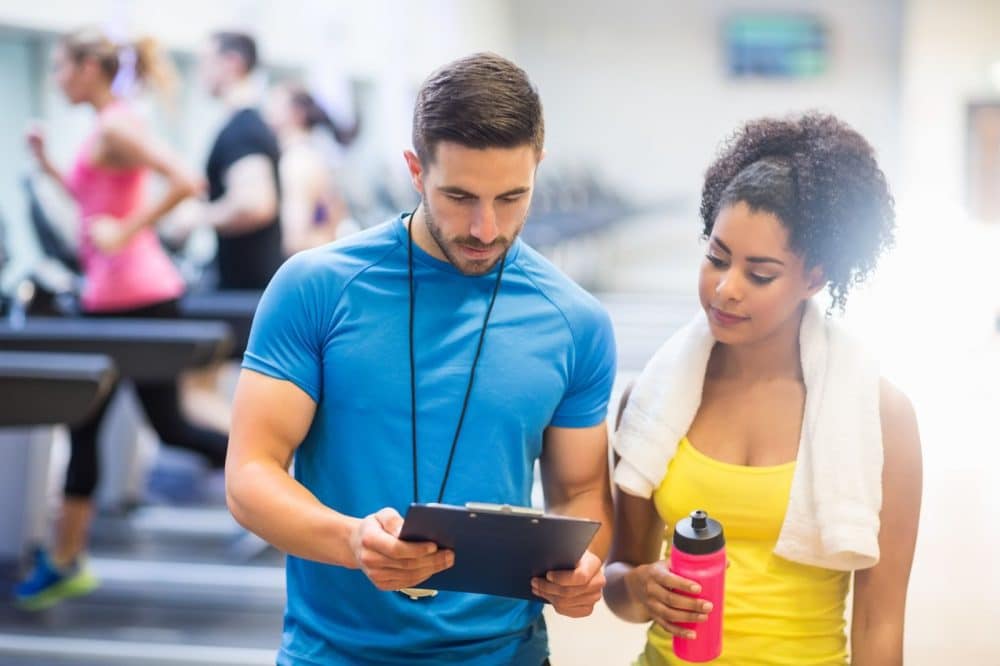 With all these hoops jumped, you can now officially market yourself as a certified, licensed, and insured personal trainer.
The only thing left is finding clients looking to begin their fitness journey!
If you're planning on making this your official business, take the time to research your target market.
Where are they, and what kind of advertising do you need to do to reach them?
Social media, targeted ads on local radio stations, or print documents are all excellent marketing tools. Keep an eye out for job postings from potential individual clients. You can also look for someone in advertising and business management to help you with this part.
As you're working on your marketing strategy, don't forget to consider the payment methods you'll take. You may need to set up a business bank account to accept PayPal, Venmo, credit cards, and other revenue resources.
---
Conclusion
Certified, licensed, insured, and able to take various payment methods, check!
You are now ready to start up your new career in your personal training business, specializing in your favorite niche.
Whether you're planning on training people with weight loss concerns, bodybuilding, or other
health and wellness
goals, Selfgood can help
you
. Head to the platform designed for freelance professionals, and check out how
Selfgood can save you money
as you continue your fitness business.