If you're a personal trainer, then you know that marketing is essential to building your business. Without a consistent stream of new clients, your business will stagnate and eventually die. In this blog post, we'll discuss 25 marketing strategies that you can use to double your business growth. So read on to learn more!
​​​​​​
---
1. Develop a Unique Brand Identity
Developing a unique brand identity is an essential part of effective personal training business marketing. Your personal training business should become familiar to your target audience, easily distinguishable from other personal trainers, and evoke strong emotions that lead people to engage with you. That means creating compelling visual elements such as logos, posters, or promotional materials, to build a presence in your community and expand your reach.
Include words and phrases that express who you are and how you want to be perceived. Determine what makes you stand out from the competition by highlighting your values and mission as it relates to personal fitness.
By differentiating yourself with a unique brand identity, you will be poised for successful personal training business growth in no time.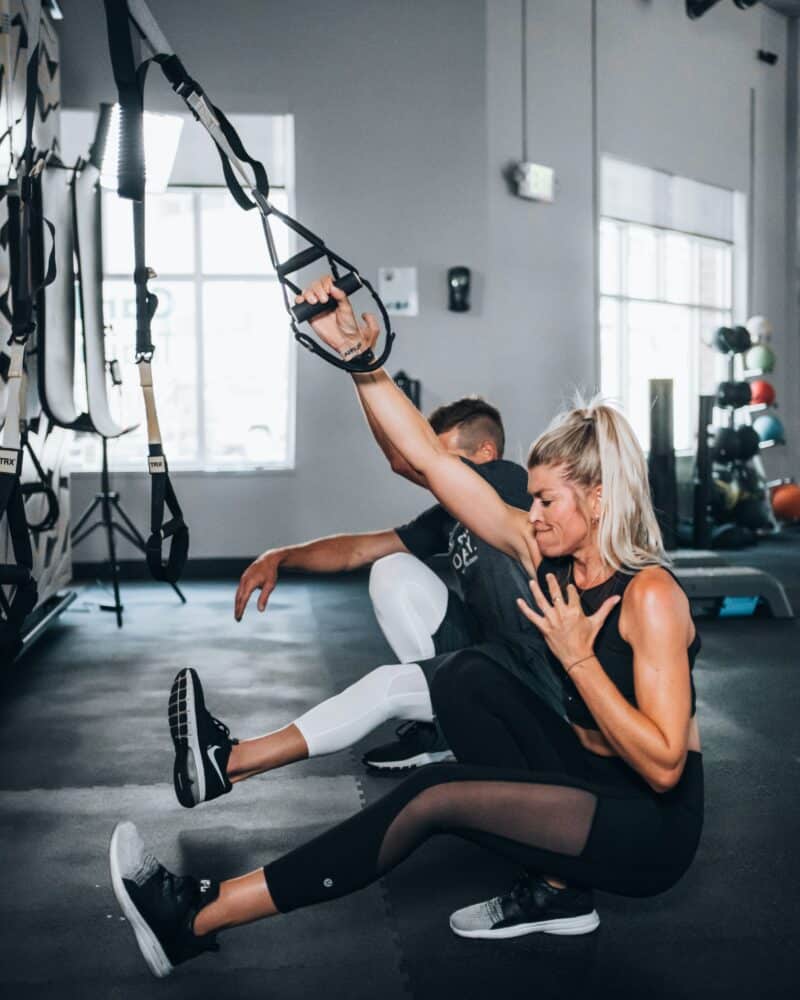 2.
Leverage Social Media Platforms for Maximum Reach
Leveraging social media platforms to market your personal training services is a great way to increase reach, maximize exposure, and build relationships with potential clients. Creating a social media page for your business can serve as an excellent platform to drive engagement and reach new potential customers.
You should also ensure that social media links are included on any website or print materials associated with your business, such as marketing collateral or email campaigns.
Finally, social media channels are extremely effective in engaging current customers as well; you can use them to cultivate customer loyalty by offering exclusive promotions or sharing positive feedback from past clients.
All of these strategies will help build brand awareness and create growth for your training business.
3. Utilize Content Marketing Strategies To Create Awareness
Personal training is a growing industry, and personal trainers need to be able to effectively market their services if they want to stay successful. Content marketing strategies such as blogging, creating eBooks and guides, or curating videos on YouTube can help personal training create an audience of potential clients by providing interesting and valuable information about personal training-related topics.
By cleverly incorporating personal training marketing tips and referring to your business, personal trainers can generate online buzz that drives people to their website or other channels where they can learn more and eventually book a personal training session.
Utilizing content marketing strategies has the potential to create widespread awareness of personal training services, leading to more business growth for personal trainers in the long run.
4. Setup an Engaging & Informative Website
Personal training marketing is critical to successful business growth and expansion. As a personal trainer, building an effective personal trainer website can help double your business in no time. To reach greater success, it's important to create your own website — instead of relying on third-party sites — as your brand will become more recognizable and memorable among new audiences.
This personal training marketing technique provides potential clients with comprehensive access to information about services and offerings, making it easier for them to search and compare value. When it comes to personal training business growth, having an easy-to-use own site goes a long way.
5. Focus on Building Your Online Presence Through SEO
An effective personal trainer marketing strategy must include a focus on building an online presence through SEO. Search engine optimization is important to ensure that personal trainers are found by potential clients when they search for personal training services. Through comprehensive keyword research and link building, personal trainers can begin to increase their visibility in search engine results.
Additionally, personal trainers should strive to produce content regularly in the form of blog posts, videos, and other content that people may find interesting. Producing high-quality and relevant content will help personal trainers boost their rankings even further and attract more potential customers.
6. Create Blog Posts That Feature the Benefits of Personal Training
An overall marketing strategy for businesses that offer personal training should include creating blog posts to highlight the benefits of such services. As an informative and cost-effective approach, blogging can be used to promote how clients will benefit from personalized instruction and overall better health through working with a personal trainer.
Blogging can also be used as an effective way to market the services of your business, driving growth in the overall customer base. Moreover, it allows trainers and businesses to give insights into the expertise attained through years of experience working in the industry.
As a personal trainer looking to double your business growth, writing blog posts and guest posts for industry blogs can be an effective way to establish your authority in the fitness industry. This will help demonstrate your expertise and provide greater visibility for you and your services.
Writing blog posts doesn't necessarily need to be done on your own website – you can also contribute blog content to other websites related to the fitness industry, such as fitness journals or magazines. This type of content marketing will build credibility, expand your reach, and ultimately lead more people to work with you as a personal trainer.
7. Strategically Partner With Local Businesses For Networking Opportunities
As part of a personal training marketing strategy, local businesses offer excellent networking opportunities. For example, partnering with local coffee shops can provide the perfect atmosphere for free classes and educational seminars that prove beneficial to local patrons as well as introduce your training services to new people. Additionally, local businesses can be great sources of referrals by recommending your services to their customers who may need a personal trainer. Through forming solid partnerships with local coffee shops and other local businesses, owners of personal training services can use these relationships to maximize the reach of their business growth goals.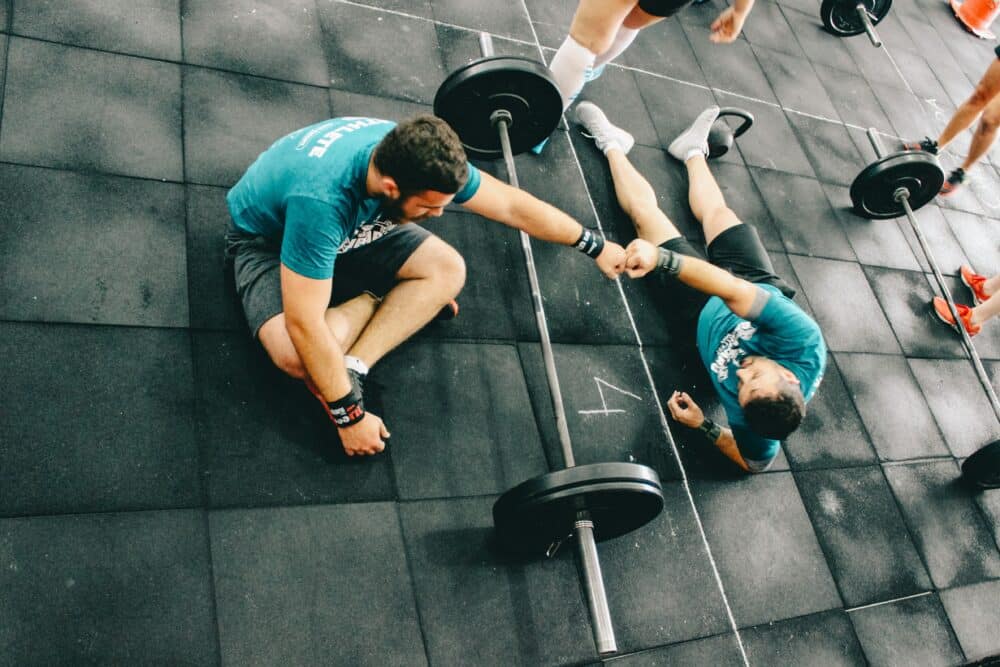 8. Take Advantage of Paid Advertising Platforms
In business, paid advertising platforms should always be taken advantage of as they can be very effective in helping to boost marketing efforts and leverage business growth. Paid ads can be used on the most popular social media sites, including Facebook, Instagram, Twitter, and Snapchat.
These paid ad marketing strategies must be considered to find success in today's digital world. Such paid advertising platforms allow businesses to enter new markets and generate leads, allowing them to maximize their investments while reaching a large customer base.
For those running personal training businesses, paid advertising platforms will open up new possibilities for increased visibility and customer acquisition that can generate more leads and ultimately result in business growth.
9. Use Email Marketing To Connect With Clients
Using email marketing is an effective personal training marketing idea for businesses looking to grow their client base. Sending out engaging emails to prospective clients can be a great way to establish a relationship and garner more interest in personal training services.
Furthermore, staying in touch with existing clients via email is essential for any personal training business, as it allows trainers to stay connected and build loyalty. With thoughtful, personalized emails tailored to each of your customers' needs and interests, personal trainers can promote their services and gain more loyal customers.
Utilizing email marketing offers an easy way to increase brand awareness of personal training services while also building relationships with potential and existing clients alike.
10. Create Referral Incentives For Client Retention and Acquisition
Offering referral incentives to personal training clients can be a great way to ensure the long-term growth of your personal training business. Personal training businesses need to have reliable existing customers as well as new ones. By giving both new and existing clients incentives for referring more people, your personal training marketing ideas could be incredibly successful in driving up client numbers.
With referral incentives, you create an incentive for existing clients to bring new members into the fold and offer an incentive (usually discounted personal training services or exclusive content) that new members are likely to be attracted to. By creating a win-win situation, personal trainers can ensure their business grows steadily over time.
11. Utilize Influencer Marketing Strategies to Reach New Customers
For more personal training clients, influencer marketing strategies should be part of your personal training marketing plan. These strategies optimize reach potential and help to connect more clients with your business in a more authentic way. By tapping into influencers who have an established following, you can more efficiently target potential customers who align with your values and service offerings, expanding that reach further than traditional marketing campaigns can.
Additionally, working with influencers can provide the credibility of endorsement from a more established source – more so than a basic advertisement or review. All in all, incorporating influencer market strategies into any business plan is sure to provide growth opportunities and an increased customer base.
12. Develop a Comprehensive Fitness Program for Your Client's
To maximize business growth, fitness professionals must create a plan to provide clients with comprehensive fitness programs. Personal training options should be tailored with each client's fitness goals and experience levels in mind, creating an individualized fitness experience to keep them engaged. Every fitness session should include an array of activities that focus on the client's individual needs, thereby increasing motivation and allowing for measurable progress toward their fitness goals.
With this approach, fitness professionals can increase customer satisfaction by providing effective personal training sessions that leave clients motivated and eager for the next one.
13. Implement Proven Sales Strategies That Lead to More Clients
To be a successful personal trainer, it's important to develop an effective personal training marketing strategy that can help your business generate more leads and ultimately, result in gaining new clients. Implementing proven sales techniques such as establishing an online presence, networking with potential customers, and offering promotional discounts are all great personal trainer marketing tips for driving impactful growth.
Utilizing social media platforms and creating content around personal training topics will also help increase brand awareness. With the right personal training marketing strategy in place, you can ensure that your business reaches its full potential.
14. Build an Online Community for Your Training Business
As an online personal trainer, one of the best ways to promote your business and boost growth is by creating an online community. This can be done through gathering contacts from customers, forming a Facebook page for your business to share useful information about fitness and health, or creating channels on social media platforms like Instagram and Twitter through which potential customers can find out more about your services.
Establishing an online presence that engages with customers online is a great way to connect with them, answer any questions they may have, and help to build relationships as well as trust. Doing this should result in higher customer engagement and ultimately help you attract new customers while retaining existing ones.
15. Expand Your Reach Through Video Content & Tutorials
As personal trainers, your primary goal is to help your clients reach their health and fitness goals. Leveraging personal training marketing ideas can be a great way to not only grow your business but also expand your reach. Video content and tutorials can make a big impact on potential customers' decisions, as it allows them to both evaluate your knowledge and better understand what you offer before committing. This will help ensure that they trust in your expertise while making contact with you, thus increasing the chances of securing their business.
Additionally, showcasing video content can also act as a valuable recruitment tool for personal trainers, providing unique insights into your training methods for potential employees.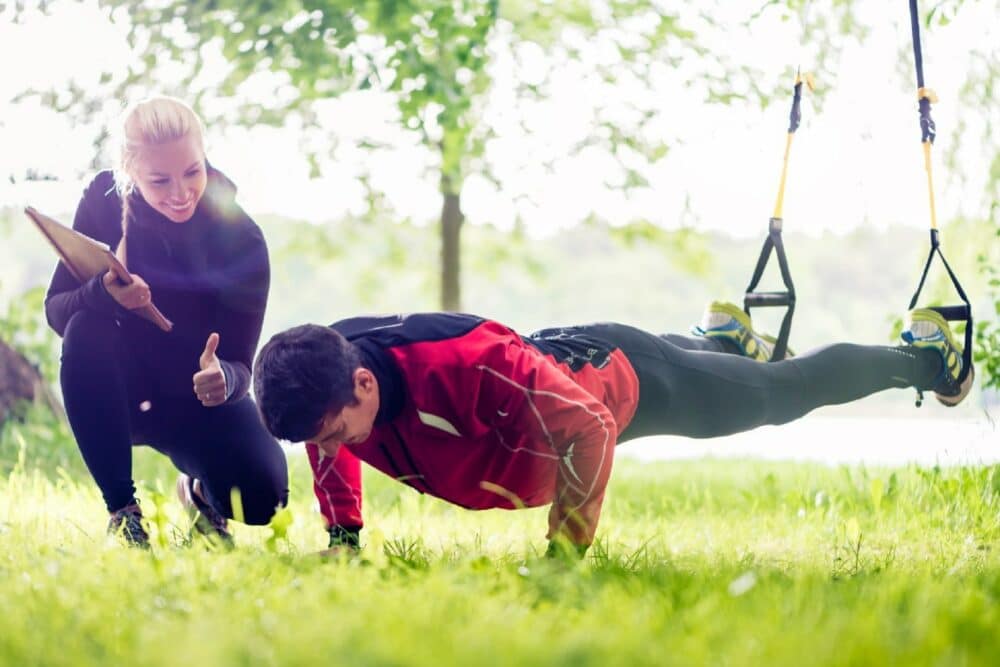 16. Promote Your Services at Local Events and Expositions
To ensure business growth, many personal trainers are turning to strategic marketing tactics like promoting their services at local events and expositions. Participating in fitness competitions and expositions is a great way to introduce yourself to dedicated audiences of potential clients who are interested in improving their health.
It also allows you to showcase your services in person and make favorable impressions with those who may become regular clients. Networking with other professionals in the fitness industry can be especially beneficial, as many of your colleagues might be looking for new ways to market themselves and may even refer people they work with over to you.
17. Leverage Digital Signage For Brand Awareness 
Digital marketing is becoming increasingly important for businesses across all industries, and personal training is no exception. Personal trainers should pay particular attention to marketing channels such as digital signage to build brand awareness. Not only can digital signage provide potential clients with information on the services they offer, but it also serves to elevate the trainer's business page and ultimately increases conversions.
Utilizing digital marketing methods may result in more leads, which can be facilitated through an online booking system or other marketing strategies such as social media posts. Investing in marketing channels like digital signage is key for personal trainers looking to maximize business growth in a competitive industry.
18. Utilize Podcasts and Audio Content to Reach Potential Clients
As fitness business owners work to grow their businesses, marketing is an essential tool. One way fitness business owners can reach more potential clients and engage current ones is by utilizing podcasts and audio content. Instead of relying solely on text-based social media platforms, sharing fitness tips, training advice, and other relevant fitness information with potential clientele through audio content can be a great way to draw attention to the fitness business.
Not only does audio content encourage a potential client to learn more about what the fitness business offers, but it also offers ongoing support for those already taking part in its services. Podcasts are a great way to build relationships with existing clients while boosting customer service as well as brand loyalty – encouraging clients to stay engaged over the long term!
19. Offer Free Trials or Discounts To Gain New Clients
Offering a free training session or free trial to new clients is an excellent way to encourage them to become more familiar with your services, as well as advertise the quality of your services at the same time. These free sessions may also be combined with discounts or free materials such as free training plans or free advice that can further help your clients develop their skillset and add value to the services you provide. The advantages provided by free trials and discount offers can ultimately pay off in greater business growth for personal trainers looking for ways to build their client base and stand out from the competition.
20. Develop Strategies For Retargeting and Effective Lead Generation
When it comes to personal training, paying clients keeps you in business. To grow your services and attract more paying customers, consider the importance of retargeting and effective lead-generation strategies to maximize your success rate. With retargeting, you can target those who have already interacted with your marketing materials before through timely emails, ads, or incentives to help turn prospects into paying clients.
Lead generation involves building out content that engages potential clients while also gathering contact information, and creating an opportunity to extend an invite or offer special promotions down the line. Besides driving new paying clients to your personal training services, both of these tactics are also a great way to ensure long-term client retention for optimal business growth!
21. Establish Partnerships With Local Gyms & Fitness Centers
Establishing strategic partnerships with local gyms and fitness centers can be an effective way to market your personal training business. Not only do these partnerships help get the word out about your services, but they also give you access to a larger audience of potential customers. Providing discounts or free trials for customers of partner gyms and fitness centers is one way to entice them to use your business.
Furthermore, working with local gyms and fitness centers gives you a chance to make connections with other personal trainers and industry professionals in the area. This networking opportunity can help establish relationships that create even more chances for business growth in the future.
22. Be Creative and Develop Specialized Programs For Your Clients'
As personal training businesses grow, it is important to think creatively when developing marketing plans. One way to increase personal training clients is to specialize in certain health and fitness programs that set your personal training business apart from the competition. If you develop specialized programs for athletes and others who are looking for personal trainers, you may acquire more personal training clients.
Additionally, personalizing these services in some form can make them unique and increase motivation amongst clients resulting in a larger following of personal training clients. Utilizing creative marketing strategies will be essential in gaining more followers through cutting-edge practices that carry weight in the personal-training industry.
23. Create Unique Contests & Promotions to Attract More Clients
For personal trainers looking for effective personal training marketing strategies, launching unique contests and promotions can prove to be an invaluable business growth tool. By offering prospective clients the opportunity to participate in a rewards program, personal trainers not only attract more customers but also create more incentives for those already working with them to maintain their personal training regimen.
Additionally, this personal trainer marketing strategy has the potential to create enthusiasm among current and future clients, underscoring the personal trainer as someone who works hard to make sure that their clients have fun while also finding success with their personal training goals.
24. Take Advantage of Local Advertising Platforms
Personal trainers can find great success in marketing their services if they take advantage of local advertisement platforms. Making partnerships with health food stores, coffee shops, and massage therapists in the area can be very beneficial for garnering attention from potential long-term clients. When your name is seen by people in your community frequently, it creates familiarity and trust that you can build upon.
Additionally, offering discounts and special offers through local partners drives more interest in your business and encourages potential prospects to take action. Taking advantage of local advertising and forming synergistic relationships leads to exponential growth.
25. Analyze Your Competitors and Stay Ahead Of Trends
For business growth, personal trainers should analyze the business hours and business profiles of their competitors to better understand the industry they are in. Additionally, by keeping up with fitness trends, they can stay ahead of the competition and position themselves as experts.
Knowing what strategies successful fitness organizations have adopted allows personal trainers to create their approach toward helping their clients achieve success on their fitness journey. This sort of proactive business approach is essential for business growth, allowing personal trainers to grow their businesses effectively.
---
Bottom Line
That's it for our roundup of 25 personal training marketing ideas to help you double your business growth. We hope you found this article helpful and that it gave you some great ideas to get started with. Be sure to check out our other blog posts for more successful business tips and advice. Thanks for reading!