Are you an artist looking to take your craft to the next level? Have you ever wanted to turn your professional painting skills into a business? Starting a painting business can intimidate you, but it doesn't have to be. With the right resources and some hard work and dedication, anyone with artistic skill has the potential to start their own successful painting company. This comprehensive guide will cover everything on how to start a painting business. Whether you're just starting out or have years of experience, this guide is filled with tips and tricks to help any painter create a flourishing company from scratch. So let's get started!
---
10 Easy Steps To Start Your Own Painting Business
If you're an aspiring artist with a natural talent for painting, then starting your own painting business might be the perfect opportunity. But how do you go about setting up a successful small business? From marketing yourself to sorting out the all-important logistics of legal requirements and licenses – there's a lot to consider! To help get you started on your entrepreneurial journey, here are 10 easy steps to guide you in launching your creative and profitable painting business.
1. Research the Market for Your Painting Business
Establishing a successful painting business requires good preparation. Before getting started, it is essential to do thorough market research. This will help you gain insight into the latest trends in the industry and current competition. You can survey consumers, compare prices, get to know successful local painters, and decide what services you would like to offer. Knowing your target clientele and market conditions will provide a secure foundation for your business to thrive.
2. Set Goals and Objectives for Your Business
Most painting businesses always set goals and objectives for their future operations. A road map tailored to your unique painting business can help guide you toward success. This involves developing realistic financial and operational targets considering your painting business's short-term and long-term needs. As part of creating these objectives, it is essential to research the current painting industry, potential customers, and relevant local laws and regulations.
Setting clear goals and objectives can enable painting businesses to more accurately plan when they will launch, what they will focus on in the beginning stages, who their target customers are, and where their growth opportunities are located. Doing so sets painting businesses up for tremendous success and allows them to gauge progress toward meeting such objectives over time.
3. Make a Business Plan
A robust business plan is essential to starting a painting business, as it outlines the business entity, services offered, and business goals. When creating a business plan, include all information related to lower costs of operations and potential profit you can generate by offering commercial painting services. Be sure to include expected revenue streams and business expenses to help you understand how the company wants to operate financially.
A business plan will allow you to adapt your strategy over time and adjust your plans if something isn't working. By creating a thorough business plan, entrepreneurs can put themselves on track for long-term success in the competitive world of painting services.
4. Establish Legal Structures for Your Painting Company
It is essential to ensure that you have established the proper legal structures. This may include getting your business license from your local municipality and deciding on the best business structure for your endeavors. Research the tax implications of different structures, such as a sole proprietorship, limited liability partnership, or corporation, to determine which would benefit you most.
Complying with all necessary licenses and registering officially with the state will ensure your business operates within legal frameworks. Taking these steps will get you on track for a successful painting company.
5. Secure Financing for Your Painting Business
A crucial step to starting a painting business is to secure financing. Before taking out a loan from a bank or other lender, consider establishing a business bank account to separate your personal and business funds. This will make managing your finances more accessible and more organized. In addition, when applying for a loan, having savings ready to place down can be helpful and demonstrate that you have put in thought and effort towards starting your painting business.
Furthermore, suppose you can start making money immediately with your painting business. In that case, it will further prove to lenders that there is a potential return on their investment and can go far in securing finance. Most importantly, it helps to understand how much you need to borrow while aiming to establish positive cash flow immediately upon the start-up of your painting business.
6. Select Suppliers and Vendors for Paint, Equipment, and Materials
For business owners starting up a painting business, selecting trustworthy suppliers and vendors for paint, equipment, and materials is an important step. A small business owner should carefully research these vendors to ensure they have sufficient stock of the items required, provide high-quality products at competitive prices, have reliable delivery times, and give excellent customer service.
It's also essential to speak directly with the vendors and develop a good working relationship with them so business owners can quickly return to them when purchasing supplies in the future. Doing research upfront ensures business owners get suitable sources for the equipment, material, and paint they need for their business operations.
7. Set Up Your Business Location
After you decide your house painting business is ready to start taking on residential painting clients, the next step is setting up a business location. You'll need to find a spot easily visible and accessible from the main road, which will help you get more customers. For a house painting business, renting an office or shop nearby may be best instead of setting up a physical location inside the house.
This will also give clients peace of mind that their house isn't used as the primary workspace for your house painting services. So set up your shop today – it could take some time, but it'll be well worth the effort!
8. Hire Employees or Contractors for Your Painting Company
When you start a painting business, you will likely need to hire employees or contractors to take on larger painting jobs. However, depending on the size of your company and how many projects you plan to handle concurrently, you can start with just one employee or contractor and add additional capacity as needed.
When looking for the right staff for your painting business, thoroughly research their capabilities, customer service skills, and background. The quality of their work will undoubtedly contribute to your company's success. Finding the right talent could mean a difference for your start-up painting business.
9. Market and Promote Your Painting Services
Once you have gone through all the steps in starting your painting business, it is time to start marketing and promoting your new business. A professional website is a must so customers can easily find out more information about what you offer and contact you quickly. Creating blog posts, videos, and other content that explains who you are and why people should trust that your services are worth the cost is also a great way to promote yourself and join communities where others with similar interests share their insights.
Social media remains an essential tool for expanding your reach – use sites like Facebook or Instagram to connect directly with potential clients, post updates about new products or services, and build a network of people creating conversations around topics related to your painting business. Don't forget offline promotion methods, too: grab some business cards and flyers, or consider joining or sponsoring local events or expos!
10. Monitor and Evaluate the Performance
Monitoring and evaluating the performance of your painting company is a critical part of running a successful painting business. Keeping an eye on key performance indicators (KPIs) such as revenue, customer satisfaction, employee retention, and productivity can help you better understand how well your painting business is doing overall.
Review your painting company's monthly performance using the most important KPIs. Once you have collected sufficient data, compare the results to previous months or years and change things that need improvement. Regularly reviewing your painting business's performance will help ensure it is profitable and efficient for years.
---
What Supplies and Tools Do You Need To Start a Painting Business?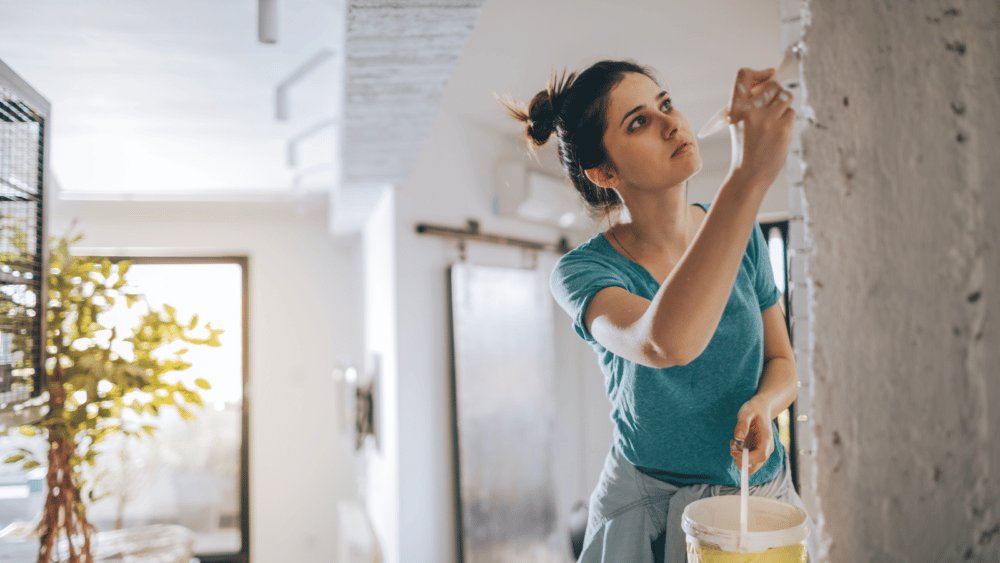 Once you have decided to start a painting business, knowing what supplies and tools you need is important.
Essential Supplies:
Brushes:
Paintbrushes come in various shapes and sizes. So choose brushes best suited for the type of work you plan to do.
Paint:
Choose the highest quality paint you can afford, as this will ensure a smooth, even finish and good coverage. Paint Rollers, Trays, and Extension Poles are also necessary for professional painting work.
Masking Tape:
This covers areas that should not be painted.
Drop Cloths:
These protect surfaces from splatter and spills.
Ladder or Scaffolding:
Depending on the job, you may need a ladder or scaffold to reach high places.
Other Supplies:
Sandpaper, Spackle, Caulk, Primer, Putty Knives, Utility Knives, and other miscellaneous supplies.
Tools:
Paint Sprayer:
A paint sprayer is a powerful tool for professional painters, allowing them to quickly and accurately apply paint in large areas.
Power Sander:
This is used for sanding down surfaces before painting.
Heat Gun:
Used to soften the paint, caulk, and other materials.
Nail Gun:
Used to drive nails into walls and other surfaces.
Air Compressor:
An air compressor is used to power nail guns and paint sprayers.
Other Tools:
Trowels, scrapers, putty knives, caulk guns, screwdrivers, and other tools may be necessary for specific jobs.
---
How Do You Price Your Services?
As a painter, you know how important it is to price your services accurately. Not only do you need to ensure that you are charging enough to make a profit, but you are also not overcharging and alienating potential customers. To help with this balancing act, here's what you need to know about pricing painting services.
Factoring in Expenses
Your first step when pricing your painting services should be considering your expenses. This includes the cost of paint and supplies and overhead costs such as transportation and labor. Don't forget about indirect costs like taxes and insurance, either! Once you have considered all these costs, add them to estimate how much your services will cost before factoring in any profit margin.
Determining Profit Margin
Once you have determined how much it costs to provide your services, the next step is calculating a reasonable profit margin. How much profit do you want to make? 10%, 20%? Most businesses generally aim for around 10-20% in profits. However, if there is high demand for your services or if the job is particularly difficult or time-consuming, then it may be worth increasing this percentage slightly. Remember that too high of a markup can lead potential customers away from using your service!
Including Additional Costs
Don't forget that additional charges may depend on the work type (i.e., exterior versus interior). In addition, if special equipment needs to be used or certain hazardous materials need to be disposed of properly, those extra expenses should also be included in the final price tag.
Regarding it, pricing painting services requires a delicate balance between ensuring your expenses are covered while still being competitive enough so that potential customers don't go elsewhere. However, with careful consideration and thorough research into current market rates for similar jobs in the area, setting fair prices doesn't have to feel like an impossible task!
---
What Type Of Business Insurance Do Painting Companies Need?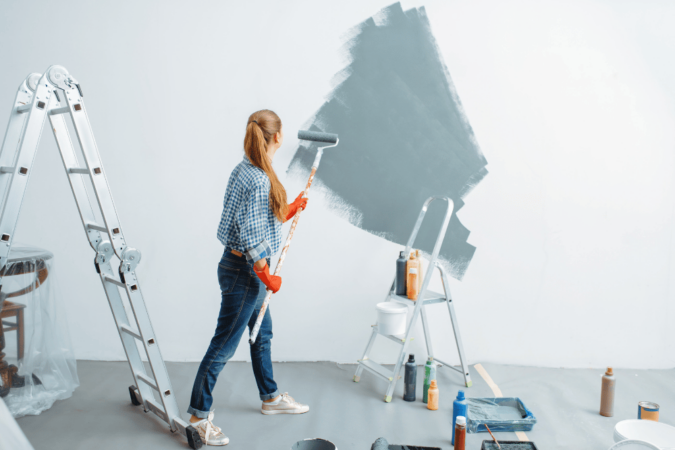 When you own a painting business, you must protect your company and yourself with the right type of insurance. Knowing what types of insurance are necessary can help you make sure your business is properly covered in the event of an accident or other unexpected emergencies. Let's take a closer look at five essential types of business insurance for painting companies.
General Liability Insurance
General liability insurance is one of the most important types of business insurance for painting companies. This type of coverage covers any property damage or personal injury while your employees work on-site. It also covers claims related to advertising, legal fees, medical expenses, and more that may be associated with a liability lawsuit.
Workers Compensation Insurance
Worker's compensation insurance protects employers from financial losses due to workplace injuries or illnesses their employees suffer. This type of coverage helps pay for medical bills, lost wages resulting from an employee's workplace injury or illness, and legal costs related to defending against claims brought by injured workers.
Commercial Property Insurance
Commercial property insurance protects from damage caused to a painting company's physical assets, such as office equipment, machinery, tools, vehicles, inventory, and supplies. It also covers theft and vandalism damages and protecting against fires and other natural disasters. This type of coverage is essential for businesses storing assets on-site since it will cover damages if something happens while they're away from the office.
Business Interruption Insurance
Business interruption insurance helps protect businesses when they suffer a loss due to an unforeseen event, such as a fire or natural disaster, that causes them to close down operations temporarily. This type of coverage helps cover operating costs such as payroll expenses when the business is closed down due to circumstances beyond its control.
Automobile Insurance
Automobile insurance protects if an employee drives a company vehicle, gets into an accident, or receives traffic tickets while on the job. It also covers any damage caused by an employee's negligence while driving a company vehicle. This coverage ensures that your business will not be liable for any damages caused by your employees' driving behavior while on the job.
Protecting your painting business with the right type of insurance can help ensure that it remains safe and secure in even the most unexpected situations—from financial losses due to workplace injuries or property damage inflicted by natural disasters up to automobile accidents caused by negligent driving behavior on behalf of your employees. Investing in these five essential types of business insurance can help provide peace of mind knowing that you're always prepared should anything unexpected arise while running your beloved painting company!
---
How to Estimate Startup Costs for a Painting Business?
Starting a painting business can be an exciting and profitable venture, but it's important to estimate the costs of starting up before you start. A good estimation of startup costs will help ensure that you have the resources necessary to make your business successful. Let's look at some of the most common startup costs of a painting business.
1. Fees and Licenses
The first step in estimating startup costs is to research the fees and business licenses required in your area for owning a painting business. These may include professional licensing fees, building permits, or zoning permits. Depending on where you live, there may also be additional fees or taxes related to running your business. Make sure you factor these into your estimates as well.
2. Equipment and Supplies
In addition to fees and licensing costs, you'll need to purchase equipment and supplies to run your painting business. This includes paint brushes, rollers, ladders, tarps, drop cloths, safety gear (such as goggles and gloves), sanders, scaffolding, and more. You'll also want to consider any additional specialized tools or equipment needed for particular jobs or projects. Additionally, you should factor in any marketing materials, such as flyers or brochures, that you plan on using to promote your services.
3. Insurance
Another cost you should consider when estimating startup expenses is insurance coverage for your painting business. Depending on the size of the projects you plan on taking on, it may be wise to invest in liability insurance which will protect you if something goes wrong while working on a job site. It's also recommended that you get worker's compensation insurance if you plan on hiring employees at any point during the operation of your business.
Starting a painting business can be an exciting opportunity, but it requires careful planning and budgeting upfront for it to succeed long-term. By doing comprehensive research into applicable fees and licenses and factoring in the cost of equipment and supplies needed for operations and appropriate insurance coverage, prospective entrepreneurs will have greater success when launching their painting businesses. With proper planning and budgeting from day one, aspiring painters can ensure themselves a profitable venture down the road!
---
How To Secure Bigger Painting Jobs For Your Painting Company?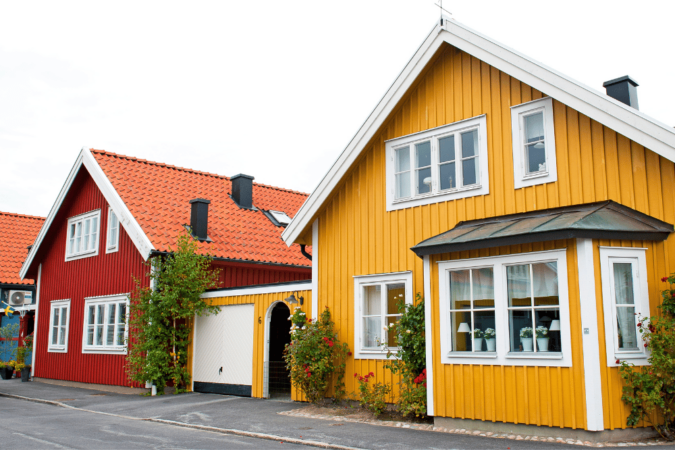 Are you a professional painter looking to secure larger painting jobs for your painting company? If so, you're in luck! We'll be covering the best ways to get bigger painting jobs and how you can maximize your chances of success. Let's get started.
1. Online Presence
The first step to securing larger painting jobs is having an online presence that serves as a digital portfolio of your work. Make sure to have a website with pictures of past projects and customer reviews. You can also take it a step further by creating social media accounts such as Facebook, Twitter, Instagram, and YouTube where you can share even more examples of your work, give tips on the painting process and interact with potential customers. Having a strong online presence will make it much easier to find larger painting jobs because customers will see what quality services you offer and will be more likely to hire you.
2. Networking
Networking is one of the best ways to find new opportunities for your business. Attend local events such as home improvement expos or talks hosted by real estate agents and contractors. These events are great places to meet people who may be interested in hiring you or know someone who needs your services.
You can also join professional organizations such as chambers of commerce or trade associations related to the painting industry. These organizations often host networking events that allow members to meet other professionals in their field and learn about potential job opportunities.
3. Market Research
Another way to secure larger painting jobs is by researching your local market and understanding the trends in pricing, competition, materials used, etc. Doing market research helps give you insights into what customers are looking for in terms of price point and quality so that you can adjust your offerings accordingly. Additionally, researching competitors allows you to identify areas where there may be gaps in service that could help set yourself apart from them when bidding for large-scale projects.
Finding bigger painting jobs requires some effort but it doesn't have to be difficult! By establishing an online presence, networking with potential customers, and doing market research on what prospective clients want from their painter, you should have no problems finding larger projects that fit within your capabilities. With these strategies at hand, we hope the search for bigger painting jobs goes smoothly for you!
---
Tips To Market Your Painting Business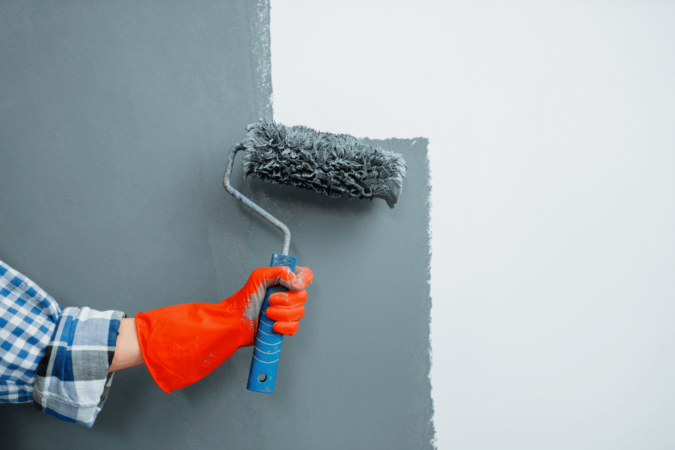 Are you an artist looking to market your painting business and increase your customer base? Managing a successful business can be challenging, especially when it comes to marketing. However, with the right steps taken at the right time, utilizing effective marketing strategies will help you spread awareness of your services and create more growth opportunities. Below are some helpful tips and strategies on how to effectively market your painting business so that you're able to reach more customers and take advantage of additional profits.
1. Establish a Strong Brand Online
It is essential for painting business owners to focus on building a strong brand online if they want to succeed. Creating an official business name and website with clear contact information will enable potential customers to find out more about you and your business.
Additionally, it's important to share your services and successes to build credibility, such as project photos and customer testimonials. You can also actively market your business by engaging with other businesses in the same industry or related industries on social media channels like Instagram, Twitter, or Facebook.
By reaching out to other business owners on these platforms, your business can grow its presence in the painting industry as well as increase its customer base.
2. Take Advantage of Social Media Platforms
For small businesses, digital marketing is an effective and accessible way to reach potential customers and promote their services. Marketing your painting business on social media platforms can help you reach new heights.
Incorporating this digital marketing strategy into your overall plan can provide a well-rounded approach to spreading the word about your services. Start by creating several accounts across popular platforms and fill your digital presence with professionally taken photos of your work, educational content related to painting such as tutorials and tips, plus regular updates on products and services available.
To ensure success, create an in-depth marketing strategy for each platform that implements time-sensitive promotions, collaborations with other local businesses or community projects, and engagement with followers online. Taking advantage of digital marketing tools provided by social media channels can be a game-changer for any small painting business looking to increase visibility online.
3. Develop In-Person Networking Strategies
For successful businesses and successful painting contractors, one of the most important tips to market a painting business is to leverage in-person networking strategies. Meeting people face-to-face allows you to create a personal relationship with an audience and communicate what your company has to offer. This includes attending local business events, hiring a sales team, or even shaking hands and passing out business cards in public places – such as train stations during commute hours. In-person marketing allows for more genuine interaction and provides you with the opportunity to build meaningful relationships with potential leads.
4. Build an Engaging Website
Any company with an ambition to succeed needs a company website. This allows customers to access your service offerings and discover more about your business and what it offers. When building a website for a painting company, you must tailor it to capture the attention of potential painting customers. Ensure all services are listed, have relevant information such as customer testimonies or reviews, and use compelling visuals to showcase any projects you have completed!
5. Utilize Content Marketing Tactics
When it comes to marketing your painting business, content is key. Content marketing involves creating and distributing high-quality content that draws people to your business—or in this case, your artwork! Content such as blog posts, videos, or even downloadable ebooks is a great way to engage potential customers and increase brand awareness. Such techniques can help you show off the fantastic products or services you offer and give customers a glimpse into what makes your painting business different from the others. Additionally, by promoting user-generated content, you can encourage customers to spread the word about your painting company as they share their experiences with their friends and family.
6. Create Compelling Visuals To Promote Your Business
Creating compelling visuals to promote your painting business is one of the best ways to gain more attention for your business! Utilizing visual media – such as photos, graphics, and videos – on various online platforms will go a long way in marketing your business. When creating visuals, be sure they feature the work that communicates your style and level of skill.
You can also provide an emotional connection between potential customers by featuring not only results but also images of you hard at work completing a painting job. Not only will this give you visibility but also an edge over competitors who don't present detailed visuals. Finally, be sure to consider hashtags when publishing visuals on social media to further reach those who may be interested in your services!
7. Leverage Word of Mouth Marketing
Word-of-mouth marketing can be incredibly powerful when it comes to growing your painting business. Encouraging existing customers to share their experiences with others is one way to spread the word and build your reputation. It's important, however, that you ensure the quality of your services is top-notch so your customers are motivated to refer you to their networks.
Try offering incentives such as discounts or other specials for painting services when a referred customer books with your business. Over time, this strategy will pay off in spades as more and more people hear about you from friends and family, leading to an increase in new customers.
8. Run Digital Advertising Campaigns
Running digital advertising campaigns is a powerful way to reach potential customers and spread the word about your painting business. Effective campaigns target the right people at the right time, exponentially increasing the chances of getting a project. Ads can be custom tailored to any budget and provide unprecedented insights into customer behaviors, making it easier than ever to track performance.
When setting up an ad campaign, make sure you determine key objectives such as increasing website visits or building brand awareness, so that you can monitor your progress accordingly. You should also be sure to research all available platforms and select one that best aligns with your overall marketing strategy.
9. Sponsor Local Events and Causes
Show your customers that you care about their community by sponsoring local events and causes. This is an effective marketing strategy because it allows your business to gain visibility in the area, while also demonstrating that your company stands behind something greater than itself.
Additionally, your business's name can be promoted at the event or in advertising for the cause, providing more opportunities for potential customers to learn about your painting services. Consider donating or partnering with a charity in your area or sponsoring a local event such as a festival or fair.
Doing so will not only demonstrate how passionate you are about the cause but also help get the word out about your business.
10. Focus on Quality Customer Service Delivery
Quality customer service delivery can be an effective way to market your painting business. Good customer service increases loyalty and trust in your brand, while also generating positive word of mouth that will increase business. Make sure you are timely with project completion and go above and beyond when it comes to customer care.
Additionally, take advantage of online review sites and make sure prospective customers see the good track record for quality service that your existing customers have already provided. Always emphasize the high quality of the work you are providing to ensure that customers keep coming back for more!
---
Benefits Of Starting a Painting Business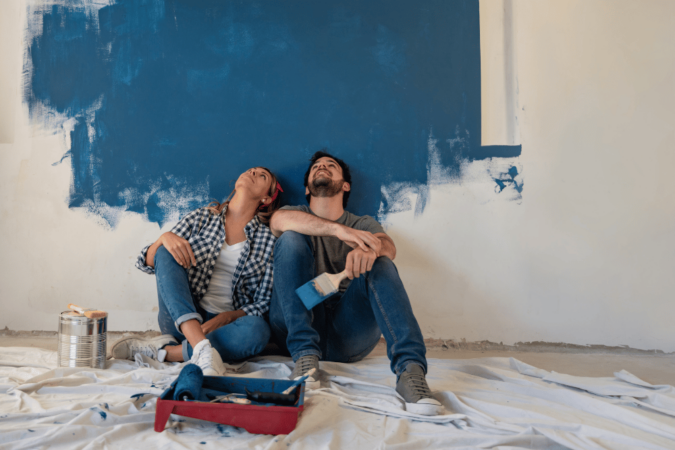 Are you looking to start a business that offers both creative and financial rewards? Starting a painting business is an excellent way to launch your own business. With the availability of quality tools, materials, and technique instruction readily accessible, there are numerous benefits to be had when starting a painting business -including flexibility with hours, low overhead costs, and the ability to tap into your artistic talents for a living. Whether it's painting residences or spaces in commercial settings, this type of venture can offer profitable opportunities. Below are some key advantages associated with beginning your painting service so you can see if it could be the right option for you!
1. Low startup cost:
One of the great benefits of starting a painting business is that it requires minimal investment to get started. All you need are basic supplies such as paint, brushes, rollers, ladders, and tarps – all of which can be found at any local hardware store or online.
2. Flexible hours:
As a painting business owner, you're able to set your hours and determine when and how long you want to work. This is great for those who want to make extra money on the side or even take it on as a full-time job.
3. Variety of jobs:
You'll always have something to do since you can offer a variety of services such as interior and exterior painting, wallpaper installation, staining decks and fences, and more. This will ensure that no two jobs are the same.
4. Opportunity to earn extra money:
Since you're in charge of your hours, you have the opportunity to take on more jobs to make extra money.
5. Tax deductions:
There are a wide variety of tax deductions and credits available to those who own their own business, which can be quite beneficial come tax season.
6. Pride in ownership:
As the owner of your own painting business, you'll take great pride in the work you do and the relationships you build with your customers. This can be a very rewarding experience for those who are passionate about painting.
7. Being your own boss:
As the owner of your own business, you'll have complete control over how to run it. You'll also have the freedom to choose which jobs to take and when to work. This can be empowering for those who want to make their own decisions.
8. Ability to scale:
You have the potential to grow your business as much as you want, whether that's hiring employees or expanding into other areas of the painting. With the right strategies in place, there is no limit to how big you can make your business.
9. Creative outlet:
Painting is a great way to express your creative side and showcase your skills to potential customers. Plus, it's an opportunity to have fun while making money!
10. Sense of accomplishment:
Once you complete a job, there's nothing more satisfying than being able to step back and admire your work. This can be a very fulfilling feeling, especially if you're proud of what you were able to accomplish.
These are just some of the benefits of starting a painting business. With hard work and dedication, you can turn this into a successful venture that brings joy and financial stability.
---
The Bottom Line
Starting your own painting business can be a very rewarding experience. Not only do you get to be your own boss, but you also get to help home and business owners transform their property. Plus, it's a great way to earn some extra income or even turn it into a full-time job. If you're thinking about starting a painting business, we hope this guide has given you the information and inspiration you need to get started. For more tips on starting and running your own successful business, be sure to check out our other blogs.