Are you looking to jump-start your career as a logo designer and become a successful freelance designer? If so, you've come to the right place. Starting a successful freelance logo design business can be an intimidating challenge, but it doesn't need to be intimidating if you follow the right steps. In this blog post, we'll look at why becoming a freelancer is worth considering and essential tips for getting started in the industry. You'll leave with actionable advice on becoming an effective and profitable logo and brand identity design specialist!
---
Freelance Logo Designers: An Introduction
Are you a creative individual with a knack for designing logos? If so, then a career as a freelance logo designer might be perfect for you. As a freelance logo designer, you can work on your schedule and create unique and memorable logos. Let's look at what it takes to become a successful freelance logo designer.
What Does A Freelance Logo Designer Do?
Freelance logo designers are responsible for creating logos that capture the essence of their client's businesses in an eye-catching way. A good logo should be recognizable and easily remembered while also conveying the message of the company or organization it represents. To do this, freelance logo designers must understand design principles, including color theory, typography, composition, and visual hierarchy. They must also communicate effectively with their clients to ensure they understand their vision and deliver results that meet their expectations.
The tools freelance graphic designers use vary depending on their individual preferences and the project at hand. Commonly used tools include vector graphics software such as Adobe Illustrator or CorelDRAW and photo-editing software like Adobe Photoshop or GIMP. It is also essential for freelancers to stay up-to-date on the latest design trends to remain competitive in today's market.
---
Why Should You Become a Freelance Logo Designer?
1. Enjoy the freedom to set your rates:
As a freelance logo designer, you can charge whatever rate works best for you and your clients. This means that you will be able to increase your income as much as you would like while still meeting your customers' needs.
2. Expand Your Professional Portfolio:
As a freelancer, you can work with many clients and create various logos. This will allow you to develop your skills as a professional logo designer while giving yourself plenty of opportunities to show off your talents in your portfolio.
3. Take Advantage of Flexibility:
Freelancing allows you to choose when and where you want to work. This gives you the flexibility to work around your personal life and commitments.
4. Build Valuable Network Connections:
When working as a freelancer, you can establish valuable connections with other professionals in the industry. This can open up new opportunities for collaborations and referrals and even gain access to companies or clients you may have otherwise been unable to reach.
5. Make a Difference:
Working as a freelance logo designer can be incredibly rewarding, as you will be helping businesses create their brand image and give them an identity in the market. Every logo project impacts someone's life, whether it's your client or their customers. Knowing you are making a difference in people's lives can be incredibly satisfying.
6. Enhance Your Creativity:
Freelancing allows you to explore your creative side and develop it further as a logo designer. You can gain inspiration from different projects and use them in your designs, allowing you to constantly improve and develop new ideas.
7. Learn Continuously:
As you will be working with different clients, each one may have different requests and challenges for you. This can provide you with an opportunity to learn on the job and stay up-to-date with the latest trends in logo design.
8. Feel Appreciated:
Working as a freelancer can make you feel appreciated for your talents and hard work. You will be able to develop strong relationships with your clients, which can lead to repeat business and even recommendations in the future.
9. Enjoy Rewarding Opportunities:
As a freelancer, you can choose the jobs you want to take on. This allows you to look for projects that fulfill your passion or offer more rewarding opportunities.
10. Earn More Money:
As a freelancer, you don't have to share any of your profits with employers or agencies. You will get to keep all of the money that you make from your projects, allowing you to increase your income significantly.
These are just some of the reasons why becoming a freelance logo designer can be an incredibly rewarding and fulfilling career path. With freedom, flexibility, and plenty of growth opportunities, there is no reason not to take advantage of this exciting profession. So, why not give logo design a try today? You never know what possibilities may be waiting for you!
---
How To Become a Freelance Logo Designer?
Are you a creative individual looking to make some money on the side? If so, freelancing as a logo designer might be the perfect opportunity for you. Designing logos requires an artistic eye and a knowledge of software platforms such as Adobe Creative Cloud, but it's also advantageous in terms of monetary compensation and satisfaction. Whether you're new to design or have plenty of experience with graphics software, this step-by-step guide has all the essential tips and resources to help you succeed as a freelance logo designer. Let's get started:
1. Decide if freelance logo design is a good fit for you:
Freelance logo design requires knowledge of graphic design software and principles, creativity, an understanding of brand identity and color theory, and strong communication skills. Research the profession thoroughly to decide if it's something you are passionate about and have the skill set to excel in.
2. Develop your skills:
Logo design requires various software and skill sets, including Adobe Photoshop, Illustrator, InDesign, Corel Painter, and other graphic design software. Additionally, it's essential to stay up-to-date on the latest trends in logo design and corporate branding and deeply understand the principles of color theory and typography. Invest time learning these skills or take workshops and classes to hone your craft.
3. Build up a portfolio:
Put together a showcasing portfolio of examples of your best work, including logos you've designed for past clients or personal projects. It should demonstrate your knowledge of color, typography, and composition.
4. Set up a website:
Create a website to promote yourself as a freelance logo designer and showcase your portfolio. Include an "About" page that tells visitors who you are and what differentiates you from other designers. Make sure the site is easy-to-navigate and includes contact information.
5. Reach out to potential clients:
Network with other top logo designers and creative professionals in your area, attend design conferences, or post job listings on online communities such as LinkedIn and Freelancer.com to find clients looking for freelance logo designers. Use social media platforms like Twitter, Instagram, and Facebook to connect with potential clients.
6. Negotiate the terms of a project:
Ensure you have an agreement outlining all the project details, including payment methods and deadlines. Also, agree on copyright ownership before beginning work on any project to protect both parties.
7. Deliver quality products:
Once you've signed a contract, meeting all deadlines and delivering quality products is important. Over-deliver with every project and maintain clear communication throughout the process.
8. Market yourself:
Promote your work on social media, attend design events and conferences, and write blog posts about logo design to get the word out about your services.
With these steps, you should be well on becoming a successful freelance logo designer.
---
Types Of Services You Can Offer As a Freelance Logo Designer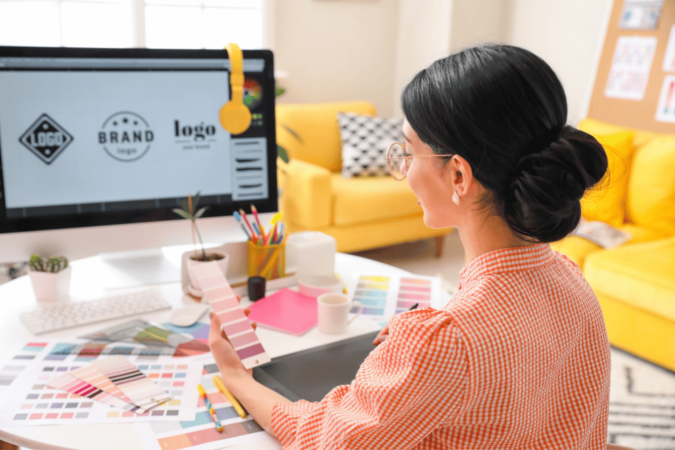 1. Brand Identity Design:
This service involves creating a logo that accurately reflects your client's brand and personality. It also includes crafting taglines, color palettes, typography styles, and other elements that make up the branding for a business.
2. Logo Design:
Create professional logos by researching your client's industry, understanding their target audience, and designing a logo that is unique and has visual appeal.
3. Logo Refresh:
Is your client's existing branding outdated? As a freelance graphic designer, you can help refresh the current logo to make it look modern, attractive, and relevant.
4. Vector Conversion:
Create high-quality scalable vector logos for clients who need their logo design to be used across various platforms and mediums.
5. Logo Animation:
Create animation videos with the logo as a focal point to increase brand recall and engagement.
6. Alternate Logo Design:
Prepare a few variations of the primary logo that can be used in different contexts or platforms.
7. Icon Design:
This involves creating relevant icons associated with the brand's products or services. Icons should be visually appealing and recognizable enough to evoke an emotional response from customers.
8. Logo Presentation:
Help clients present their logos to potential investors and partners professionally and attractively. You can also help them create marketing materials such as brochures, business cards, flyers, banners, etc.
9. Image Retouching:
Adjust the brightness and contrast of an existing logo to give it a sharper and more professional look. Remove unwanted elements or add new ones to make the logo more relevant.
10. Logo Size Optimization:
Resize the logo to fit different platforms and mediums without compromising quality. Ensure that your client's logo looks great no matter where it is used.
11. Mockup Design:
Create mockups of how a logo will look when printed onto fabric, apparel, packaging, stationery, signage, etc.
12. Logo Testing:
Test your logo designs' effectiveness with potential customers and make any necessary changes to enhance its appeal.
13. Social Media Kit Design:
Please create a logo kit that includes all the logos of various sizes and formats your client needs for their social media accounts (Facebook, Twitter, Instagram, YouTube, etc.).
14. Logo Design Portfolio:
Prepare a portfolio of your logo designs for clients to be able to see your work and determine whether it is a good fit for their brand.
15. Consulting Services:
Advise your clients on how they can use the logo most effectively (e.g., which colors work best, when to use a specific version of the logo etc.). You can also help them with their overall brand strategy and positioning.
16. Logo Copyrighting:
Register the logo designs that you create as copyrightable works with the U.S. Copyright Office or other international offices, ensuring that your client's logo is legally protected.
By offering these services, you can help clients create a professional and attractive logo that accurately reflects their brand, helping them become more recognizable and successful in the long run. You can establish yourself as a sought-after freelance graphic designer with the right combination of creativity and technical skills.
---
Top 10 Freelance Platforms To Find Logo Design Work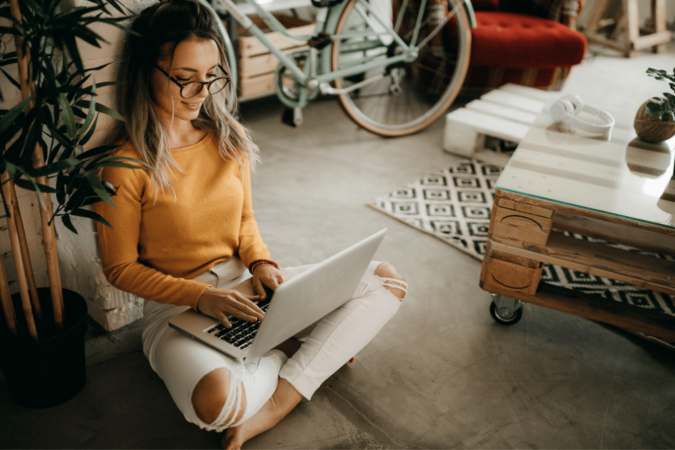 Finding logo design work doesn't have to be difficult. Many excellent platforms are available today that let you search for the perfect job and bid on projects confidently. With a portfolio of strong samples and various ways to market your skills, it's possible to quickly establish yourself as a successful freelancer in this field. To start, read this guide below covering the top 10 best freelance platforms for finding logo design work! Here, you'll find expert advice on which sites will help you get your foot in the door, plus tips on making sure your bids stand out.
1. Upwork
Upwork is an excellent platform to start your search if you're a logo designer looking for work. With millions of freelancers using the service, jobs are available on various projects and budgets, from small to large. It also allows logo designers to easily search for jobs within their area and allow them to build relationships with potential employers. Plus, it's free for job seekers. The platform offers resources like client reviews and ratings that can help give you insight into potential employers before engaging them in your services.
One of the top freelance platforms companies turns to when they want to hire freelance logo designers is Upwork. Through Upwork, companies can find talented professionals capable of providing unique and eye-catching logos for their businesses. Additionally, companies can peruse past work from potential freelancers before making any promises, gaining insight into a designer's intellectual capital through the portfolio they provide. Lastly, businesses can monitor the progress of logo design projects with the platform's messaging system.
All in all, Upwork makes it easy for logo designers to find reputable and quality projects quickly so they can start earning more money from the comfort of their own homes.
2. Fiverr
If you're a freelance graphic designer specializing in logo design, you may have heard of Fiverr. This popular platform offers a great way to find logo design work and make money doing what you love. Let's examine why this platform is so popular among logo designers and how it can help you launch your freelance career.
Fiverr is an online marketplace that connects freelancers with customers who need specific services. It is trendy among logo designers, as clients can easily search for experienced professionals. On Fiverr, clients post "gigs" that detail their project requirements and budget. Logo designers can then apply for gigs they are interested in and negotiate terms with the client. Once an agreement has been reached, the designer can begin working on the project immediately.
There are numerous benefits to using Fiverr as a freelance graphic designer. For starters, the website offers an easy-to-use interface that makes searching for jobs simple. Additionally, there is no fee to join or use the platform; freelancers keep all of their earnings from successful projects without paying any commission or fees to Fiverr itself. Finally, Fiverr provides a secure payment system that allows customers to safely deposit money into escrow accounts until they are satisfied with the final product the logo designer delivers.
3. 99 Designs
If you're a freelance graphic designer looking to find logo design work, then look no further than 99 Designs. This platform is an online marketplace that connects freelance designers with clients who are looking for custom logo design work. It's a great resource for finding work as a freelancer and also allows you to connect with other professionals in the field. Let's take a closer look at why 99 Designs is one of the best platforms for finding logo design work for freelance graphic designers.
When you sign up for 99 Designs, you create your profile and specify what logo design services you can offer. Clients can then search the profiles and find a designer whose skillset meets their needs. You will then be able to discuss the project details with the client and negotiate payment terms. Once both parties have agreed on the project details, you can begin designing!
99 Designs also offers its own "design contests," which allow multiple designers to compete against each other by submitting their designs for consideration by a client. The winner will be chosen based on the quality of their design, and they will be awarded the prize money set by the client. This is a great way to showcase your graphic design skills and earn extra money.
Using 99 Designs provides many benefits to freelance graphic designers, such as having access to an immense network of clients all over the world, being able to choose what projects they want to take on, setting their working hours and rates, receiving direct payments from clients after completing projects, and much more! Additionally, 99 Designs offers tools such as portfolio-building software that helps you showcase your work so potential clients can get an idea of your style and skill level before hiring you for their project.
4. TopTal
Are you a logo designer looking to find your next freelance gig? Look no further than Toptal! Toptal is one of the best platforms for finding remote work for graphic and logo designers. It's an excellent freelancer platform, offering global opportunities with top-tier companies worldwide. Let's take a closer look at why Toptal is so great for logo designers.
The user interface of the Toptal platform makes it easy to search and apply for freelance job listings. You can search through jobs based on programming, design, finance, copywriting, and more categories. Job postings also come with detailed descriptions so that you can easily determine if the job fits your skill set. As a logo designer, you can narrow your search by entering keywords such as "logo design" or "graphic design" to find the most relevant jobs. In addition, there is an option to set up email notifications so that new job postings get sent directly to your inbox.
Toptal offers its users access to high-quality clients from all over the world. These clients include Fortune 500 companies, startups, non-profits, and more. This gives logo designers access to projects with some of the biggest names in their industry, which can benefit their portfolio and career goals. Additionally, many of these jobs offer competitive pay rates, making them even more attractive opportunities for freelancers working on Toptal's platform.
5. People Per Hour
Are you a logo designer looking for freelance work? If so, People Per Hour (PPH) is one of the best platforms for finding short-term and long-term projects. PPH offers job seekers the opportunity to showcase their services and connect with clients looking for high-quality logo designs. Let's explore why PPH is a great platform for logo designers.
People Per Hour is an online freelancing platform that connects businesses needing a logo design service with talented freelance logo designers from around the world. Creating an account and posting your profile, portfolio, and services on the website is free. Once your profile is set up, clients can search for you by keyword or filter through specified criteria such as location or experience level. You can then bid on projects that match your skillset or wait to be contacted by potential clients.
Using People Per Hour has numerous advantages over other freelancing sites, including.
A wide range of job opportunities – There are thousands of jobs posted daily on PPH, so finding something suitable won't take long.

The ability to set your rate – Unlike other sites where you only get paid what the employer decides to pay you, on PPH you have control over how much you charge for each project.

Safe payment system – All payments made through PPH are secure and held in an escrow account until the completion of the project so that both parties are protected from fraud and scams.

No hidden fees – Unlike some other freelancer sites, there are no hidden fees associated with using PPH—all costs associated with each project will be clearly outlined upfront before any money changes hands.
6. Dribbble
As a graphic designer, you know that finding the right platform to showcase your work and land freelance jobs can be difficult. That's why you should consider using Dribbble, one of the best platforms for graphic designers looking for freelance work.
Dribbble is an online community for professional graphic designers. It's used by thousands of freelancers, studios, and agencies worldwide to find talented professionals and collaborate on projects. The site has been around since 2009 and has grown in popularity.
One of the main reasons why many graphic designers choose Dribbble is that no membership fees or commissions are involved. You can join the site for free and start posting your work immediately without paying any upfront money. This makes it easier for freelancers to find jobs without worrying about additional costs associated with joining other sites.
You can also access an extensive network of potential clients when you join Dribbble. Many companies actively search through the pool of designers on the site to find the talent they need for their projects. So if you're looking to land some steady freelance work, signing up with Dribbble could be a great way.
Another advantage of using Dribbble is allowing users to share their portfolios with potential clients quickly and easily. You don't have to worry about creating lengthy emails or sending out physical portfolios – everything can be done from within your profile page on the site itself! Plus, there's an active community on the platform where you can get feedback from other designers or find new collaboration opportunities!
7. Behance
If you're a graphic designer looking for freelance work, you've probably explored a variety of platforms to find the best fit. One platform that should be on your list is Behance. This industry-leading design platform offers a great opportunity to showcase your skills and find new clients. Look at what makes Behance one of the best platforms for finding freelance graphic design work.
Behance is an online creative network owned by Adobe. It allows designers to showcase their work, search for jobs, and connect with other creatives in their field. It's also home to some of the best creative portfolios in the world, making it the perfect place for freelancers serious about their craft.
Behance offers several features to help freelancers find work and build relationships with potential clients. It has an extensive job board where designers can search through thousands of open positions from companies worldwide. It also has a directory of creatives and organizations, which makes it easy to connect with people in the industry and get referrals or recommendations for gigs. Finally, there are groups on Behance dedicated to specific topics or regions, allowing designers to network with like-minded professionals and stay up-to-date on industry news and trends.
In addition to its features, Behance is well known for its high-quality standards regarding portfolio submissions. This means that only top-notch projects will be featured on the platform—making it easier for potential clients to quickly identify talented designers who can meet their needs without wasting time sifting through low-quality submissions. As such, having a portfolio on Behance can benefit freelancers who want to stand out from the crowd and attract higher-paying jobs.
8. Freelancer
Are you a graphic designer looking for work? If so, then you should consider using freelancer.com to find logo design work. This platform is one of the best places to find logo design projects that can help you learn new skills and make some extra money at the same time. Let's explore why freelancer.com should be your go-to for finding logo design work.
The first reason why freelancer.com should be your go-to choice for finding logo design work is because of its secure payment system. All payments are made through the platform, so there's no need to worry about being scammed or not getting paid. Plus, clients can only pay when they're satisfied with the project, so you won't have to worry about taking on a project and not getting paid in the end.
Another excellent reason freelancer.com is one of the best platforms for finding logo design work is its large pool of clients from around the world who are constantly posting projects and looking for talented designers like you! Because this platform has such a large user base, you'll have more chances to find clients looking for someone with your particular set of skills and experience level – making it easier for you to find work that aligns with your interests and abilities.
Finally, another excellent reason freelancer.com should be your go-to choice for finding logo design work is its variety of projects available – from small personal logos to larger corporate branding identities – there's something here for everyone! No matter what type of project you are interested in working on, chances are there will be something here that fits your needs and skillset perfectly – making it easy to find projects within your expertise and interest level too!
9. Design Hill
Are you a logo designer who is looking for more work? If so, then Design Hill may be just what you need. Design Hill is an online platform that connects businesses with talented logo designers from all over the world. The platform makes finding and hiring the perfect person for any job easy. Let's explore why Design Hill is one of the best platforms for finding graphic design work.
Design Hill offers its customers a wide range of services, including logo design, banner design, website design and development, custom illustration, and much more. This means businesses can find the exact service they need without looking elsewhere. With so many services on one platform, businesses don't have to waste time searching for different providers.
Design Hill prides itself on providing high-quality designs that meet and exceed customer expectations. Each designer must meet the standards set by Design Hill to be accepted onto their platform; this ensures that customers are getting only the best work possible. As part of its mission statement, Design Hill promises to promptly deliver quality designs at competitive prices – which they do!
Hiring a designer through Design Hill is incredibly convenient for customers and designers alike! Customers can post a project with all the information they need quickly and easily, and the designers will respond with their ideas or proposals shortly after. This helps keep communication between both parties organized and efficient. Additionally, customers can leave feedback after each project is completed, ensuring everyone involved gets what they need out of the experience.
10. LinkedIn
If you're a graphic designer looking for your next big job, look no further than LinkedIn. As the world's largest professional network, it is an invaluable resource for connecting to potential clients and employers. With its powerful search capabilities, you can find the perfect opportunity for your skillset and experience. Let's look closer at why LinkedIn is one of the best platforms to find graphic design work.
One of the most powerful aspects of using LinkedIn is connecting directly with potential clients or employers. You can also join groups related to your field or industry, allowing you to build relationships and share ideas with like-minded individuals and find new job opportunities. You can even join groups focusing specifically on graphic design, giving you access to many resources and contacts in the field.
In addition to networking with other professionals, you can use LinkedIn as a platform for self-promotion. By creating a profile page that outlines your experience and skill set, you can showcase yourself as an expert in your field. This will help you stand out when potential employers are searching for talent. Additionally, you can use LinkedIn's status updates feature to keep everyone up-to-date on what projects you're working on or what events or conferences you plan on attending in the future. This helps build credibility and trustworthiness among those considering hiring you for their project needs.
LinkedIn makes it easy for companies to hire logo designers via their platform by providing tools like "Open Candidates" and "Hire Talent Solutions, " allowing businesses to find qualified professionals quickly and easily based on their specific criteria. Companies can also use these tools to reach out through private messages or post job openings directly on their company page so that potential candidates don't have to search through hundreds of listings to find what they are looking for.
---
How to Price Your Freelance Graphic Design Work?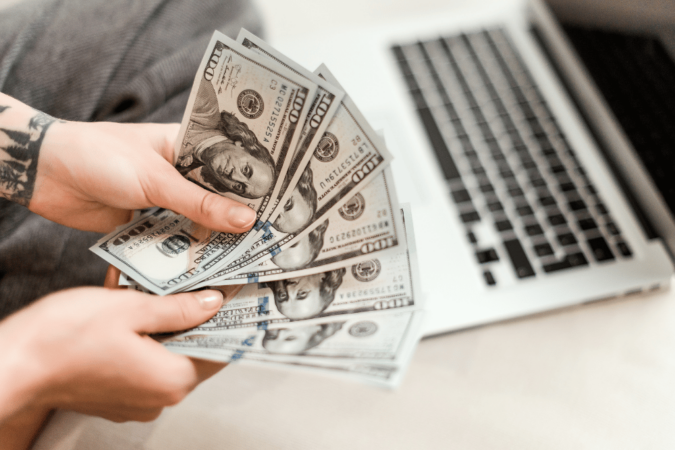 Setting freelance graphic design work rates can be intimidating and confusing, especially when you're just starting. To ensure that you're getting the right compensation for your time and effort, it's essential to understand how to calculate your rate and set prices that accurately reflect the value of your work. Let's look at how to determine a fair price for your services.
Understand Your Industry Rates
The first step in setting your rate is understanding the industry standards for graphic designers. Different regions will have different rates depending on the local economy and cost of living, so do your research. You can also check job postings on sites like Indeed or Glassdoor to get an idea of what employers will pay for experienced graphic designers in your area. Once you understand the industry standard, you can use that as a guidepost when pricing your services.
Calculate Your Hourly Rate
Next, calculate your hourly rate based on what tasks you plan to offer as a freelancer. Will you be doing only graphic design work? Or will you also include web development or copywriting services? Consider how long each task will take, then figure out how many hours per week (or month) you want to devote to freelance work. From there, divide that number by the amount of money you need/want to earn each month, and voila—you have arrived at a reasonable hourly rate!
Factor In Expenses & Overhead Costs
Once you have determined an hourly rate, don't forget about expenses and overhead costs! As any freelancer knows, running a business requires more than doing great work. Taxes and other costs are associated with running an independent business that needs to be considered when setting rates. Your overhead costs should cover everything from office supplies and equipment rental fees to software subscriptions and professional memberships—make sure these expenses are accounted for when calculating rates so that they don't eat into the money that should be going straight into your pocket!
Setting freelance graphic design work rates doesn't have to feel overwhelming or confusing. With a bit of research and an understanding of industry standards, it's easy to determine what constitutes fair compensation for all parties involved. Start by researching market rates in your area to know where to begin; then factor in expenses like taxes, overhead costs, equipment rentals, etc., before settling on an hourly or project-based rate that feels most comfortable for both yourself and potential clients. With these tips in mind, you'll be well-equipped to pitch projects confidently and get paid fairly!
---
Pros and Cons of Being a Freelance Logo Designer
Pros:
1. Flexible Schedule:
Working as a logo designer allows you to work when it is convenient and comfortable for you. You can set your hours and complete projects at any time of the day or night.
2. Variety of Projects:
Since you are working with many clients and on many projects, you are exposed to a wide variety of projects which helps keep you inspired and fresh in your work.
3. Unlimited Earning Potential:
Freelance logo designers can charge whatever they want for their services and the amount of money they can make is limited by how much time they are willing to put in.
4. Work from Anywhere:
Working as a freelance logo designer allows you to work from anywhere worldwide, meaning no longer long commutes and cubicles.
5. Greater Control Over Your Life:
As a freelance logo designer, you have control over your own destiny and can make decisions that will benefit your career in the long run.
6. Chance to Network With Other Designers:
Working as a freelance logo designer allows you to network with other designers and learn from them to better yourself professionally.
7. Increased Creativity:
Freelance graphic designers often have more creative freedom than those who work for companies, allowing them to express themselves with their designs truly.
Cons:
1. Unpredictable Income:
With logo design, there is no guarantee of a steady income, and you may experience periods when there is not enough work to pay the bills.
2. Long Working Hours:
Freelance logo designers often work long hours to meet deadlines and complete projects.
3. Limited Benefits:
Since you are freelancing, you cannot access benefits such as health insurance or retirement plans that may be available to traditional employees.
4. Difficult to Establish Brand Recognition:
Freelance logo designers often have difficulty establishing themselves as an easily recognizable brand due to the nature of their work.
5. Stressful:
Working as a freelance logo designer can be very stressful, especially during high demand or tight deadlines. This can lead to burnout and exhaustion if the stress is not managed correctly.
---
Bottom Line
Becoming a freelance logo designer is not as difficult as you may think. You can start your journey to becoming a successful freelancer with the right platform and guidance. To learn more about graphic design or other creative freelance careers, check out our other blogs for advice and tips.