If you're thinking about setting out on your freelance journey and starting a freelance business, one of the most important considerations is understanding what type of freelance work you want to do. Determine which of your skills are the most relevant and attractive to prospective clients. Once you've identified those, start researching what type of clients are the ideal "fit" for using your services regularly. Creating a freelance business can be a great way to make a living while still having flexibility in your work hours. Start by taking small steps and remember that it may take some time to build up your client base and make a steady income – but don't let that discourage you!
---
What is Upwork?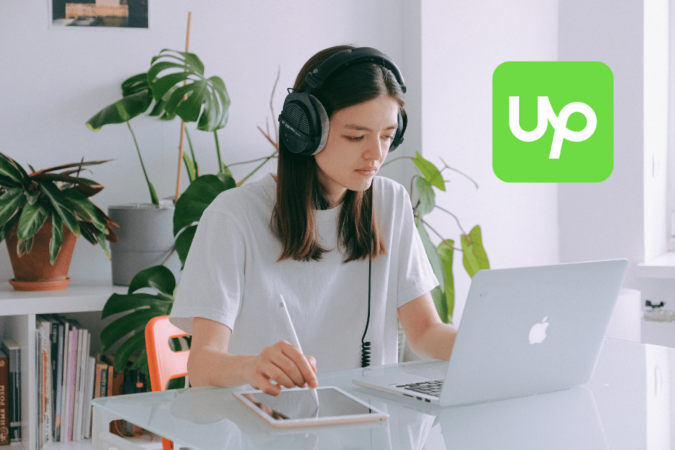 Upwork is a website platform connecting freelancers and potential clients. It provides a way to create an Upwork profile to showcase your skills and experiences. This Upwork profile serves as your online portfolio, where prospective clients can browse your services and get acquainted with you before deciding if you fit their needs. Upwork offers a variety of searches for both freelancers and potential clients so it's easy to find relevant projects or people that match each other's skills, thus making it simple to pursue collaborations or hire help. Upwork provides an easy-to-use platform for freelancers to show their portfolios, market themselves, and get hired by potential clients.
---
Benefits of having an Upwork profile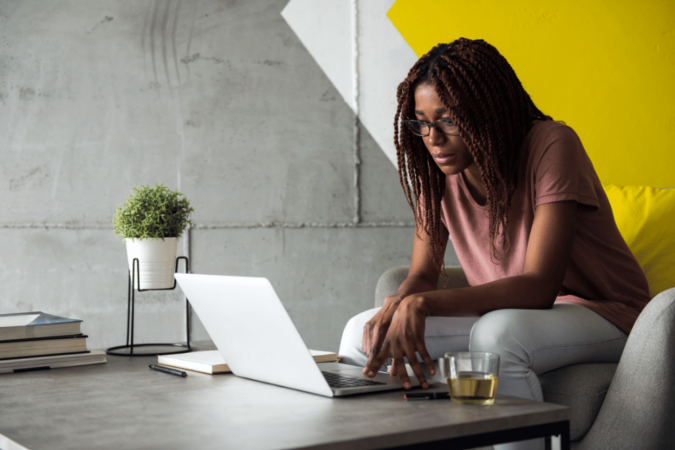 1. Flexibility:
Upwork profiles allow freelancers to set their own schedules and work from home whenever they choose. This means that freelancers can take on projects when it works for them without worrying about fitting into someone else's timeline.
2. Diverse Range of Projects:
Upwork offers freelancers various projects from many different industries and companies. This allows them to take on projects that are most interesting to them or those that best match their skill sets.
3. Easier Finding Clients:
Upwork's job board allows freelancers to easily find potential clients. This makes it easier for freelancers to find projects without spending time searching through endless job postings.
4. Client Reviews:
Upwork allows clients and freelancers to rate one another, which helps other users make more informed decisions about who to work with. Good ratings will help attract new clients, while bad ratings can provide insight into what to avoid.
5. Lower Fees:
Upwork charges a lower fee than other job boards, which makes it an attractive option for freelancers who want to save money when taking on projects.
6. Adaptable Payment Terms:
Upwork offers hourly and fixed-price payment terms, giving freelancers options when deciding how they want to be paid.
7. Online Invoicing System:
Upwork provides its users with an online invoicing system, making it easier for clients and freelancers to track the progress of each project and ensure that payments are made promptly.
8. Secure Payments:
Freelancers can rest assured that their payments will be processed securely with Upwork's integrated payment processor.
9. Dispute Resolution System:
Upwork provides a dispute resolution system that allows clients and freelancers to resolve any disagreements without going through lengthy legal proceedings.
10. Access to Talent from Around the World:
Upwork's platform allows companies to connect with freelancers worldwide, giving them access to more talent than ever before. This can open up new opportunities and help businesses find the perfect candidate for their project needs.
With its flexibility, diverse range of projects, easier finding clients process, client reviews, lower fees, flexible payment terms, online invoicing system, secure payments, and dispute resolution system. Upwork can provide freelancers with a wide range of benefits. Utilizing Upwork's platform allows companies to access talent from all over the world, further expanding their opportunities. Ultimately, having an Upwork profile can be invaluable for employers and employees.
---
Parts of an Upwork Freelancer Profile
An Upwork profile is a powerful freelance marketplace for freelancers to communicate their skills, abilities, and experience to would-be employers. A profile should include everything from a profile picture that presents the freelancer's professional image to skills and employment history highlighted by past positions and successes and an overview of educational background.
Additionally, a portfolio of projects helps showcase what a freelancer is great at doing and shows potential clients how they can benefit by hiring them. An up-to-date profile helps build reputability and credibility and ensures that freelance work requests will be considered.
---
Tips for creating an effective Upwork profile
1. Use the right keywords:
To make sure that potential employers find you, use keywords and phrases related to your field of expertise in your profile summary and job titles.
2. Have a professional profile photo:
Professional headshots make a great first impression with employers, so include one on your profile.
3. Write an engaging introduction:
Make sure that you highlight your skills, qualifications, experience, and successes interestingly in order to stand out from the crowd.
4. Optimize Your Profile SEO:
Utilizing Upwork's SEO features will help ensure that employers can quickly find you when they search for freelancers with certain skills or qualifications in their specific category of interest.
5. List all relevant skills:
Don't forget to include a comprehensive list of your skills, qualifications, and experience so employers can see exactly what you offer.
6. Include client testimonials or reviews:
Having positive feedback from past clients is useful for letting potential employers know that you are reliable and provide quality work.
7. Showcase your portfolio:
If you have any work samples, be sure to showcase them by including them in your profile. This will help potential customers quickly understand the value that you bring to the table.
8. Keep your profile up-to-date:
Finally, make sure to keep your profile up-to-date with new projects and successes that you have achieved. This will help make sure employers are always aware of your most recent qualifications and accomplishments.
Following these tips can help ensure that your Upwork profile is both engaging and effective, allowing potential employers to understand the value you bring to the table quickly. Good luck!
---
How to find the right keywords for the Upwork profile?
When freelancing on Upwork, having the right keywords in your profile is crucial for success. Your job title should not be generic but include specific keywords that will make recruiters notice you as well as highlight your expertise. If you have a specialized field of expertise, consider adding multiple versions of those words to ensure that potential employers see it. Or if you are relatively new to freelancing on Upwork and wish to target particular areas of work, type "freelancer" plus the field you would like to focus on into Google and use the most popular related search items from the automatic keyword suggestions box. Leveraging keywords specific to your freelancing career can help increase your chances of landing more jobs on Upwork!
---
Tips to optimize profile SEO of Upwork
Optimizing your profile SEO as a freelancer on Upwork can give you that extra edge over the competition. Begin by creating a compelling job title. Tap into the keywords potential clients use to look for freelancers with specific expertise. Try using action-oriented words to present a picture of your services better.
Ensure your freelancer career is defined within the job title and contains relevant keywords that prospective employers could use to find your profile. Highlight yourself within the job title and provide value-added services to stand out. Those are some essential tips for optimizing your profile SEO on Upwork to come in search results!
---
Creating a Professional Upwork Profile Description
Upwork is a fantastic platform for freelancers to find quality work, and to be successful, it is essential to create a professional Upwork profile description. When crafting your Upwork profile, your most relevant skills should be highlighted in order to grab the attention of the right clients. Additionally, it is essential to craft an effective marketing strategy that will help propel you forward to success; with this strategy, you can attract many potential customers who require your services. An Upwork profile with a well-thought-out marketing strategy is far more likely to be successful than one without.
---
Example of an Upwork profile description for a freelance writer
I am a freelance writer with over 8 years of experience in creating engaging and informative content. I specialize in SEO-friendly writing, blog posts, website copy, product descriptions, and more. My skills also extend to social media management and creating compelling visual content for campaigns.
I have worked with dozens of clients from all over the world, helping them reach their target audiences. My writing style is versatile and tailored to each client's individual needs. I am experienced in researching topics thoroughly and crafting original content that resonates with readers.
I understand that communication is key when it comes to successful freelance work. I strive for fast response times and clear communication with all of my clients. My goal is to deliver content that meets expectations, engages readers, and ranks highly on search engines. Let me help you create the perfect content for your business needs!
I look forward to working with you soon! Thank you for considering me as a freelancer. Please reach out if you have any questions
---
Searching for Clients on Upwork
Upwork has quickly become the go-to platform for freelancers looking to land new clients. Upwork is a great place to start your search, as it allows you to easily access many potential clients from all over the world. To make the most of Upwork and ensure that you have the best chance of connecting with clients, be sure to review and update your Upwork profile so that it accurately reflects your most relevant skills and experience. Additionally, consider creating an effective marketing strategy on Upwork in order to stand out from other freelancers and reach more potential clients. With careful attention to your Upwork profile and thoughtful implementation of a marketing strategy, you should be able to find many suitable clients on Upwork.
---
Things to consider while applying for a job on Upwork
• Establish your skills and experience.
Before applying for a job, make sure you have the relevant qualifications, certifications, or prior work experience that relate to the position you are seeking. It is important to clearly showcase your background in order to be considered for the role.
• Research the clients before applying.
When browsing through job postings, it is best to research the company that you are interested in working for. Understanding who they are and what their mission is can help you create a tailored pitch to better capture their attention.
• Craft an appealing profile.
Having an alluring profile page with your skills and experience listed is essential when applying for jobs on Upwork. It is important to showcase your best traits, skills, and experience in order to stand out from other applicants.
• Submit an appealing bid.
When submitting a job application, make sure to craft a personalized proposal that speaks to why you are the perfect fit for the role. Be concise, and professional, and detail your skills and qualifications in order to capture the attention of potential clients.
• Follow up.
It is important to follow up with potential clients if you do not hear a response after submitting your bid. Additionally, make sure to be polite and professional when interacting with potential employers.
• Use the communication resources Upwork offers.
Take advantage of the communication tools that Upwork offers, such as video calls and chat, to connect with potential employers. These resources can help you demonstrate your work style in a more detailed way.
• Read the job description carefully.
Make sure to read through the job posting thoroughly in order to understand what duties and tasks are expected of you should you get hired for the role. Additionally, understanding the job specifications can help you create a more tailored bid when applying for the role.
• Be patient.
Applying for jobs on Upwork can be a time-consuming process, so it is important to remain patient and keep your expectations realistic. Additionally, take advantage of any resources available in order to stay up-to-date with any new postings that are available.
By taking the time to research potential clients and create a tailored pitch, you can increase your chances of success when applying for jobs on Upwork. Additionally, being patient and taking advantage of the resources Upwork offers can help you find the perfect role for your experience and skill set.
---
Writing Relevant Proposals for Upwork jobs
Writing a relevant proposal for an Upwork job can be challenging, but it's also an excellent way to boost your chances of getting hired. To ensure a high-quality proposal, start by taking the job posting into account and making sure that you match their criteria. Additionally, be yourself in your writing style so employers will get a better understanding of who you are and how you'll be able to complete the job if hired. Finally, don't forget to include previous client feedback or other important details to prove your trustworthiness as a contractor. Writing proposals is hard work but it pays off when done correctly – after all, everyone likes seeing detailed applications from qualified individuals!
---
Choosing the Right Rate for Your Services 
Determining the right rate for your services on Upwork can be challenging for freelancers. Do you charge too low and risk losing out on earning potential? Or do you set a higher rate and risk pricing yourself out of the competition? Deciding the best rate involves research, learning about the service industry, understanding pricing trends, assessing your unique skill set, and knowing what others with similar skills are spending on Upwork jobs. It is worth taking the time to make an informed decision to ensure you get compensated according to your level of skill and expertise.
---
How can I describe myself in Upwork?
Your profile should give potential clients a clear idea of the services you offer, your qualifications and experience, and what sets you apart from other freelancers. It's also important to be specific about your rates so that clients can accurately budget for your services.
When describing yourself on Upwork, it's helpful to highlight any unique skills or qualifications you have. For example, if you're an expert in SEO or social media marketing, be sure to mention that in your profile. And don't forget to list any published works or notable projects you've been involved in. This will help potential clients see that you have the experience and expertise they're looking for.
---
Can a beginner use Upwork for prospective clients?
Yes, a beginner can use Upwork for prospective clients. Upwork is a great platform to find freelance work and connect with potential clients.
However, as a beginner, it may be challenging to stand out from the crowd and attract attention from potential clients. It's important to create an eye-catching profile, showcase your skills and experience, and network with other professionals on the platform.
Additionally, it's important to be professional and responsive when communicating with potential clients. Be sure to provide clear quotes and proposals, and always deliver quality work on time.
---
Upwork profile example 2023
With the future of work shifting rapidly in 2023, having an updated Upwork profile can be the key to success for many freelancers. Whether you're a designer, a marketer, or a virtual assistant, having a well-crafted profile on Upwork can help you stand out and demonstrate your value to potential employers. Make sure your profile highlights your expertise by presenting current projects and accomplishments that are relevant to employers' needs.
Don't forget to include keywords from the specific roles that you are targeting so potential clients can find your profile easily. With an eye-catching profile, you'll be well on your way to finding valuable work opportunities in this ever-changing job market.
You can get an idea to build an effective Upwork profile from this example!
---
FAQs for Upwork profile 2023
Q: How do I create a profile on Upwork?
A: To create a profile on Upwork, you need to visit the official website and click "Sign Up". You will then be prompted to enter your email address, choose a username and password, provide some personal information, and confirm your identity with a valid ID. Once you have completed these steps, you will be able to create a profile and start using Upwork!
Q: What information should I include in my Upwork profile?
A: Your Upwork profile should include an up-to-date resume showcasing your skills and experience. You should also list any certifications or awards that you have earned and any tools, technologies, or languages that you are proficient in. Additionally, it is important to include a professional photo, an overview of your past experience, and a description of the services that you offer.
Q: What should I do to increase my chances of being hired on Upwork?
A: To increase your chances of being hired on Upwork, it is important to update your profile regularly with new skills and certifications. You can also customize each proposal that you send out to make sure it shows off your best qualifications for the job. Additionally, you should stay active by applying for jobs that match your qualifications and following up with clients after submitting proposals. Lastly, don't forget to ask for reviews from past clients to help boost your profile's visibility.
Q: How can I make sure my Upwork profile is seen by potential clients?
A: To make sure your Upwork profile is seen by potential clients, you should include keywords that are relevant to the services you offer in both your profile and job applications. Additionally, it is important to keep your profile updated with new skills and certifications and to be active on the platform by applying for jobs regularly. You can also take advantage of features like "Promote My Profile" or "Spotlight Your Profile" which will help increase your visibility on the platform. Lastly, don't forget to ask for reviews from past clients!
Q: What is job success score on Upwork?
A: A job success score is a percentage that represents how often you have been successful on jobs through Upwork. Your score is based on the number of jobs you've completed, the total amount of money you've earned from completing jobs, and the number of positive ratings you've received from clients. The higher your score, the more successful you are as a freelancer on Upwork.
Q: What tips do you have for writing a successful job proposal on Upwork?
A: When writing a job proposal on Upwork, it is important to customize your proposal for each application. Make sure to provide a clear outline of the services that you can provide and be specific about how you can help the client meet their needs. Additionally, include any relevant certifications or awards that you have earned as well as examples of past projects. Lastly, don't forget to close your proposal with an offer for further discussion, and make sure to follow up after submitting it!
Q: What is the best way to manage my Upwork account?
A: To help manage your Upwork account, it is important to keep track of all projects that you have been hired for and check in with clients regularly. Additionally, make sure to update your profile with any new certifications or awards that you have earned and respond quickly to any questions or messages from potential clients. Lastly, don't forget to leave reviews for past employers after completing a job as this will help boost your visibility on the platform.
Q: What should I do if I have an issue with a client on Upwork?
A: If you are having an issue with a client on Upwork, the best thing to do is to contact their customer service team as soon as possible. Be sure to include as many details about the problem in your message as possible so that they can better assist you. Additionally, make sure to follow up regularly about any unresolved issues and document everything for your records. Finally, it may be helpful to reach out directly to the client if needed and attempt to resolve the issue amicably.
Q: How often should I update my Upwork profile?
A: It is important to keep your Upwork profile up-to-date with any new skills or certifications that you have acquired. You should also update it when you complete projects or add services to your profile. Additionally, you should review and revise your profile on a regular basis to make sure all of the information is current and accurate. Having an up-to-date profile will help ensure potential clients are able to find you more easily!
Q: What other tips do you have for using Upwork?
A: To get the most out of Upwork, make sure to read through the user agreement carefully before signing up or applying for jobs. Additionally, it is a good idea to research the ratings and reviews of potential employers beforehand so that you can be sure they are legitimate. Lastly, it is also important to respond quickly to any messages or questions from potential clients and always be professional in your interactions with them. This will help increase the likelihood of getting hired for projects and boost your overall visibility on the platform!
Q: Is there a way to get more visibility on Upwork?
A: Yes, there are several ways to get more visibility on Upwork. Utilize features such as "Promote My Profile" or "Spotlight Your Profile" which will help boost your visibility on the platform. Additionally, include relevant keywords in both your profile and job applications so that you can more easily be found by potential clients. Finally, don't forget to ask for reviews from past clients as this will help build your credibility and increase the chances of getting hired for more jobs.
These questions and answers should provide you with some helpful tips for navigating Upwork! By keeping these tips in mind, you can be sure to make the most of your experience on the platform.
---
Ending Notes
Growing your freelance business through Upwork can help you take it to a whole new level. With the right setup, research, and optimization of your profile, you can attract quality clients and gain higher earning potential. From creating a professional profile description to writing relevant proposals and choosing the right rate for your services, there are plenty of steps you need to take in order to grow and thrive on Upwork. Staying organized and consistent with these simple strategies will help you keep up with the competition and find even more successful clients and opportunities. With Upwork, success is within reach–for all levels of freelancers! If all these tips sound overwhelming or if you're looking for more guidance in managing your freelance career, feel free to contact us at Your Company Name Here. Good luck taking that next step!