Technically, the only things food couriers need are a reliable method of transportation and a valid license.
However, if you want to be a great courier, you should invest in some equipment to help you do the best job possible.
What type of equipment?
Well, that depends on the type of business you run — DoorDash drivers need less equipment than big-order food couriers who work independently for companies.
Below, we'll provide equipment lists for both types of drivers: on-demand delivery drivers and independent food couriers.
By the time you're done with this article, you'll know what must-haves to add to your list.
---
On-Demand Drivers vs. Independent Food Couriers
The pandemic brought us to an entirely new world that doesn't seem to be disappearing anytime soon. More people want their food delivered to their door, whether it's groceries or hot-and-ready meals.
The high demand has created a dilemma for food service providers. Hiring an in-house delivery team means paying for more employees, insurance coverage, and equipment.
Instead, restaurants and other companies hire third-party or independent drivers to fill in the gaps.
Third-Party vs. Independent Drivers
As a third-party driver, you work for a company that pays you to pick up orders from restaurants and deliver them to customers. The most common delivery services that fall into this category are Uber Eats, DoorDash, Postmates, and GrubHub.
Third-party drivers are freelancers. They set their hours and work as little or as often as they want. While they technically don't have a "boss," their jobs are still under the scope of the company they represent.
There's a demand for independent food couriers, too: freelance caterers, bakers, taco trucks … you name it. Independent food couriers work either for their own company or directly with a client — no middle man.
Some independent couriers are freelancers, while some have employees.
Independent couriers typically deliver larger orders than third-party drivers. Therefore, they usually need more equipment than third-party drivers.
For example, a freelance caterer needs much more equipment than a DoorDash driver. While DoorDash orders can get big, they don't get as big as catering orders regularly.
The next part of this guide lists some of the equipment you need based on what kind of courier you are.
---
Food Delivery Equipment for On-Demand Drivers
Most third-party delivery companies have loose equipment requirements.
Unlike rideshare driving, customers don't enter your vehicle, so you can use any form of reliable transportation. Some freelancers in big cities deliver their food on bicycles.
No matter how you choose to get around town, you'll need some essentials to make the job easier.
Here's a list of must-haves along with our top-pick product for each category:
1. Insulated Delivery Bags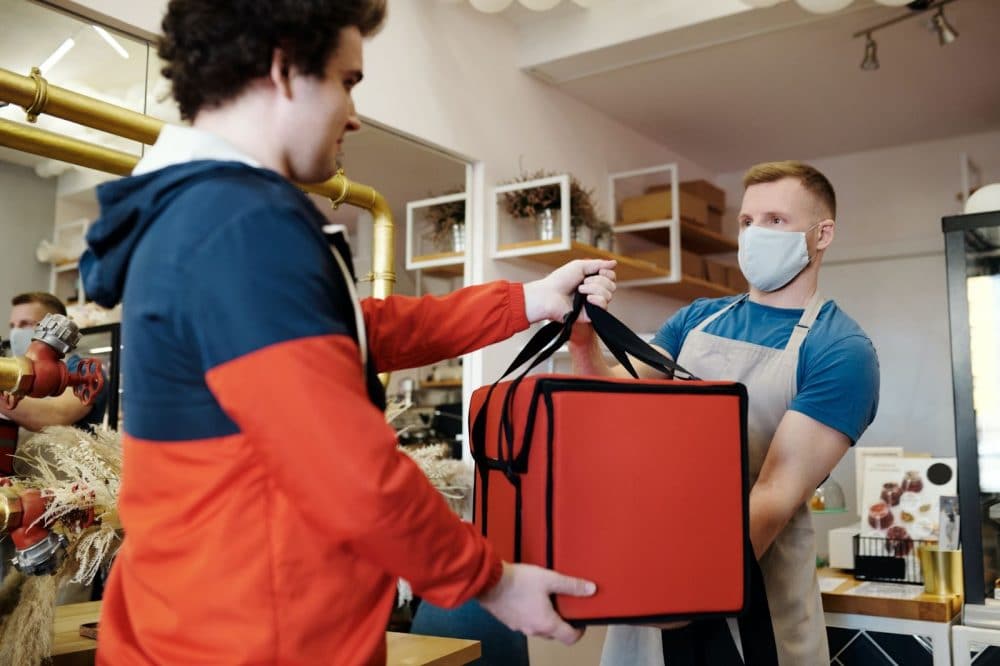 The first thing to invest in is a well-insulated food delivery bag. It's not required, but it helps get the food to the customer warm and fresh.
The insulation maintains the temperature of the bag's interior. As long as you separate your hot and cold items, the hot stays hot and the cold stays cold. Moisture is also controlled, keeping the food from getting soggy.
At about $40, it's an investment that will pay off. Customers who receive cold or not-fresh food may complain to the restaurant or decrease your tip.
You could go with a typical pizza delivery bag, but that doesn't accommodate different types of food. Get a bag versatile enough to hold all the different types of delivery items you pick up.
We suggest the KIBAGA Premium Insulated Food Delivery Bag XXL. You'll fit plenty of deliveries in this 23 x 14 x 15 bag. It's durable and easy to clean, too.
2. Car Phone Mount
It's illegal in many states to drive with your phone in your lap. A car mount keeps you safe and following the law while you're also following the GPS.
The best version of this accessory varies depending on your vehicle and phone. PCMag breaks down the different types of car phone mounts, noting which ones work well for iPhones and Androids.
Everyone should have a mount for their phone, even if you're riding a bike or a moped. It helps you navigate hands-free while you're on unfamiliar roads.
3. Drink Carriers
Drink carriers save you from the damages of spilled beverages. That benefit alone makes them worth the cost.
One or two drinks can go in your car's cup holders. You're asking for a mess if you rely on the restaurant's flimsy styrofoam trays.
We like the Craftalent foldable plastic cup holder. It fits six beverages up to Trenta size (the jumbo-jumbo Starbucks cup) and is easily stored between your seats when you're not using it.
At $23, we call this one a steal.
4. Mileage Apps
Tracking your mileage serves a few purposes. The most obvious is that you can deduct the expenses from your taxes. If you use the data to analyze your costs, mileage tracking also helps you identify the most profitable routes.
Our favorite app is Hurdlr. It integrates with your bank account and your delivery app.
You drive, and the miles show up in the app. It tells you how much of a deduction you can claim and organizes your expenses for you in easy-to-read reports.
Does handling your taxes as a freelancer make you nervous? Don't be! Join Selfgood for
finance and legal benefits
that make running your own business (even during tax season) carefree.
---
Equipment for Independent Food Couriers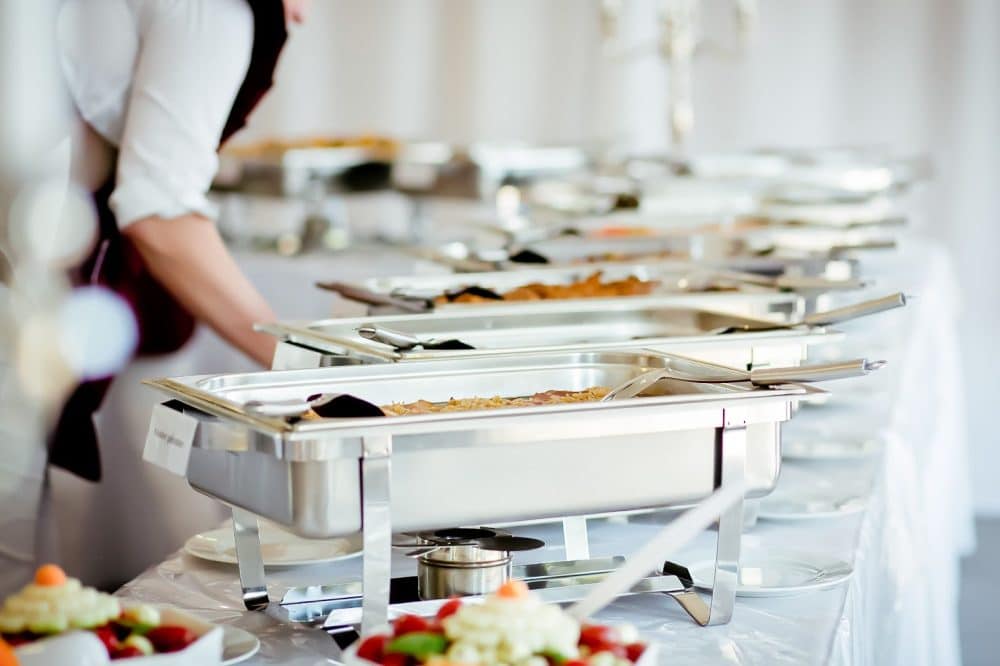 As an independent courier, you could be handling large-volume orders. On top of the essential equipment accessories listed above, you should have some professional restaurant equipment.
5. It's All About the Vehicle for You
Independent couriers frequently deliver to sizable events. The more room you have in your vehicle, the more efficiently you can tackle the job (and the more money you'll make).
A large van or truck with sliding doors and a ramp (or external ramp if the vehicle doesn't have one) makes this job more manageable. Delivery carts in the back of the truck make a world of difference, too.
Inside the vehicle, you'll need a refrigeration unit. If you don't want to invest in turning your entire truck into an insulated cooler, look into portable cooling solutions.
Our favorite food storage containers are Thermo King's Coldtainer storage units. These look like beach coolers but have temperature-control technology that keeps frozen goods like ice cream from melting.
Easy to take in and out of your truck, these insulated food carriers can keep items ice cold and help you land more business contracts.
6. Select Food Preparation Accessories
If cooking is part of your job, you'll also need some food prep tools and cookware. On top of your ovens and grills for hot food, add high-quality liners, mats, food pans, and thermometers to your shopping list.
Depending on what you cook, you'll have slicers, a steam table, griddles, fryers, and other dangerous foodservice equipment. It's important to have organizers to keep all the sharp objects in place as your vehicle moves.
Other organizational tools will help you store your accessories:
Aprons
Paper towels
Condiments
Napkins
Stainless steel and/or disposable cutlery
Take-out containers
Reusable dinnerware
Using shelving instead of the countertop or worktables gives you more room in your vehicle. Look for heavy-duty standalone options that fit the empty spaces around the kitchen equipment. You should be able to find these at any restaurant supply store.
Consider food warmers that sit on the tabletop to store the hot items you've prepared. You'll be glad you invested in them when you're busy.
---
Other Must-Haves for Your Food Courier Biz
Delivery supplies are vital, but you need some other items to start your business.
Moving beyond equipment, you'll need to get your legal ducks in a row before you start delivering.
7. Register Your Business
First, take a quick stop at the Internal Revenue Service's page for self-employed business owners. There, you'll be able to register your food courier service as a business entity, which gives you access to tax write-offs and other benefits.
Your mileage app is an easy way to organize your fuel deductions, but you could write off other expenses:
Parking and toll fees
Phone bill
Roadside assistance premiums
Uber/DoorDash/Grubhub fees
All the equipment in this article
… and more
If you're not sure which business structure is right for your company, check out this article: Are You a Sole Proprietor, LLC, or Independent Contractor?
8. Business Insurance for Food Couriers
Once you have that legal structure, you can start protecting your assets with insurance policies.
You already know you need a commercial auto policy, but have you looked into the other types of small business insurance yet?
General Liability
General liability coverage is important if you use another business's property to deliver food. This coverage protects you if anything is damaged.
Equipment Damages
Equipment coverage protects your machinery. Fixing kitchen equipment can be expensive. An equipment policy pays for repairs or replacements and pays you an income if you can't work while your machines are down.
Personal Health Insurance
Self-employed people often skip health insurance, but who will pay your bills when you're sick?
Health insurance covers your medical bills and ensures that you have income when an illness or injury puts you out of work.
It also allows you to visit the doctor for preventative care or to treat illnesses that would otherwise lead to missed work.
Still, the cost of insurance premiums can be astronomical. Luckily, there's Selfgood.
An Alliance of Gig Workers membership gives you access to discounted indemnity policies through Aetna. The premiums are affordable, and you can go to any doctor you want.
You pay a small coinsurance fee after you meet your deductible, and the indemnity insurer takes care of the rest.
Your plan gives you Teladoc access, discounts on prescriptions, and more. You can't afford not to invest in this type of supplemental health coverage.
Sign up for Selfgood's freelancer benefits today!
9. Food Handling Training
Anyone dealing with food should know how to maintain sanitary environments to prevent contamination. You need a food handler certification if you work in the food industry.
You can get around this requirement if what you're delivering is already packaged and sealed, but if you touch any food or beverage (even a beverage dispenser) directly, you should have the food handler training.
Some businesses will ask to see proof of your certificate before working with you.
10. Electric Bike Licenses
Food couriers who use electric bikes may need a license. This depends on your bike's features and how your state classifies an e-bike.
If you're weighing the pros and cons of using any kind of bike as a food courier, keep in mind that your transportation may limit your work.
For instance, you can't carry multiple large orders at once. Also, it could take you longer to reach your destination, reducing how much you can earn in an hour.
However, in crowded cities like New York, biking saves time because you can avoid traffic jams and congested roads.
Be sure to follow the laws in your area, including helmet laws and license laws.
---
Conclusion
The food courier business is booming, and there has never been a better time to get involved in it. You could work for a company as a third-party delivery driver or jump in and cater large events out of your truck.
No matter which avenue you choose, Selfgood can help you thrive. With the equipment on this list, proper licensing, and an Alliance of Gig Workers membership, you'll be on the road to success.
Learn about all of the benefits Selfgood members receive:
Subscribe To SelfGood
Get up to date perks and Gigworker news. Easy. Simply. SelfGood. Subscribe.
Our Products
Everything you need in one place
Health Insurance
Customized insurance designed to meet your needs
Check Our Prices
Supplemental Health Insurance
Customized insurance designed to meet your needs
Check Our Prices

Life Insurance
Protecting the people you love
Check Our Prices