Suppose you're considering taking on extra work for the holidays or finding a new job. You might consider driving for The United Parcel Service as a UPS independent contractor or a full-time employee.
Working full-time has its perks, but maybe you'd like the flexibility to make your schedule or work for other delivery services simultaneously.
UPS is always hiring. They hire part-time and full-time independent contractors, especially during the holidays when their delivery services are most in demand.
You don't have to play eeny-meeny-miney-mo to choose which type of worker you become — this guide gives you the pros and cons of both categories to make an informed decision.
---
What Does a UPS Delivery Driver Do?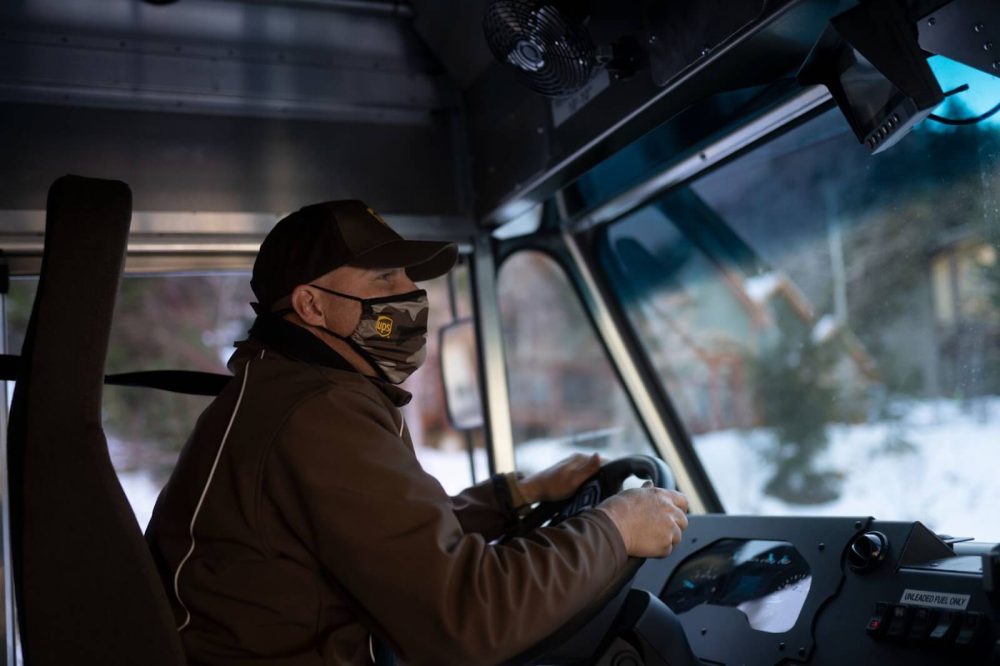 A UPS driver does so much more than deliver packages. Therefore, you need hard and soft skills to qualify for the job (and, of course, a valid driver's license).
Physical and Social Requirements
You could drop off 120 deliveries or more daily as a package handler.
This involves a lot of physical work:
Getting up and down the truck steps (if you're in a UPS vehicle)
Navigating long driveways to get to the doors
Driving for extended periods
Customer interactions happen frequently. The better your social skills are, the more enjoyable the job will be. No one wants a cranky delivery person, and you represent the company.
You'll still have to report to a manager, whether an independent contractor or an employee. This requires respectful and timely communication. It helps to handle constructive criticism well, especially as you're learning.
Don't meet the physical requirements?
That's okay! You may not qualify for a delivery driver job, but you can still apply to work in a UPS store or at one of their hubs.
Computer Skills
A computer tracks your time to see if you're staying on schedule, and you'll have to interact with it throughout your shift.
You'll need to know how to use the Delivery Information Acquisition Device (DIAD) and a handheld scanner.
Gig Workers have Health Insurance Options Too. Consider supplemental benefits.
---
UPS by the Numbers
The company is a massive corporation. They advertise the ability to send packages to "more than 210 countries and territories worldwide."
With competition like FedEx Ground and USPS, the managers at UPS know they have to offer high pay and benefits to their workforce.
The company hires part-time and full-time staff and contractors to handle the nearly 20 million daily packages and documents it's responsible for.
Many of those on the payroll deal with freight and handling packages.
As a truck driver, that contact becomes your primary responsibility. You don't load the contents, but once they're in your possession, it's up to you to promptly deliver them.
Employee Rates
UPS has about 540,000 part-time and full-time employees on staff during most of the year. During the holidays, that number is ramped up by about 100,000.
Many full-time drivers start as independent contractors using their vehicles. If this is the position you're hired for, and you do well, you could be offered a full-time position at the end of the season.
Average Hours
UPS went through a rough patch where full-time drivers were contesting the heavy workload they were required to follow.
Often working six or seven days a week to keep up with the company's Amazon partnership and other deliveries, drivers were burnt out.
The company compromised by creating a new job position, classified as a Combination Driver. This job involves some driving (during weekends and busy hours) but other types of work (warehouse, clerical, etc.) when the need for delivery drivers is down.
Full-time delivery drivers can still expect to see a lot of overtime in their schedules, especially during busy seasons. However, personal vehicle drivers may get part-time hours unless the route is short-staffed or overly busy.
How Much Do UPS Drivers Make?
UPS salaries depend on several factors:
Location
Experience and skills
Length of time the driver has worked for the company
Starting pay has a vast range. According to Glassdoor, you could be offered anywhere from $11–$52 per hour.
The more you have to offer the company, the higher your pay rate will likely be. For instance, someone with a CDL who can drive a tractor-trailer will make a higher hourly rate than a freelance courier driver.
What About Benefits?
Deciding whether to work for or with UPS often comes down to the benefits rather than the pay.
All full-time employees get the following benefits:
Health insurance
Paid time off
Sick days
Retirement options
As an independent contractor delivery driver, you get a similar salary without the benefits.
You'll drive your vehicle, too, which is an added expense. You'll get mileage reimbursement but still, have wear and tear and fuel to deal with.
Note: Vehicle maintenance is a business expense if
 you're an independent contractor. If you want help finding other deductions to help you lower your tax burden, one of our
financial counselors
may be able to help.
---
Pros and Cons of Working for UPS Directly
Let's discuss the benefits and downsides of full-time employment with UPS.
Pros: Things You'll Love
There are a lot of advantages to working for a company with an impressive reputation and longevity:
1. Reliable Paychecks
You never have to worry about not getting your next paycheck as an employee. You'll consistently know how much to expect on payday and have job security and benefits.
2. Consistent Schedule
The company sets and manages a controlled schedule for you. Your working environment is professional, and you leave the work at your job instead of bringing it home at the end of the day.
3. Professional Workplace
Major corporations like UPS have structured methods of improvement and efficiency, so you know if there's an issue, you can talk to someone who will listen.
Cons: Things to Be Aware Of
Before you submit your application, you may want to consider these factors:
1. Capped Salaries
While having a consistent paycheck is nice, you'll hit the ceiling sooner or later when you're working for a company.
For UPS, salaries for drivers cap out at around $70,000.
2. Strict Schedules
There's not a lot of leeway in your schedule, either. Although Combination Drivers have eased up driver hours a little, there's still minimal flexibility for time off.
The packages won't deliver themselves!
3. Seniority Structure
Remember that you may not be able to start as a driver. Many employees have to work in another role for several years before becoming a driver with their routes.
Overall, though, UPS has a reputation for being an excellent company to work for if you want a stable job with benefits and competitive pay.
What Is the GetPaidTo App Like? Can You Get Enough Gigs?
---
Pros and Cons of Becoming a UPS Independent Contractor
Here are some of the benefits of taking the independent contractor route:
Pros: Things You'll Like
1. Flexible Schedule
Running your show is everyone's dream. As an independent contractor with UPS, you get to do this.
You can't set your hours completely, but you have more flexibility with time off. You can choose to work fewer hours or take time off if you're meeting the required hours and showing up when you're supposed to.
2. High Compensation
Personal drivers do get perks like high hourly pay plus mileage reimbursement. So inu can bank almost as many hours in busy seasons as you'd like.
Cons: Considerations About Independent Contracting
Independent contractor jobs can be tricky unless you're already comfortable leaving the security of a regular check behind. Here are some things to consider before joining UPS's freelance team:
1. Irregular Income
While you have the potential to make more than you'd get in a salaried position, the pay isn't always stable. Your hours — and therefore your income — can change from week to week.
This can make it hard for you to plan a budget.
2. Lack of Benefits
Independent contractors, such as health insurance and legal protection, don't receive employee benefits. In addition, there isn't a set contract or job stability, and you're not guaranteed hours.
3. Tax Responsibilities
When you get your paycheck, it won't have taxes withheld. When you file your federal taxes, you'll have to pay out-of-pocket for your wages.
Subscribe To SelfGood
Get up to date perks and Gigworker news. Easy. Simply. SelfGood. Subscribe.
---
Can You Make Real Money Working for UPS?
Driving for UPS full-time is a solid job. You can make perfect money and don't need a degree or special training (other than what the company provides).
Independent workers can also make good money, but mostly during peak seasons.
How to Apply for a Driving Job With UPS
The company doesn't have job openings for contractors all year round. If you want to be an independent contractor for UPS, you need to sign up for job alerts.
Once you've submitted a resume and application, you won't have to search the site for new listings. Even if they don't hire you immediately, they'll send a "Now Hiring" notification to your phone or email when new listings appear.
You'll know that UPS needs a package delivery driver at that point, and you're already qualified. They may just be looking for a driver helper or someone for day delivery, but you may still be able to make some decent money.
You can also attend any hiring event that you see advertised. Again, getting your foot in the door and making connections is a great way to get noticed.
Let them know your job description and that you want to work independently. They may have a position open for you!
---
Taking the Pros, Fixing the Cons
If you choose to be an independent contractor with UPS, you can have your cake and eat it.
How?
By finding ways to address the downsides of the job.
How can you get health insurance without spending a fortune?
And what about managing your taxes throughout the year?
Here are some solutions:
Selfgood for Supplemental Insurance
Selfgood, in partnership with The Alliance of Gig Workers, is a membership program that offers supplemental benefits:
Health and wellness benefits
Financial and legal benefits
Discounts on everyday products and services
Because so many members are connected under one umbrella, everyone is entitled to volume discounts.
Hundreds of companies partner with Selfgood to help gig workers save money. So if that's all holding you back from independent contracting, consider that hurdle jumped!
Sign up for Selfgood and get access to our supplemental benefits!
Taxes Troubling You? Turbo Tax Can Help
We get it — no one wants to be on the wrong side of the IRS, and dealing with your taxes can be scary.
With the right accounting program, like Turbo Tax's version designed for independent contractors, it doesn't have to keep you from working for yourself.
Their easy-to-use software teaches you how to save receipts, find deductions, and more. As a result, tax time can be a breeze, even in the gig work lifestyle.
---
Conclusion
If the life of a UPS driver has always appealed to you, why not start working toward that life?
Whether you want to be an official employee or take the independent contractor route, you have options.
No matter your choice, you'll have benefits — either from UPS or Selfgood!
Our Products
Everything you need in one place
Health Insurance
Customized insurance designed to meet your needs
Check Our Prices
Supplemental Health Insurance
Customized insurance designed to meet your needs
Check Our Prices

Life Insurance
Protecting the people you love
Check Our Prices