There's a fine line between helping your friends and family with handiwork and getting paid to work as a carpentry contractor.
Somewhere between the two, you may need a general contractor's license to do the job.
How do you get a carpenter's license?
We'll discuss each of these steps in detail below, but here's a quick rundown of what you need to do:
Meet the license requirements
Get the required insurance
Take the state exams
Complete the contractor license application
In this article, we'll discuss why you need a carpentry license and how to get one.

---
Why Do You Need a Carpentry License?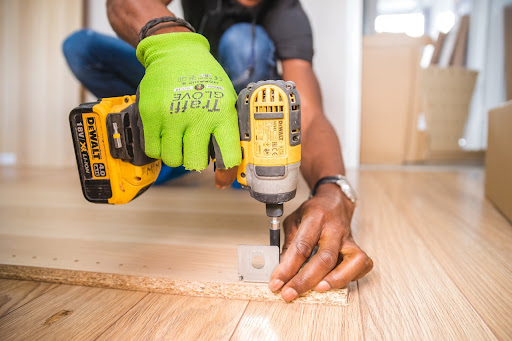 A carpentry license is a legal document that grants you permission from the government to build structures in exchange for money. It essentially signifies that you meet the age and experience requirements necessary to work as a professional carpenter.
Sure, you probably see dozens (or more) unlicensed individuals who offer their services for discounted rates. They might look like they're getting away with it, but if caught, they'll have to deal with the penalties.
The consequences of practicing carpentry without a license vary by state.
These laws aren't in place to make things hard on carpenters. They're there to protect the safety and finances of clients. If you don't know the local building codes, for instance, you could put the client at a significant risk.
Now, not all carpentry tasks require an individual to hold a state license. You can do basic handyman tasks without having any type of license, yet holding one opens you up to a world of potential work.
So now, what do you need to do to get this coveted carpentry license?
This guide will walk you through all the standard requirements to get you started.
Need help with the challenging aspects of running your small business? Join
Selfgood
to connect with professionals who take the guesswork out of small business compliance issues.
---
How to Get a Carpenter License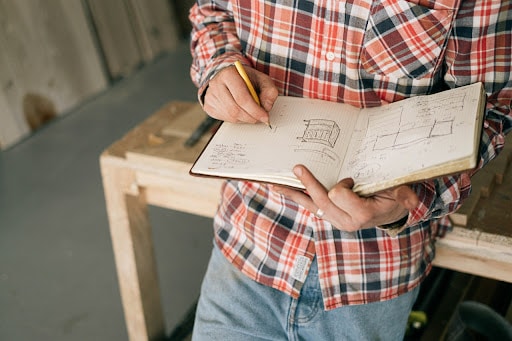 Here are the steps you need to take to become a licensed carpenter:
1. Meet the License Requirements
Getting a license through a state agency always includes a list of requirements. Preparing before you go to apply for your license can save you a lot of time.
One of the great things about working in the construction industry is that you can make a very good living without even having high school diploma. However, there are some other requirements you must meet to become a licensed contractor in most states:
A minimum age requirement of at least 18 years old
Fingerprints on file
Proof of the required years of experience
You probably expected these requirements. They're common-sense with any skilled trade. Yet, what you might not realize is that you'll also need to have a minimum credit score of 660.
What? Why would your finances matter to the licensing board?
Well, the answer makes a lot of sense when you think about it.
Subscribe To SelfGood
Get up to date perks and Gigworker news. Easy. Simply. SelfGood. Subscribe.
Why Getting Your Finances in Order Before Applying Matters
A 660 credit score isn't the only financial factor that matters. Many states research your economic history rather than relying on a FICO score to ensure you're reputable enough to handle large amounts of other people's money.
Remember, a carpentry license doesn't just give you permission to build things; it gives you permission to run a small business.
So, you need to demonstrate fiscal responsibility, which means you shouldn't have any unsatisfied personal or business liens or judgments against you.
If you don't have a 660 score, you can replace that requirement with a licensing bond. (also called a surety bond), which serves as a type of insurance.
For example, a bond of $500,000 can cost you $10,000 (or more) per year, depending on your credit. But if you end up sued for damages, the bond gives the victim up to $500,000 in compensation.
This can get expensive, but you can stop maintaining it once your credit score meets the minimum.
You can also work as a handyman until your credit is in order and then finish your carpentry applications and the rest of these requirements.
2. Get the Required Insurance
As Murphy's Law promises, if something can go wrong, it will go wrong (and often at the worst time). When it does, you'll be glad you had insurance to cover you.
Typical construction dangers include:
A misplaced piece of lumber causes someone bodily injury
Your journeyman drops a miter saw on a client's brand new hardwood floor, and now a significant portion needs replacing
A previous client's new home has issues, and they're suing you as the responsible party
Your marketing agency didn't do its due diligence, and now another company is accusing you of stealing its copyrighted images
These are very natural obstacles that are part and parcel of a construction business. As a general or specialty contractor, you'll need proof that you have enough coverage to tackle most scenarios.
General and professional liability insurance covers things like bodily injury, property damage, libel, and copyright issues. If you hire employees, you'll also need workers' compensation insurance.
A benefits package just for gig workers? Yes, please! Join Selfgood for less than $1/day and gain access to health, financial, and legal benefits as well as everyday discounts.
3. Take the State Exams
Each state has its own licensing exam and various requirements.
Florida, for example, requires a passing score on all parts of the Florida State Construction examination, a minimum education, and/ or experience background.
You also must "be of good moral character" and "demonstrate financial responsibility."
However, the type of questions you'll see on exams in Nevada will be different from Florida's, and so on.
Some states also add the necessity of a specialty license if you want to do jobs that involve millwork or finish carpentry. This would be another exam on top of the state's general contractor requirement.
4. Complete the Contractor License Application
After passing your state test, you can apply for your specific type of license .
The fees for your application, once again, depend on the state you're in and the license you need.
South Carolina's fees are typical of many other states, so we'll summarize those to give you an idea of what you should expect.
The general and mechanical contractor license is $350 for a whole licensing period. If there are less than 12 months left until the next period, it's $175.
There are nine types of specialty contractor registration, and each one has a $100 registration fee (or $50 if there are less than 12 months left).
Aiming to be a residential builder means you need one of four additional specialty licenses. These are for building construction, HVAC, electrical, and plumbing. Each submission comes with a $100 application fee.
Then, you'll have to pay a $160 licensing fee for the entire period or $80 for less than 12 months remaining.
Keeping Up With Your License
Contractor licenses are only valid for a set period. This typically expires on October 31 of an even-number year for general contractors in South Carolina.
Others states may give you one year from the date of approval or something entirely individual.
You're going to need continuing education courses before you renew your license. Join the National Association of State Contractors Licensing Agencies to find relevant courses in your area or online.
---
Need Help Applying for Your Carpenter License?
It sounds pretty straightforward, but you might run into a few challenges throughout the licensing process. When you need help, here are some beneficial resources.
Selfgood for Legal and Insurance Questions
Your license means you're legal to work in the state as an employee. To own a business is an entirely new ballgame.
When you're ready to deal with setting up a sole proprietorship or LLC and handle taxes, Selfgood is here for discounted legal help. They can also help you understand your insurance coverage options.
Builders License for Help Passing Exams
Struggling to pass your contractor exam?
It's a complex test, especially if you're trying to get a specialty license. Some of those only have a 24% passing rate on the first attempt.
Don't pay the exam fee six times or more. Check out the Builders License for tips and tricks to ace your test early.
Experian for Credit Fixing Tips
You'll eventually be earning a decent living as a carpenter. But that doesn't mean you want to pay $10,000 or more a year for a surety bond because of your poor credit.
Fixing your credit score takes time, patience, and willpower. These tips from Experian teach you what your score involves and the fastest ways to bring it up.
---
Conclusion
The ability to do carpentry work is something to be proud of. If you can make a living out of this vocational trade, and you enjoy it, a "carpenter license" is worth the investment.
With the license in hand, business setup, and skills at your fingertips — you'll be ready to start your new career path.
From Alabama to Hawaii, the qualifications, exams, and fees will vary. However, the help you have as you go through the process is nationwide.
Head to Selfgood for questions about things like general liability insurance, health insurance, and other self-employed business help.