Are you considering becoming a Postmates driver in 2023? If so, it's essential to understand the Postmates driver requirements to get your foot in the door and start earning money as a delivery driver. First, we'll look at the basic guidelines for eligibility and how they may have changed since you last applied.
Plus, we'll cover some additional considerations for potential drivers. So you can decide whether this job is right for you. Ready to dive into delivering food or just curious about what kind of commitment this type of employment entails? Read on to learn more about what being a Postmates driver involves!
---
Postmates Delivery Drivers: An Overview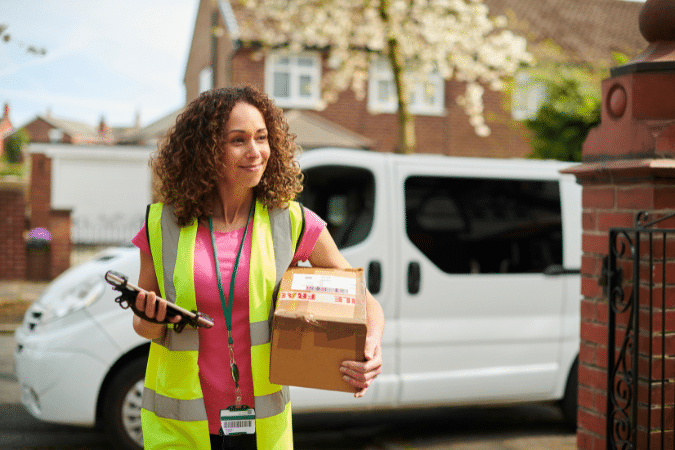 Are you looking for an exciting way to earn some extra money on the side? Have you considered becoming a Postmates delivery driver? Postmates is a food delivery service that allows customers to order from their favorite local restaurants and have those orders delivered right to their doorstep. If you want to become a Postmates driver, read on to learn more about the requirements and how to get started.
What is Required? Postmates Driver Requirements
Before you can become a Postmates driver, you must meet specific requirements. First, you must be at least 18 years old and have access to an insured vehicle. A valid driver's license and social security number are required to complete the Postmates application process.
A smartphone (either Android or iOS) is also necessary to use the Postmates Fleet app. Finally, potential drivers must pass a background check before working as delivery drivers. The background check will examine your criminal history, driving record, and vehicle registration status.
Getting Started as a Delivery Driver
Once you've met these requirements, you can begin the application process by visiting their website and completing the online form. Once Postmates accepts your application, you must download the Fleet app onto your phone to receive customer orders. The app will show you where your customer is located, as well as where the restaurant is located where you need to pick up the order. You can also track your earnings through the app after you complete each delivery.
Earning Potential
As a Postmates courier and food delivery driver, your earning potential depends on several factors, including location, amount of deliveries made per hour/day/week/month, etc., and customer tips (which are optional). On average, though, most drivers make between $15-$25 per hour depending on how many orders they can complete in that time frame. With bonuses available for peak times of day or night (such as rush hour), experienced drivers can make even more money during those periods!
Overall if you're looking for an easy way to make some extra cash while getting outside and exploring your city—Postmates driving might be perfect! With flexible hours that allow drivers to choose when they work (or don't work) around their schedule—it's one of the most convenient jobs out there! In addition, with competitive pay rates and customer tips, you can easily make great money with this gig job! So get started today by signing up on Postmates dot com now!
---
Applying to Become a Postmates Driver
If you want to join the Postmates fleet, you've come to the right place. Applying to become a Postmates driver is relatively straightforward. However, there are some steps you should be aware of before you get started. Let's take a look at what those steps are and how to complete them successfully.
1. Create Your Profile
The first step in becoming a Postmates driver is creating your profile. You must provide personal information such as your name, address, and phone number. You must also give details about your vehicle (make, model, year) and proof of insurance and registration. Once you have completed all the necessary information, you can submit your profile for review by Postmates' team.
2. Pass a Background Check
Once you've submitted your profile, the next step is passing a background check. You must provide state and federal background checks before beginning work as a Postmates driver. You will need valid identification, such as a government-issued ID or passport, for this step to be successful.
3. Complete an Orientation Course
Once your background check has been approved, the next step is completing an orientation course. This course covers essential topics such as safety procedures and Postmates customer service guidelines that every Postmates driver must adhere to remain employed with the company. The orientation course takes approximately two hours and must be completed before beginning work with Postmates.
4. Download the App & Set Your Schedule
Once you complete the orientation course, you can set up your schedule via the mobile app (available for Android and iOS). This allows you to set specific hours that you are available for delivery jobs so that customers know when they can expect their orders delivered by you.
5. Hit the Road!
Now that everything has been taken care of—background check passed, orientation course completed—you're ready to hit the road! You can start picking up delivery jobs through the mobile app and make extra money while helping people get their food faster than ever before!
Becoming a Postmates driver is easy when you follow these five simple steps! From setting up your profile and passing a background check, all the way through downloading the app and hitting the road, there's no reason anyone shouldn't be able to become a successful delivery driver with Postmates today! So don't wait any longer. Take these five steps now and start making money on your terms!
---
Age Requirements for Drivers – Postmates Driver Requirements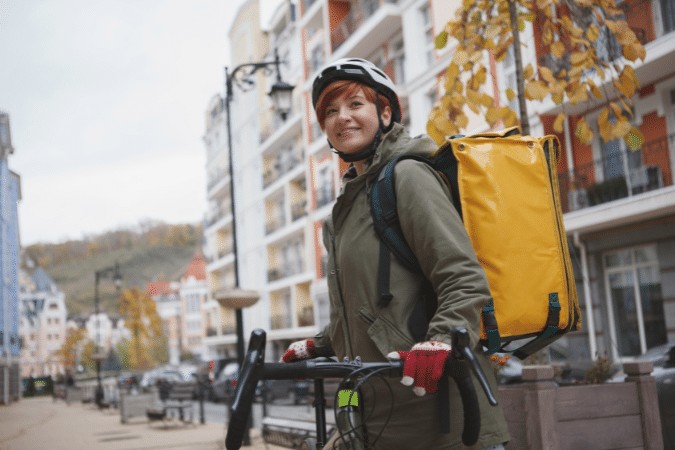 The legal age requirement for drivers varies depending on the state or country in which you are located. However, most countries require drivers to age 18 before legally operating a motor vehicle.
However, many states have higher age restrictions for certain types of vehicles, such as commercial trucks and buses. In addition, some conditions may also have laws prohibiting drivers under 21 from operating any motor vehicle. Therefore, you must check with your local DMV (Department of Motor Vehicles) office to ensure you meet all applicable age requirements before attempting to drive any vehicle.
Besides meeting any applicable age requirements, it is also essential for drivers to obtain the proper licensing and insurance coverage to operate a motor vehicle legally. Most countries require a valid driver's license from their local DMV office before they can begin using a motor vehicle on public roads.
Most countries require drivers to obtain liability insurance coverage to protect themselves and other motorists against potential losses due to accidents or other incidents while driving. Drivers should always consult with their local DMV office regarding specific licensing and insurance requirements applicable in their area before attempting to drive any motor vehicle.
Rental Cars
Suppose you plan on renting a car for business or personal use. In that case, it is essential to know that the rental company may have age restrictions, which could vary significantly from those imposed by your state or country's laws.
Many rental companies require drivers who wish to rent cars to be at least 25 years old. In contrast, others may impose even stricter limits, such as not allowing anyone under 21 years old to rent cars, regardless of legal requirements imposed by their state or country's laws.
Before attempting to rent any car, consult with the rental agency regarding their specific age restrictions not to be penalized if they are found violating these terms when using their services.
Every driver should know the applicable laws and regulations concerning age requirements for driving in their area before attempting to operate any motor vehicle, whether a car or a rental one.
Consulting with your local DMV office regarding specific rules applicable in your area regarding minimum ages for driving can help ensure that you won't run into any problems when trying to obtain proper licensing and insurance coverage needed to legally operate different vehicles, publicly and privately owned ones alike.
Postmates Drivers should also familiarize themselves with different rental agencies' policies concerning minimum ages required for renters to avoid facing heavy penalties and possible fees if found violating these terms when renting vehicles from them. Awareness of these factors helps ensure a smooth experience every time you take the wheel.​
---
Postmates Vehicle Requirements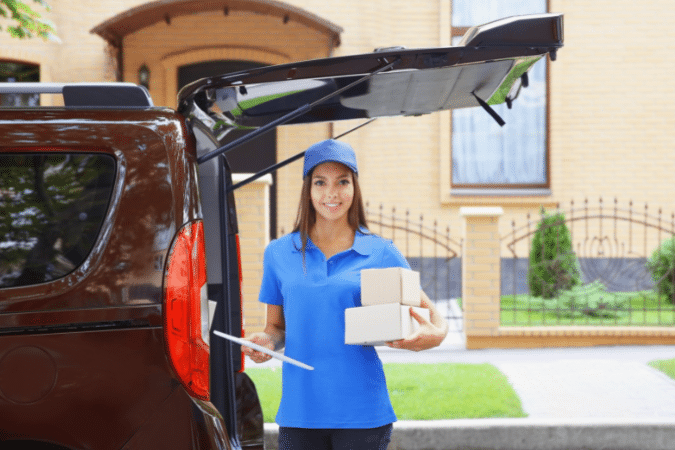 If you're considering becoming a driver for Postmates, it's essential to ensure your vehicle meets the minimum requirements. Postmates has rules and regulations to ensure drivers provide safe and reliable service. Let's review what you need to know about the Postmates vehicle requirements.
Vehicle Age Requirement
The first thing you should know is that your vehicle must be from the year 2000 or newer for you to become an approved Postmates driver. Unfortunately, vehicles older than 2000 do not meet the minimum requirements for approval.
Vehicle Type Requirement
Postmates also has strict rules regarding the type of vehicle you use as a driver. The vehicles accepted by Postmates fall into three categories: cars, motorcycles, and bikes (including electric bikes). While some cities may accept bike and scooter deliveries, we prohibit them in all locations. So check with your local guidelines before applying.
In addition, Postmates doesn't allow certain types of cars on the platform because of their size or weight restrictions. This includes trucks and large SUVs like Hummers and Escalades. Your vehicle must be registered with a valid license plate to be approved for service on the app.
Vehicle Condition Requirement
It's also essential that your vehicle is in good condition when you apply as a driver for Postmates. All cars must have no visible damage or scratches and must be kept clean inside and out at all times while providing services on the platform.
Report damage immediately to get it fixed. Then continue work as a driver on the app.
In addition, all vehicles must pass inspections conducted by Postmates before they can begin providing services on their platform. More details will be provided once you are accepted as a driver.
Postmates do a vehicle inspection to ensure that cars have working headlights and brake lights and check brakes, tires, windshields, etc., ensuring that drivers operate safely while on the road delivering packages.
All drivers who wish to provide services must meet specific Postmates vehicle requirements outlined by the company itself. Vehicles must be from 2000 or newer, registered with valid license plates, and of acceptable types such as cars, motorcycles, or bikes (including electric bikes).
Vehicles also need to pass inspections conducted by Postmates before they can begin providing services on their platform. In addition, all cars must have no visible damage or scratches and must be kept clean inside and out at all times while providing services on the forum. If you meet these criteria, you might have what it takes to join Postmates!
---
Vehicle Insurance Requirements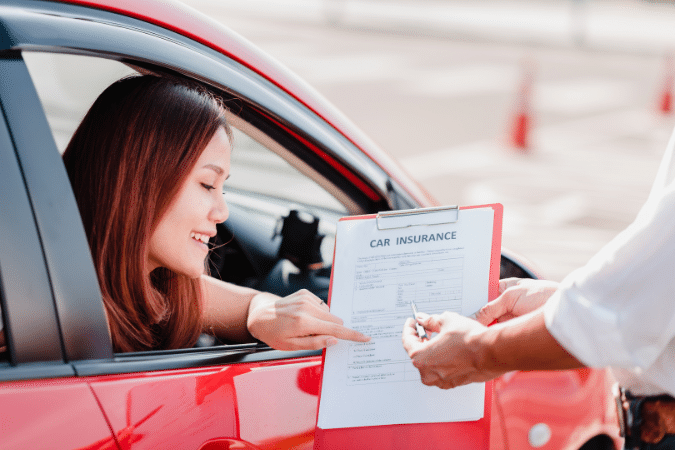 As a Postmates food delivery driver, you must carry the proper vehicle insurance to protect yourself and your passengers. However, knowing what type of coverage you need can be confusing. So let's inspect the various insurance coverage that applies to Postmates drivers.
Types of Vehicle Insurance Coverage for Postmates Drivers
Liability Coverage
This is required by law in most states. Liability insurance covers any damages or injuries you may cause to others or their property while driving for Postmates. It is essential to know that liability insurance does not cover any damages or injuries to you or your vehicle caused by accident. You should check with your state's motor vehicle department and auto policy to determine what liability coverage is required.
Collision Insurance
Collision insurance covers any damage done to your car in an accident caused by another driver, regardless of who is at fault. It pays for repairs to your vehicle up to its actual cash value minus the deductible amount you choose when purchasing the policy. In addition, collision insurance will pay you the market value (minus the deductible) for a similar make and model vehicle if your car is totaled in an accident.
Comprehensive Coverage
Comprehensive coverage protects you from damage resulting from incidents other than collisions, such as weather damage, theft, vandalism, and animal strikes. Like collision coverage, comprehensive pays for repairs up to your car's actual cash value minus the deductible you select when purchasing coverage. If it's determined that repairs cost more than the cash value of your vehicle, this type of policy will pay out its market value instead (minus deductible).
Uninsured/Underinsured Motorist Coverage
Uninsured/underinsured motorist covers medical expenses incurred by you or any passengers if damaged by an uninsured motorist or one whose insurance limits do not cover all losses in an accident involving their vehicle. In some states, this type of coverage is mandatory (check with your state's Department of Motor Vehicles).
This kind of protection ensures that if an uninsured driver causes an accident involving you or one of your passengers, their auto policy won't cover all losses suffered by those involved—yours will step in instead up to certain limits specified in the policy documents.
The type and amount of auto insurance required as a Postmates driver varies from state to state. However, most states require minimum liability coverage and other types, such as collision and comprehensive, depending on where you live and what kind of work you do with Postmates.
Be sure to familiarize yourself with all relevant laws concerning auto policies associated with rideshare and food delivery services like Uber & Lyft to ensure that you and those around you remain safe while on the job!
---
Driving Record Requirements – Postmates Driver Requirements
Postmates is a food and grocery delivery service that has become increasingly popular recently. And, with the COVID-19 pandemic still ongoing, demand for such services will continue to rise. So, if you're thinking about becoming a Postmates driver, there are a few things you need to know about the driving record requirements. Here's what you need to know.
The Basic Requirements
To become a Postmates driver, you must meet the following basic requirements:
You must be at least 18 years old.

You must have a valid driver's license.

You must have insurance.

You must have a clean driving record.

You must own or lease a car, truck, or van less than 20 years old.
You must pass a background check if you meet the above requirements. Once you have passed the background check, you can start driving for Postmates.
What is a Clean Driving Record?
To be eligible to drive for Postmates, you must have a clean driving record. But what exactly does that mean? A clean driving record means you have had no major violations within the past seven years. Significant violations include DUI/DWI, hit and run, reckless driving, etc. If you have any major violations on your record, you will not be eligible to drive for Postmates.
However, if you have minor violations on your record, such as speeding or parking tickets, that will not automatically disqualify you from becoming a Postmates driver. Instead, the company will consider those violations on a case-by-case basis.
So there you have it. You know about the driving record requirements for Postmates drivers. If you meet all the requirements and pass the background check, you'll be on your way to becoming a Postmate!
---
Background Checks for Postmates Drivers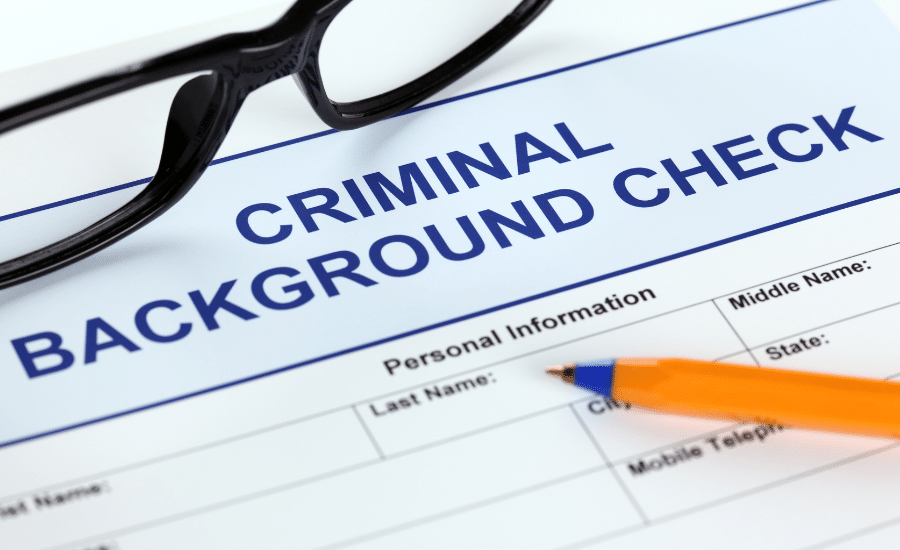 If you're a Postmates driver, you must know about the background checks conducted on drivers. The process ensures both your and your customer's safety. Here is what you need to be aware of regarding Postmates background checks.
Why a Background Check?
Postmates performs background checks as part of its commitment to providing safe, reliable customer service. All drivers must pass a background check before they can start working to protect customers and other drivers from any potential harm. This process ensures the platform is used responsibly and that all drivers are held accountable for their actions on the job.
The Process
Postmates uses Checkr, a third-party provider, to administer its background checks. When you sign up as a Postmates driver, you must provide personal information such as your name and date of birth. Checkr will then use this information to search public records at both the state and federal levels. The search may include a criminal background check, driving records, or any other relevant information that might impact your ability to perform your job duties as a Postmate driver safely.
What If I Don't Pass?
If you don't pass the background check, don't panic! You can appeal the decision if you believe it was made in error or if extenuating circumstances were involved in any past incidents reported during the search. Contact Checkr directly if you want more information about how to appeal your results or discuss any potential discrepancies.
Ultimately, passing a Postmates background check is essential for your safety on the job and for providing quality service for customers who use the platform. Ensure that all your personal information is up-to-date and accurate. So there are no issues with passing the check quickly and easily. If anything needs clarification or correction, contact Checkr right away so that any mistakes can be rectified promptly. Doing so will ensure you remain eligible for work opportunities with Postmates!
---
Postmates Fleet App for Drivers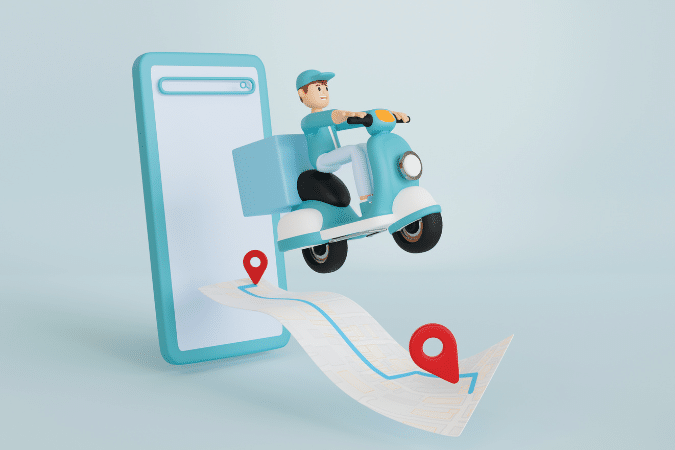 If you're a driver for a delivery company, the Postmates Fleet app was designed to optimize your experience. With it, you can quickly fulfill delivery requests and access helpful information about each request. Let's look at how to use the Postmates Fleet app so that you can make the most out of your time as a driver.
Download the Postmates Fleet App
The first step to using the Postmates Fleet app is downloading it onto your phone or device.
Enter Basic Info
Once downloaded, you will be asked to enter basic information like your name. So that Postmates reserves can register and verify you as an official driver. After these steps are complete, you can start using the app!
Launch the App
To begin accepting delivery requests, launch the app and select "start a shift." This will activate your availability status on the Postmates system and inform nearby customers that you are available for orders.
Accept the Request
When someone places an order in your area, an alert will pop up on your screen with details about their order, such as what items they need to be delivered and where they need them. And where they need them delivered to. You can then choose whether to accept the request before heading off with your order.
Get Navigation Details 
Once you have accepted a request, the route navigation section of the app will open up. So you can see exactly how to get from point A (the pickup location) to point B (the destination). This section also includes helpful features like real-time traffic updates. So you always know when faster routes may be available or detours may be necessary because of road work or other factors. The goal is always for drivers to get their deliveries done quickly while being safe on the roads!
Postmates Fleet App makes it easy for drivers like yourself who are looking for delivery opportunities and reliable information about each job. With its intuitive design and helpful navigation features, this app helps streamline and enhance your driving experience so you can fulfill more orders without hassle or confusion! So, if you're looking for a way to make money as a driver through delivery services, then download this handy tool today and get started!
---
Bottom Line
All in all, becoming a Postmates driver is an easy process if you meet the criteria. The age requirements, vehicle requirements, insurance coverage, and background checks are necessary for any hopeful driver. The Postmates Fleet app ensures you can take orders and complete delivery amidst other daily responsibilities. Becoming a Postmates driver requires multitasking. Working on a flexible schedule can make up for it tenfold. If you enjoyed this article and want access to more resources and tips regarding transportation careers, please read our other blogs.