With the freelance and entrepreneurial industries booming, the work from home job has become less of a dream gig and more of an expected reality.
But if you don't plan this move right, your home office could be full of distractions or missing vital supplies.
Invest in these 19 best home office essentials — available at a discount with your Alliance of Gig Workers membership — and you can be the captain of a smooth-sailing freelance business.
---
1. An Ergonomic Office Chair
The term "ergonomically-friendly" is in every must-have piece of office furniture and accessory, and for good reason. If it's designed with ergonomics in mind, it combines efficiency with your body's alignment for maximum comfort.
An ergonomic office chair is at the top of the work-from-home essentials list, vital to the busy freelancer.
Ergonomic chairs come standard with the following features:
Headrest — Supports your head and neck, making it ideal for anyone who works at a computer or makes a lot of phone calls
Backrest — Reduces your risk of back pain
---
2. The Ideal Desk
Right behind your chair in importance is the desk you choose. It must be equal parts functional for your needs and comfortable for your body.
The desk you select will depend on what your freelance job consists of.
For example, if you're a photographer, your work has you on the go for days at a time, but you'll sit and edit images for hours straight.
You want all your equipment at your fingertips, so you may need a desk with plenty of storage. If you prefer to work on your feet, consider an adjustable standing desk.
But if you're doing things like paying the bills and replying to messages, you can get away with a workspace desk. These generally are flat surfaces with a few shelves for basic storage and room for your essentials. They're ideal for someone with limited office space.
Pro tip:
Ensure your desk chair fits comfortably under the opening. You don't want your knees hitting the desk all day. Consider grabbing a footrest to stretch your legs and give yourself a few extra inches of space.
---
3. Reliable WiFi
Are you currently piggybacking off your hotspot or a free WiFi network?
Running a business means it's up to you to secure your computer, and the first step is to connect to reliable and safe internet networks.
Public WiFi is inherently easier for hackers to access. Even the government recommends avoiding using these free networks.
Your office might have plenty of outside connections in range. Yet, as a business owner, you should have your own secure and reliable WiFi router setup.
---
4. A Fast Laptop
Regardless of your field, communicating with potential and current clients and your network of contacts is necessary.
The device you choose as your main hub determines how easy this is.
With a powerful, fast laptop, you can install a complex Customer Relationship Management (CRM) system allowing you to facilitate everything you do seamlessly:
Set up your Zoom video calling without the lags.
Run your internet searches.
Add all the software your business needs without worrying about lugging your processor down.
Invest in a high-end performance laptop with a large hard drive when you start out, and you may not have to replace your computer for years. A Mac or PC will work depending on your work needs and preference.
---
5. A Laptop Stand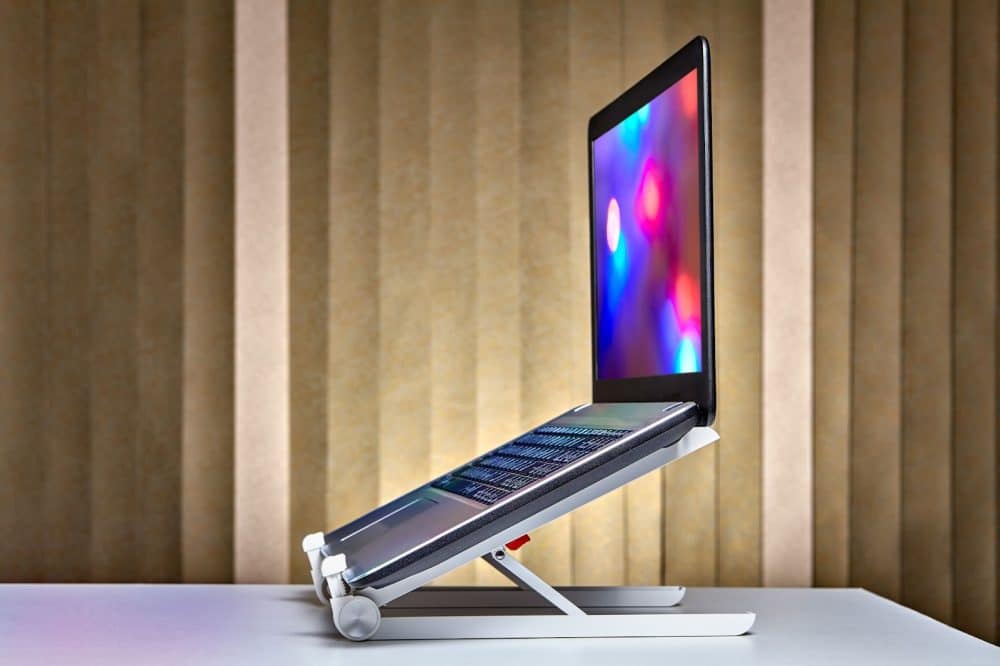 Research shows that placing your computer in your lap without a barrier between it and your skin can be extremely unhealthy to your body, including your spine.
The heat from the computer and the electromagnetic fields are a radiation hazard, and hunching over is damaging to the user's neck and back.
Instead of using your laptop, well, in your lap, grab an adjustable laptop stand and place it on a flat surface in front of you — or on your lap between you and your device.

---
6. Wireless Keyboard And Mouse
Did you know that when you type or use your mouse, you use muscles in your hands, forearms, upper arms, shoulders, and neck?
You can overextend and overuse those muscles if your mouse and keyboard aren't in the right spots or are inefficiently designed.
Invest in an ergonomically-designed wireless mouse and keyboard — along with a comfortable chair and desk — to prevent pain from long stretches at your computer.
Some manufacturers often sell their keyboard/mouse accessories together to make them more convenient and cheaper. Add a mouse pad to make movements smoother on your wrist and shoulders.

Subscribe To SelfGood
Get up to date perks and Gigworker news. Easy. Simply. SelfGood. Subscribe.
---
7. Desk Organizers
You will use various accessories throughout your workday to help you complete tasks. Everything in your workspace must be organized, from paper clips and staples to paper and pens.
Use desk and drawer organizers to keep your stationery and office supplies at your fingertips exactly where you need them.
Try to avoid having junk drawers as part of your home office setup. Your brain is more productive when things are orderly instead of cluttered.

---
8. A Wireless Printer/Scanner
What are you currently using to print your documents?
A wireless multifunction printer reduces clutter (fewer wires) and makes it easy to print and scan from any device.
Forgot to print an email after you already logged off for the day?
Just print it directly from your phone!
Go ahead and grab the all-in-one printer with the fax option, too. You never know when it will come in handy.
---
9. A Surge Protector
Surge protectors reduce the damage to your electronic devices in the event of a power surge.
When your power flickers or goes out and then comes back on, a surge of electricity is forced into anything plugged in. The surge protector power strip limits how much energy your devices receive and prevents them from "getting fried."
After paying for that high-powered laptop earlier, you don't want something like a mild thunderstorm ruining your work progress.
Look for a combined extension cord/surge protector for convenience and protection.
---
10. Noise-Canceling Headphones
If you aren't alone in your home office environment, noise-canceling headphones are a must.
Turn them on, connect them to your Bluetooth, and block out the noise around you.
Even if you work alone, add this headset to your shopping list. You never know when your neighbor's dog will be barking for hours outside, or you'll be working somewhere with outside noise.
---
11. Powerful Lighting
The better your lighting is, the less eye strain your workload puts on your visual muscles.
Natural light helps, but an LED desk lamp brightens your immediate work area.
A blue light protector over your computer screen or laptop screen filters out the harmful effects of blue light.
---
12. An Erasable Memo Board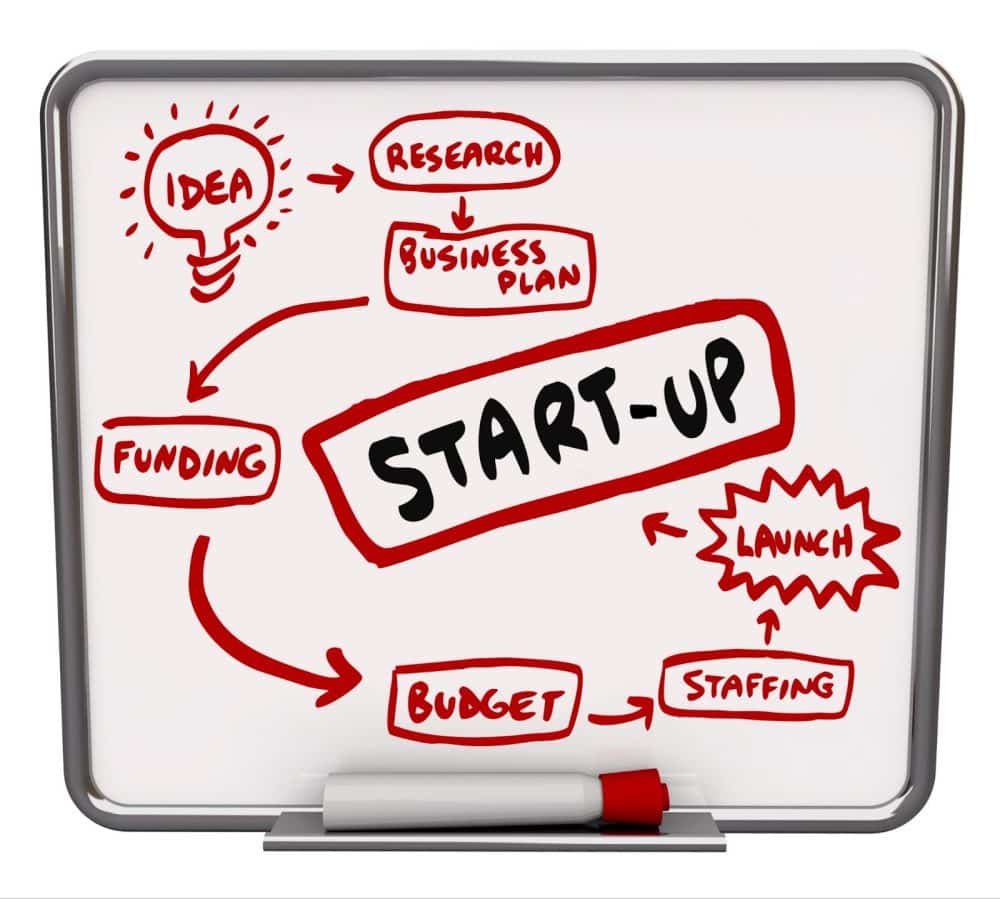 Are you tired of keeping up with post-it notes and memos all over your desk?
Spend a few dollars on a small, magnetic dry-erase board or an erasable desk pad, and keep your daily reminders in one reusable space.

---
13. Storage Drawers
When your office supplies are too big for the little organizers you found earlier, you'll need more desktop storage — and possibly a filing cabinet.
Plastic, metal, or wooden storage drawers sitting off to the side of your office desk can hold your important files and papers.
A locked filing cabinet keeps your sensitive documents organized and secure.
You should also consider a fireproof cabinet if you are storing things you don't want to be damaged.

---
14. Productivity Software
Is it easy to stick to the task at hand and focus, or are you easily distracted?
Does your to-do list keep growing faster than you can cross stuff off?
It can be hard to stay productive and remember everything you must do while working from home. Distractions are everywhere!
But with the right productivity software, you can do it.
Two of our favorite free programs are the Pomodoro Technique and the Eisenhower Matrix. Download them free and see which one works to keep you on track.
Read more: How To Tell A Client You Need More Time (5 Easy Ways)
---
15. A Water Thermos
Staying hydrated is vital to your mental and physical health.
Yet, many of us in remote work forget to drink water while on the job.
Grab a hydration bottle/water bottle that measures your daily water intake, and sip on it throughout your day.
You'll have to take more frequent bathroom breaks, but your productivity and mental clarity will be top-notch!
---
16. Bluetooth Speakers
Are you often on the phone or video streaming conference calls for your job?
Does listening to background music or soothing sounds in your work environment help you stay focused?
If so, Bluetooth speakers are another "add to your list" item.
Instead of using the weak speakers that come with your phone or computer, Bluetooth brings your audio to life and makes it easier to move around while you work and listen.

---
17. Chargers
What devices do you use during your workday?
You might start fresh with all your gadgets on 100% charge, but that battery power disappears fast when you're busy.
Keep spare chargers in your office to prevent your electronics from going dead when you need them most. If you're on the go often, invest in portable chargers for your devices.
It can be hard to borrow a spare iPad or Macbook plug at the last minute since Apple's charger sizes vary. Samsung/Android devices are starting to use unique plugs, too.

---
18. Refreshments
No WFH job would be complete without a coffee maker and some healthy food items.
What are your go-to energizing drinks and snacks?
Keep a healthy snack box stocked with your favorites for those times when you're not quite ready to break for a meal yet.
A mini-fridge doesn't take up too much space. It also saves you from getting up and going into the kitchen (and getting distracted along the way). Additionally, it's a smart choice to prevent critters from enjoying your snacks before you get to them.

---
19. An Alliance Of Gig Workers Membership
One last must-have for every freelancer is a gig worker membership. As a small business owner working for yourself, it's easy to neglect things you'd have as an employee, like a health plan.
A membership with the Alliance of Gig Workers, powered by Selfgood, gives you access to discounted health, vision, and dental services, plus reduced rates on goods and services you'll need throughout your career.
Read more: Health & Wellness Benefits and Everyday Discounts
---
Conclusion
These 19 home office essentials may take some time to accumulate and put together, but they'll make your job so much easier.
Use the incredible savings you'll get at Office Depot/OfficeMax with your Alliance of Gig Workers membership to power your home office renovation and your freelance career.
You'll be amazed at the resources you'll have at your fingertips.