Becoming a successful plumber takes many years and a ton of hard work.
Once you have a list of clients and consistent jobs, you may feel like you're at the peak of your business. Yet, new strategies are always popping up that can help you build your business even more.
Through various methods, there are plenty of ways that you can market yourself as a plumber.
With trades, it may be easy to stick to tried and true marketing, but you don't want to sell yourself short when it comes to a digital audience, either.
So if you're looking to expand your business, here are seven ways to market yourself as a plumber — online and off.
---
1. Build Your Brand
One of the best things you can do for your business and your plumbing marketing plan is to build a cohesive and memorable brand.
Sure, not everyone feels excited when they need to hire a plumber.
But building a great brand can help your clients keep you in mind when they need your services. Your brand should be recognizable both on the streets and on the internet.
Here are some ways you can build your brand as a plumber:
Create Visuals
Having stunning visuals for your brand will make it easily recognizable. You'll want to come up with colors and a creative logo that people will remember when they think about plumbers in their service area.
These visuals will come in handy when branding your company vehicle and running ads on social media.
The options are limitless in the creativity department, too.
You can have a fun mascot as part of your brand. Or, you can keep it simple, memorable, and aesthetically pleasing.
Either way, creating something customers remember is critical when thinking about the visual component of your company.
Digital Presence
Once your visuals are complete, you'll want to start building your digital or online presence.
Besides creating social media profiles, creating your visual footprint and building brand awareness involves:
A Website
You should have a high-quality website that makes it easy for people to see your plumbing services and get in touch with you.
Consider creating a service menu detailing the services you offer and even pricing. This menu will help customers know if you're the right plumber for the job they need help with.
Your plumbing website should also include testimonials from happy customers. You can even add before and after pictures of successful jobs. After all, good reviews can go a long way when you're trying to make new customers feel confident they've chosen the right professional.
Make sure you highlight what locations you provide your services in as well.
Google Business Page
Once your website is complete, it's time to create a Google My Business page.
Your Google Business profile is the business listing that'll show up when people do a Google search for plumbing companies in their area.
It includes essential information like your phone number, directions to your business, and links to your website.
Once you have all of these sorted out, you can build a more comprehensive plan when it comes to online marketing.
Read: How to Start a Freelance Business [and Quit Your Day Job!]
---
2. Email Marketing Ideas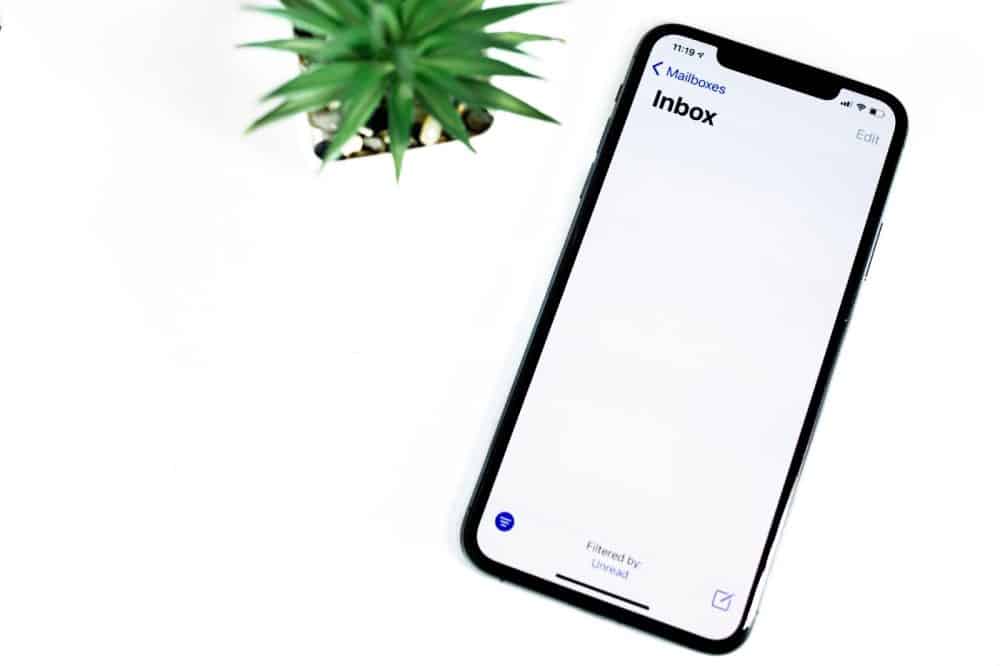 It may feel old-fashioned, but email marketing is one of the most effective forms of marketing for any business — even today. It's an especially powerful tool for small businesses like plumbers.
Now, let's discuss how an email marketing campaign can help market your plumbing business.
Keep Track of and Stay in Touch with Your Customers
Email marketing is the perfect way to stay in touch with your customers. After all, you want to ensure that your customers return to you (not a competitor) if they have future plumbing problems.
With an email list, you can keep track of your entire customer base and remind them of your services on a regular schedule.
The best part about email marketing is that it is an opt-in service.
In other words, your customers won't feel bombarded or blindsided because they chose to be a part of your email list.
Send Offers
You can send offers to your customers using your email subscriber list. Regular offers are a great way to lure customers back to you for different services in the future.
Offers can include discounts on plumbing services or incentives for customers to leave reviews.
Return on Investment
Email marketing has an incredible return on investment.
Creating an email marketing campaign and tracking the results is relatively cheap. And if you have the time, you can take care of it yourself, without hiring outside help.
Retarget Audiences
Having an email list also allows you to retarget clients. So if your clients ever need to hire a plumber again, your name is always top of mind.
Gentle reminders or check-ins can go a long way. You can even get creative and send out fun holiday newsletters or birthday wishes throughout the year.
---
3. Social Media Marketing
Although using social media marketing as a plumber may feel strange, it's a great way to connect with your customers online.
Here's how.
Build your Social Media Pages
First, you'll need to create social media pages for your business.
If you already have them, rebrand them with the refreshed branding you created earlier. Your social media pages should all have your contact information easily accessible.
The big question is:
What should you share?
For starters, you can post photos of your work or recent jobs. Or you can post updates on what you're doing in the community or projects you're a part of.
Use Facebook and LinkedIn
As a small business on social media, you'll get the most out of it by choosing platforms like Facebook and LinkedIn.
On Facebook, you can create a business page. This page will have your contact info and other updates and allow customers to reach you directly rather than via PPC ads.
LinkedIn is where you can interact with other businesses, contractors, and colleagues in your field. Here, you can connect with other professionals in your area and work to build your online presence.
Join Networking Groups
Facebook is the perfect place to join networking groups. And there's a lot of value in being a part of networking groups.
For one, you can get answers to business-related questions from fellow plumbers. Or you can get advice on the latest trends or offer tips to others.
Many people also post jobs or potential client leads in networking groups.
Contractors groups may have builders looking for plumbers for their projects or leads to other projects. Also, you can network with other local businesses to help you get referrals.
All while getting your business name out into the community.
Write blogs and Interact with Posts
LinkedIn is an incredible platform for creating blog posts and interacting with others. Creating blog content will show people that you know what you're doing as a plumber.
Reading and interacting with their content can also foster stronger connections with colleagues.
---
4. Advertising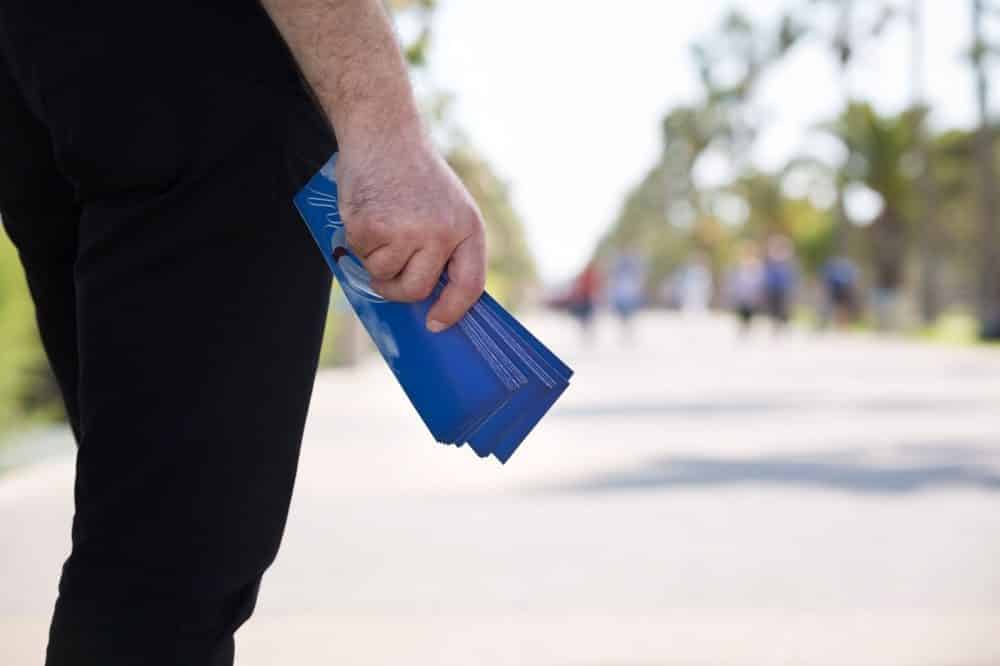 There are so many ways that you can advertise your plumbing business and get more clients.
Whether it's online or out of home, here are some of the tried and true ways to advertise your services as a plumber:
Digital Advertising
Digital advertising is an essential tool that can help market your business online. And as a small business, you'll want to use the advertising techniques to get your business's website more hits online.
With internet marketing, that means:
Google Ads
Google Ads is a digital advertising tool that will help your business page pop up in more places across the web.
With Google Ads, you can use particular keywords associated with your business to have your website appear higher in search results for those searching for local services.
Facebook Ads
Facebook Ads are advertisements that show up on people's Facebook feeds.
If you run a local small business, Facebook also makes it easy to target people in your area. For example, location targeting allows your ads to hit the right people that could use your services in the surrounding towns.
Out-of-Home Advertising
Advertising can also include out-of-home advertising beyond basic business cards, like:
Local Billboards
Billboards are a classic method of out-of-home advertising that still works! One billboard on a highway in your area could guarantee thousands of potential local customers see your business's ads daily.
Truck Wraps
Wrapping your truck and work vehicles with branding will help your business's visibility in your local area.
Your phone number and company should be visible as you drive, making your truck a moving billboard (sort of).
Doing so makes it easy for people to call you and get more information while they're out and about — especially if your branding is eye-catching.
Flyering
Flyering, postering, and door hangers are great ways to advertise a plumbing business.
Especially if you're working in a local area, you want customers to get to know your business. Eye-catching flyers in local hotspots can help gain more customers and spread awareness.
---
5. Local Marketing
Another part of your marketing strategy should include local marketing. This method allows you to make your business a part of your community.
Not only will you give back, but your plumbing business's name will be out there for potential customers to see.
Local marketing could include:
Sponsoring Local Teams
Local youth sports teams are almost always looking for sponsors. The sponsor of a local sports team will typically get their business name on the uniforms and banners of a team for a fee.
Sponsoring a team doesn't just help kids and families in your area, but it also gets your name out to potential homeowners.
Parents at games will become familiar with you and your business and know exactly who to call if they have plumbing issues after a game.
Being Involved in the Community
Another way to get involved in your community is to join local organizations.
If you have children, join the PTA or attend school board meetings. Or participate in local activities and help organize events like fundraisers.
Another way to get involved is by volunteering around your community. Many towns will have dedicated volunteering days that you can make sure you and your business are a part of.
Of course, you should wear clothing with your business's logo and get to know members of your local community. Being involved in your community can help you get more plumbing leads and build a positive community reputation.
Subscribe To SelfGood
Get up to date perks and Gigworker news. Easy. Simply. SelfGood. Subscribe.
---
6. SEO
Digital marketing strategies can benefit significantly from having targeted search engine optimization.
For instance, adding SEO terms and words to your website and content will make your website appear higher in search results. And the less that potential customers have to scroll to find your site or social media handles, the better.
On the SEO front, you can:
Write Blog Posts
Writing blog posts is the best way to incorporate SEO into your marketing tactics. Start by researching keywords that are popular in the plumbing industry. Then, incorporate them into useful posts about plumbing issues.
Don't forget to share your posts, too! Add your blog posts to your website and LinkedIn page.
These articles and content marketing, in general, can do wonders for your brand's reputation. Blog posts about quick plumbing fixes, for example, show customers that you have the know-how for unclogging drains or installing pipes.
Use SEO in Digital Advertising
When you create your digital advertising campaigns, you'll want to understand the importance of SEO keywords.
Your advertising copy should be snappy and interesting while incorporating keywords. This will help your ads pop up in searches across the web through PPC (or pay-per-click) ads.
Keep it Local
Most people in your area will be looking for plumbing companies nearby. So use local SEO to target potential customers in your area.
Using local SEO marketing efforts ensures that your content reaches the right people searching for a service like yours.
---
7. Offer Next-Level Service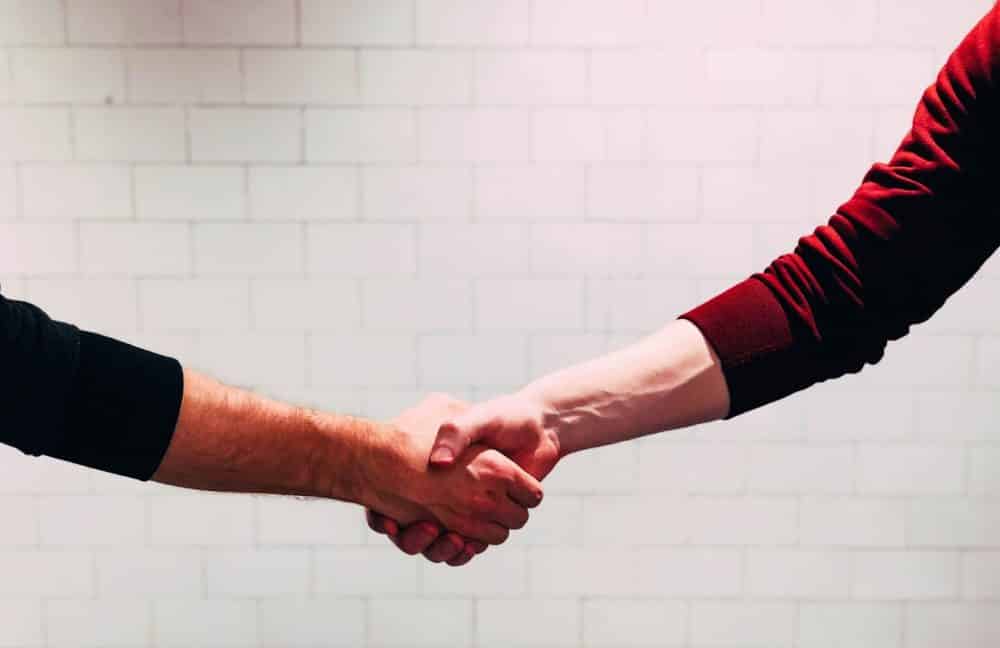 A little kindness goes a long way, especially when it comes to owning a small business as a plumber. Most people recommend trade workers they know and trust to their friends and families.
So the best way to expand your business is to offer excellent service every time. Then, you can prompt your clients to opt into activations that will help market your business, like:
Referral Programs
Referral programs incentivize your customer to recommend you to their friends and family via word of mouth. When a customer gives a referral, they, in turn, earn a discount on your services.
You can even offer discounts to both the referring client and the new client to help generate new leads.
Customer Online Reviews
Customer reviews are one of the first things a potential new client may look at when they find your business online. And reviews on your Google Business page and Yelp factor into the overall rating of your business.
If you want to have a 5-star business in search results, you'll need more customer reviews, and they'll need to sing praises for your company!
You can always ask clients to leave reviews. But your service should also speak for itself.
Good service will turn you into a top-ranked plumbing business in your area. And the better service you provide, the more inclined a customer may be to leave you a good review online.
Taking Care of Yourself
As a small business owner, you can only offer the best service if you are in the best shape. Now, this is where benefits come into play.
As an independent contractor, you can find incredible benefits with Selfgood.
Selfgood offers competitive benefits to independent contractors and small businesses. This way, you'll always be in the best shape to offer top-tier plumbing services.
If you take care of yourself, you can ensure you are always offering the greatest service to your clients.
Read: A Full Guide to Choosing the Best Plumbing Business Insurance
---
Conclusion
Expanding your business as a plumber takes some elbow grease.
Once you put in the work to build a unique brand, get involved with your customers, and complete successful jobs, new clients will come.
Try out some of these top-notch plumber marketing methods, and you'll be fielding leads in no time.
Be sure to keep yourself in tip-top shape with excellent benefits for independent contractors from Selfgood. You don't want to slow down when your client list picks up.