Are you a Turo car owner? If so, it's essential to understand what to do if your Turo car breaks down. When this happens, you need to act quickly and take the proper steps to minimize potential damages and inconveniences caused by the breakdown. This blog post is designed to guide Turo car owners facing an unexpected vehicle breakdown!
You will learn exactly what steps should be taken when mechanical or other issues lead to a vehicle failure while on the road. With this information, you will have greater peace of mind knowing that if something goes wrong with your ride-share or rental car, you can use proven tips and tactics informed by industry experience to handle it effectively!
---
What to Do If Your Turo Car Breaks Down?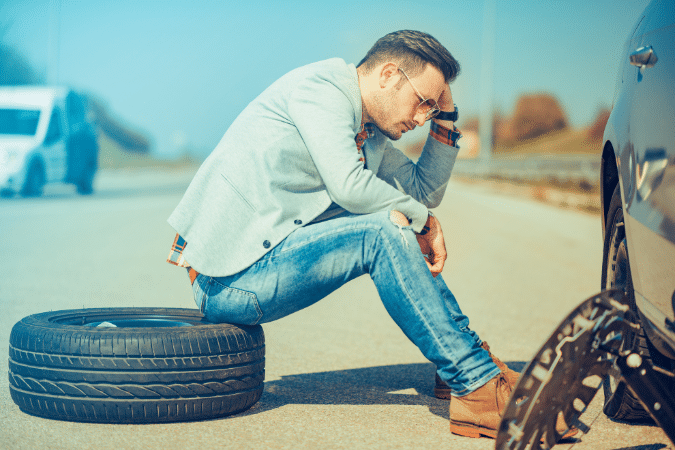 Have you ever been in the unfortunate situation of having your Turo car break down on the side of the road? It's a stressful experience. You may be unsure how to proceed. Let's discuss what to do if your Turo car breaks down and how to get back on the road as quickly as possible.
1. Move your vehicle off the road, if possible:
If you can safely move your vehicle, use hazard lights and pull over to an area away from traffic. This will help ensure that no one gets injured and that the place around your car is safe for other drivers.
2. Contact Support Services for Assistance:
Once you have moved your vehicle off the road, contact Turo support services for assistance with troubleshooting or arranging roadside assistance. This service is available 24/7. So don't hesitate to ask for help when needed.
3. Document the Situation & Cost of Repair/Replacement Parts Needed:
If you will take care of repairs yourself, document everything from start to finish, including any costs associated with repair parts needed or time spent on repairs by professionals hired by yourself or Turo support services.
4. Submit Claims & Reimbursement Requests:
For example, suppose you used Turo's roadside assistance program. In that case, they might be able to reimburse some costs associated with getting your car back on the road,  provided all documentation has been saved.
Claims are submitted promptly. Make sure to check with them before submitting a reimbursement request, as there may be specific requirements that must be met for them to approve it!
5. Reach Out To Your Host For Advice & Solutions:
Don't forget that you also have access to advise and solutions from your host. They may have additional insights into common problems, know where/how best to find parts needed for repair, and offer potential answers depending on what type of problem occurred with your vehicle!
As a Turo car owner, you must know what steps to take should something happen while driving or parking your rental car, especially if it involves breaking down on the side of the road! These steps will help ensure you are not stranded due to car trouble and get back on the road quickly!
---
Steps You Should Take if Your Car Breaks Down
Breaking down on the side of the road is never a pleasant experience. It can be stressful, overwhelming, and downright scary. However, if your Turo car breaks down, there are specific steps you should take to ensure your safety and get assistance as quickly as possible. Let's take a look at what those steps are and when you should call for roadside assistance.
Before You Call for Roadside Assistance
First and foremost, make sure that your vehicle is in a safe location. Pull off the road onto the shoulder or a rest area if possible—but do not exit your vehicle unless necessary.
If you must exit the car to assess the situation or wait for help, use extreme caution. Ensure you stay on the opposite side of traffic, away from moving vehicles, and watch for passing cars.
When Should You Call for Roadside Assistance?
If you feel unsafe waiting for help or if your car needs repairs that cannot be handled easily by yourself, then it's time to call roadside assistance. Most major insurance companies provide roadside assistance services 24/7 and will dispatch a tow truck to assist you with whatever issue has arisen with your vehicle.
Ensure you have all the necessary information ready when calling—including your name, insurance policy number, license plate number, and location description—to speed up getting help.
No one ever expects their car to break down while driving—but it happens! Knowing what steps to take if this occurs will go a long way in helping alleviate some of the stress associated with such an incident.
Before calling roadside assistance, make sure your vehicle is in a safe location away from traffic and keep an eye out for passing cars while awaiting help. Have all pertinent information ready before calling so that help can arrive as quickly as possible.
---
Navigating Turo Insurance for Vehicle Owners
Car owners using the Turo platform to rent out their vehicles have unique insurance needs. As a car owner, it is essential that you understand the type of insurance coverage you are provided with and how to access your insurance information. So let's examine what kind of insurance Turo delivers and how you can access your data.
What Type of Insurance Does Turo Provide?
Turo offers two levels of insurance coverage for vehicle owners. The first is a primary liability, which provides up to $1 million in coverage per accident, depending on the state in which you operate.
The second is physical damage protection, which covers damages caused by theft or vandalism up to a certain amount (which varies depending on where you live). This coverage also includes protection from road hazards such as potholes, rocks, etc.
How To Get Access To Your Insurance Information?
Getting access to your Turo insurance information is easy. First, log in to your account on the Turo website or app and click "Insurance" in the main menu. This will bring up an overview page with all the details about your current policy, including coverage limits and contact information for any questions or claims you might need assistance with. You can also download a PDF version of your Turo policy for future reference or print it out for easy access.
Understanding Turo's insurance offerings provides peace of mind when renting your car through their platform. Knowing what type of coverage they offer and how to get access to your policy information can help ensure that any unexpected issues related to rental vehicles are handled quickly and easily.
For more detailed information about Turo's policies and procedures, check out their website or speak directly with one of their customer service representatives. They will be happy to answer questions or concerns. You may have questions regarding your insurance coverage and other matters related to renting your vehicle through their platform.
---
Preparing When Your Turo Car Breaks Down
You never want to be in a position where you need to use emergency supplies in your car, but if you're a Turo car owner, it's essential to prepare for any situation. So what should you have on hand? What should you do if your car breaks down and you're stranded on the side of the road? Here's what you need to know about preparing your vehicle for a breakdown.
Emergency Supplies
You don't need an arsenal of supplies in your car to stay safe during an emergency. However, some essential items will come in handy if something goes wrong. It's recommended that all Turo car owners keep these items in their cars at all times:
A first-aid kit with basic supplies like bandages, antiseptic wipes, and pain relief medication

A flashlight and spare batteries

Jumper cables or a portable power bank

A road emergency kit with flares, a reflective triangle, and other warning devices

Bottled water and non-perishable snacks

A multi-tool or a pocket knife
Staying Safe If You Need To Wait By The Roadside
If you find yourself waiting by the side of the road for help after a breakdown, you must remain safe.
First, ensure your car is visible from as far away as possible. Then, put out flares or use other warning devices from your emergency kit so others can see you easily.
Secondly, never leave your car unless necessary — even if someone offers assistance.
Finally, remain calm! Stress won't help solve the problem – but proper preparation will!
Keeping An Emergency Contact List Handy
It may seem obvious, but sometimes even the most organized people forget this one — having an emergency contact list handy is critical! Include all relevant contact information, including roadside assistance numbers, mechanic contacts (like Turo Go), and insurance providers. Then, you are prepared no matter what happens on the road ahead!
No one wants their car to break down while on a trip. But by following these simple tips and ensuring that certain emergency supplies are kept up-to-date in your vehicle – like first aid kits and jumper cables – you'll be well prepared no matter what situation arises while on the open road. So don't get caught unprepared. Take time today to ensure you and your vehicle are ready for any breakdown emergency!
---
Common Problems with Turo Cars – What Travelers Should Look For?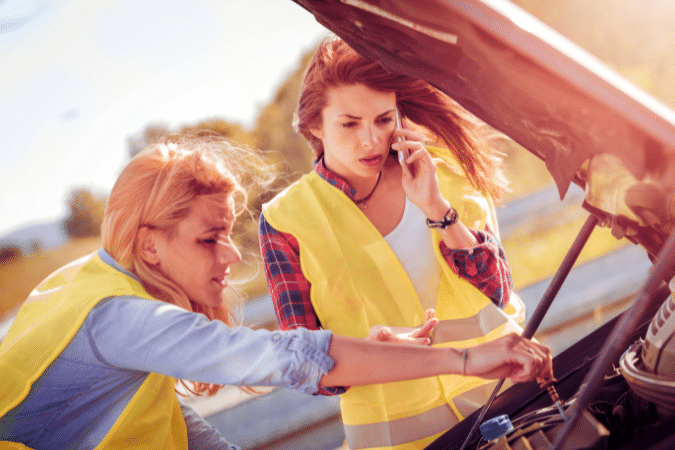 Turo is a popular car-sharing platform that allows you to rent cars from other people. While renting a car from Turo can be a great way to save money, it's essential to be aware of the potential problems of renting a car from an individual owner. Here are some of the most common issues with Turo cars and what you should look for before renting one.
Improperly Maintained Vehicles
One of the most common problems with Turo cars is that they are often improperly maintained. When renting a car from an individual owner, it's essential to check if the vehicle has been regularly serviced and if it has any outstanding repairs or recalls. Ask the owner about any known issues or repairs that need to be done before considering booking the vehicle.
Air Bags & Brake Pads
Another problem when renting a car from Turo is faulty airbags and worn brake pads. Inspecting the airbag system and brake pads for any signs of wear or damage before agreeing to rent the vehicle is essential. If you notice any suspicious symptoms, ensure a professional mechanic addresses them before using the car.
Car Rental Price & Mechanically Sound Vehicle
Before renting a car from Turo, it's also essential to check whether the price is competitive and the vehicle is mechanically sound. To ensure you get the best deal possible for your Turo rental, compare prices between different listings on the site and read customer reviews carefully before deciding.
Ensure that you inspect all aspects of the vehicle before agreeing to rent it—including its engine, transmission, tires, brakes, etc.—to ensure everything is in working order.
Renting a car through Turo can be an economical alternative to traditional car rentals. However, you should know certain risks associated with this type of service.
Inspect vehicles thoroughly for proper maintenance and safety features, such as functioning airbags and brake pads, before agreeing to rent them out. Research different listings and compare prices before booking to get the best deal possible for your rental experience! With these tips in mind, you will be prepared for anything when it comes time for your rental experience on Turo!
---
What To Do After A Turo Car Accident as a Traveler? When Your Turo Car Breaks Down
Renting a car with Turo is a great way to get around, especially for a longer, extended trip. But what happens if you get into an accident while driving your Turo car? Knowing what to do can make the process smoother and help ensure you're covered adequately. Let's look at how Turo's policy works and what steps you need to take in case of an accident.
Turo Policy
As soon as you are able, call the police and file a report. If there is any significant damage, contact Turo immediately at 1-415-965-4525 so that they can provide further assistance.
All Turo policies include third-party liability insurance up to $1 million if you are found liable for an accident. This means that in most cases, the injured party will have their costs covered by the insurance policy without involving their insurance company or increasing their rates due to an accident claim.
Pay Cost
Depending on the extent of the damage, you may be responsible for paying out of pocket for some repairs or be asked to cover part of the cost. Be sure to read your rental agreement carefully to know your responsibilities in case of an accident before renting with Turo.
Car Rental
If it turns out that repairs need to be made, it's essential to keep all receipts related to those repairs as well as any documentation from law enforcement or other parties involved in the incident. This will help ensure everything is handled smoothly and efficiently when filing a claim with Turo or your insurance company.
Catastrophic Damage
In cases where catastrophic damage occurs (e.g., total loss), reimbursement is based on the fair market value at the time of loss, less prior depreciation plus applicable taxes, fees, and charges for your rental period only up until the time of loss according to Turo's policy guidelines.
Again, read through the rental agreement carefully before renting with Turo so that there are no surprises later on, should something happen during your road trip. Renting a car with Turo can be incredibly convenient and often offers more customization than traditional car rental companies like Hertz or Avis.
However, suppose you are in an accident while driving one of these cars. In that case, following all the steps listed above is essential to ensure proper coverage under both their policy and any additional coverage provided by your auto insurance provider.
Following these steps can help ensure everything goes smoothly after an unfortunate incident while driving a rented vehicle from Turo!
---
Benefits of Renting a Car On Turo – When Your Turo Car Breaks Down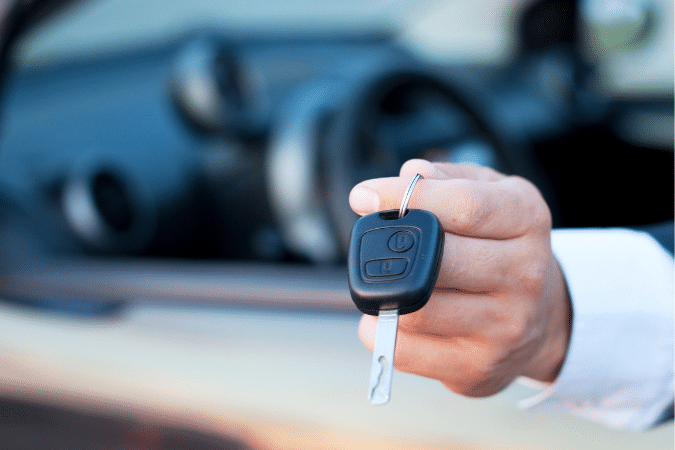 Renting a car on Turo is an increasingly popular option for travelers, allowing you to explore the sights and sounds of your destination without worrying about the hassle of public transportation or expensive taxis. Here are some of the great benefits that come with renting a car through Turo:
1. Convenience
With Turo, you can rent a car wherever and whenever needed. You don't have to wait in line or make an appointment at a rental car agency. Instead, book online, and the car will be ready for pickup when needed.
2. Affordable prices
Turo offers competitive rates, often cheaper than traditional rental car companies. With Turo, you can find a vehicle that fits your budget and travel needs.
3. Variety of vehicles
Turo offers a wide selection of cars for rent in nearly every country worldwide, from luxury sedans to SUVs to convertibles. You're sure to find the perfect vehicle for your trip.
4. 24/7 customer support
Turo's team of experienced customer service representatives is available around the clock to provide advice and assistance when needed.
5. Insurance coverage
All vehicles rented through Turo include insurance. So you don't have to worry about any unexpected costs or damages to the car.
6. Pet-friendly vehicles
Many Turo vehicles are pet-friendly. So you can bring your furry companion along on your trip without worrying about finding an appropriate car rental option.
7. No long-term commitment
With Turo, you don't have to worry about long-term commitment. You can rent a car for a few days or hours.
8. Local recommendations
Turo's local experts are available to advise and recommend the best places to visit in your destination so you can explore like a local.
9. Stress-free travel
With no lines, no paperwork, and no hidden fees, renting a car through Turo is an easy and stress-free way to get around.
10. Mobile app
The user-friendly mobile app allows you to book, manage, and pay for your rental directly from your phone.
Whether traveling for business or pleasure, renting a car through Turo is an easy and convenient way to get around. With its unbeatable prices, variety of vehicles, and 24/7 customer support, you can travel with peace of mind knowing that you're in good hands. So why not give it a try? Book your rental today and experience the benefits of Turo for yourself.
---
Final Thoughts – When Your Turo Car Breaks Down
If you're a car owner looking to rent your vehicle on Turo, it's essential to familiarize yourself with the steps to take if something goes wrong. Knowing what to do in the event of a breakdown or accident will help ensure that you and your customers remain safe yet still maximize the potential for profit on Turo. Preparing for these scenarios will also give you peace of mind, allowing you to relax and enjoy the benefits of renting cars through Turo.
Beyond the practical advice mentioned here, Turo can offer travelers access to vehicles worldwide, bringing luxury at a fraction of the cost. With this blog post, we've covered all your questions about what to do when your Turo car breaks down – essential information if you own a car and are looking into renting it out through this service. For more posts about owning cars, please read our other blogs!