If you're getting started on becoming an electrician, you may be wondering — what brands should you look at as you put your first toolbox together?
Well, here are the 12 brands that we think make the best electrician tools on the market:
Knipex
Channellock
Wera
Klein Tools
Stanley
Milwaukee
Dewalt
Estwing
Rigid
Irwin
Fluke
Greenlee
We'll explain this list below. Plus, we'll give you a list of tools you need for the job (for new electricians), and we'll talk a little about insurance.
---
List of Essential Electrician's Tools
Let's start with a list of essential tools that every electrician needs.
Regardless of the type of job site you're working on, having these tools in your tool kit will ensure you're prepared for any electrical project:
Pliers (needle nose pliers, lineman pliers, long-nose pliers, etc.)
Wrenches (various types)
Side cutters
Crimps
Gloves
Nut drivers
Saws (both powered and unpowered for cutting through drywall)
Utility knife
Claw hammer
Screwdriver set
Wire strippers/wire cutters
Cable cutters
Voltage testers and circuit testers
Receptacle tester
Pipe reamer
Tape measure
Torpedo level
Cordless drill and drill bits
A tool belt, tool pouch, and tool bag
Connectors
Circuit breaker finder
Conduit bender
Electrical tape
Now that you know what tools you need, you'll need to find the best brand for each piece of equipment.
Related: How to Become a Self-Employed Electrician
---
The 12 Best Electrician Tool Brands
That's right; it's time to talk about some of the best industry brands for electrical tools.
One thing to remember is that many of these brands offer the same basic types of tools. Therefore, figuring out which brand to buy is explicitly really up to you.
You can test out different brands, ask other electricians what they use, or even read online reviews to determine which option may work best for you.
But in all of our research, these 12 brands consistently stood out as the top tool brands preferred by professional electricians worldwide.
1. Knipex
Knipex is well-known for its world-class pliers, hand tools, cable connectors, and more.
They've been in business for 132 years, and they're still going strong.
Whether you need wire stripping tools, side-cutting pliers, crimpers, etc., these are top-level products befitting the quality that a master electrician would expect.
Knipex manufactures all of its tools in Germany, and they all ship with a lifetime limited warranty.
2. Channellock
Channellock is a well-known manufacturer of pliers, screwdrivers, specialty tools, wrenches, and toolsets. Their Channellock pliers remain famous.
They've been around since 1886, so they have a longstanding reputation among American construction and trades workers for their quality and reliability.
Their tools are designed for trades specialists, including electrical workers. So whether you're a beginner, journeyman, or master electrician — Channellock has a reputation for building high-performance products.
All of their tools are manufactured on American soil (in Pennsylvania, specifically). Additionally, Channellock ships all of its products with a limited lifetime warranty.
Protect yourself and your electrician business by
joining Selfgood
 today. You can save hundreds of dollars each month on supplemental healthcare, financial and legal benefits, and even everyday discounts.
3. Wera
Wera creates high-quality hand tools for professionals in many fields — though they're perhaps best known for their screwdrivers and ratchets and ergonomic handles.
The company has been around since 1936 and operates with the slogan "be a tool rebel."
Wera builds these tools in Germany and the Czech Republic and ships with a limited lifetime warranty.
4. Klein Tools
Klein Tools is well known throughout the trades for crafting a diverse range of high-quality tools.
Founded in 1857, this is another all-American company that has been doing business with professional tradespeople for quite some time.
They craft some of the most widely used collections of hand tools on the market and build things like volt testers, HVAC tools, electrical wiring tools, multimeters, non-contact voltage testers, fish tapes, and more.
Klein crafts all of its tools in the United States. Plus, they all ship with limited manufacturer warranties.
5. Stanley
Stanley Tools builds a limited collection of reliable hand tools, though they're probably best known for their Stanley FatMax Tape Measure.
They've been in business for 175 years, and professionals have used these tools to help build (and repair) many parts of the world.
The company produces all of its tools in the USA, with materials sourced globally. They also ship with a full lifetime warranty from the manufacturer.
6. Milwaukee
If you've ever set foot on a professional construction job site, you've doubtlessly seen (and probably used) some Milwaukee power tools.
They've been in business for over 85 years and are still going as strong as ever.
They manufacture a full range of power tool products, including cordless drills, saws, vacuum cleaners, etc. They also offer some special hand tools.
Milwaukee crafts these tools in the USA, Europe, or China, depending on which products you buy.
Additionally, all Milwaukee tools come with a warranty — different tools come with different warranty options.
Discover: How to Excel as a Subcontractor in Any Profession
7. Dewalt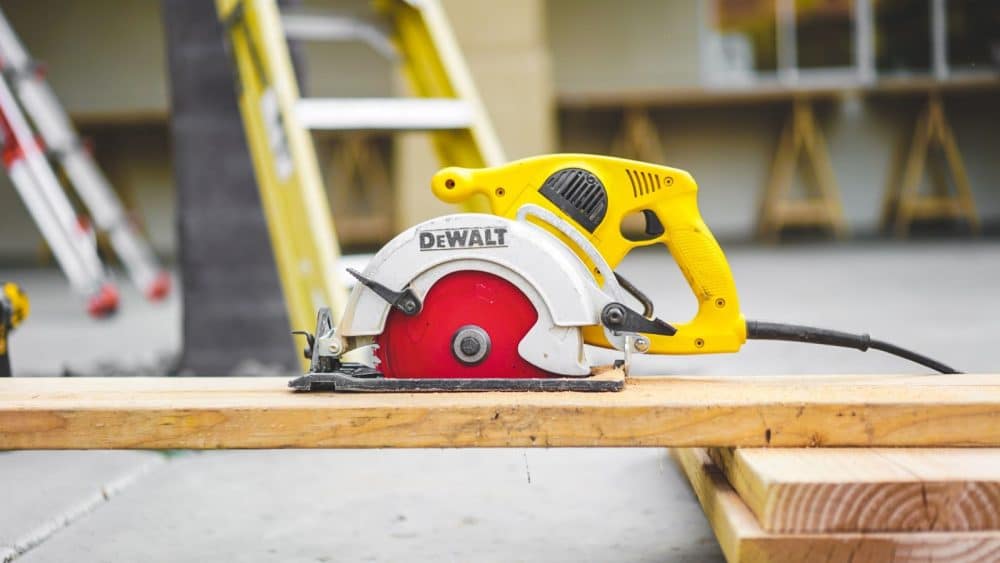 Dewalt is another well-known and respected cordless and corded power tool brand among trades professionals, including carpenters, plumbers, and electricians.
However, they also offer a select range of hand tools — such as hammers, measuring tapes, and screwdrivers.
They've been in business since 1924. Interestingly, Dewalt's first product was a universal woodworking machine known as the Dewalt Wonder-Worker.
Dewalt produces select products in the USA. As a general rule, their tools come with a three-year limited warranty.
8. Estwing
While Estwing is known for manufacturing a few different hand tools, their BIG claim to fame is their truly famous Estwing hammer.
Estwing builds world-class hammers in just about any fashion that may be required. This selection includes nail hammers, bricklayer hammers, and a range of specialty hammers. If you need a hammer, the odds are that Estwing has the right tool for the job.
Founded in 1923, they've single-handedly supplied heavy-duty hammers to generations of American builders.
All of their products are built in the USA — in Rockford, Illinois, to be specific. They also offer a full warranty against "failure in normal use."
9. Rigid
Rigid is best known for its power, adjustable wrenches, hand and tubing tools, all manufactured to exceptionally high standards.
However, their biggest claim to fame was their historical invention of the red Rigid Pipe Wrench, which has been around for over 80 years and is used by tradespeople in various fields around the world.
Regardless of what kinds of lugs, light fixtures, cut-offs, or fasteners you'll be working with, a good chance is that Rigid builds a tool for the job.
Rigid maintains a plant in Ohio, but the company now produces most of its tools in China. They also offer a comprehensive lifetime warranty.
10. Irwin
Irwin is probably one of the most well-known tool brands today, especially concerning hand tools.
They've been around since 1885 — since the development of the very first Irwin Auger Bit. However, it wasn't long until they came out with their iconic line of Vise-Grip locking tools.
Nearly anyone who grew up in a garage or with a parent who practiced a trade has, at some point, used an Irwin vice grip, wrench, or pair of pliers.
Therefore, it's not so surprising that electricians of our current generation choose to utilize these iconic tools on a pretty broad scale.
Irwin used to have a reputation as an American-produced brand. However, in 2008, they did move a portion of their production to China to keep their prices competitive. Irwin hand tools also carry a full lifetime guarantee.
11. Fluke
Fluke is known for its diverse, high-quality range of testers and meters.
Some of these include:
Digital multimeters
Thermal cameras
Electrical testers
Clamp meters
Industrial ethernet testers
IR thermometers
Portable handheld oscilloscopes
Fiber light detectors
Photovoltaic testers
Solar PV testing equipment
And more
Fluke has been in business since 1948, starting at its first headquarters in Everett, Washington.
If you've ever been to a job site where professionals needed to use sensitive testing gear, you've probably seen (or possibly even used) a Fluke tester.
They produce their products in the USA, the UK, Asia, and The Netherlands and carry a limited lifetime warranty.
12. Greenlee
Greenlee is known for producing all kinds of products, including pullers, knockout kits, cable cutters, drill bits, and many other tools in various categories.
They've been making world-class tools for over 154 years — though technically, they are a subsidiary of Emerson Electric.
All Greenlee tools are produced in Louisville, Kentucky. Most of their products also ship with a lifetime warranty.
They operate with the tagline "building America."

---
What About Tool Insurance?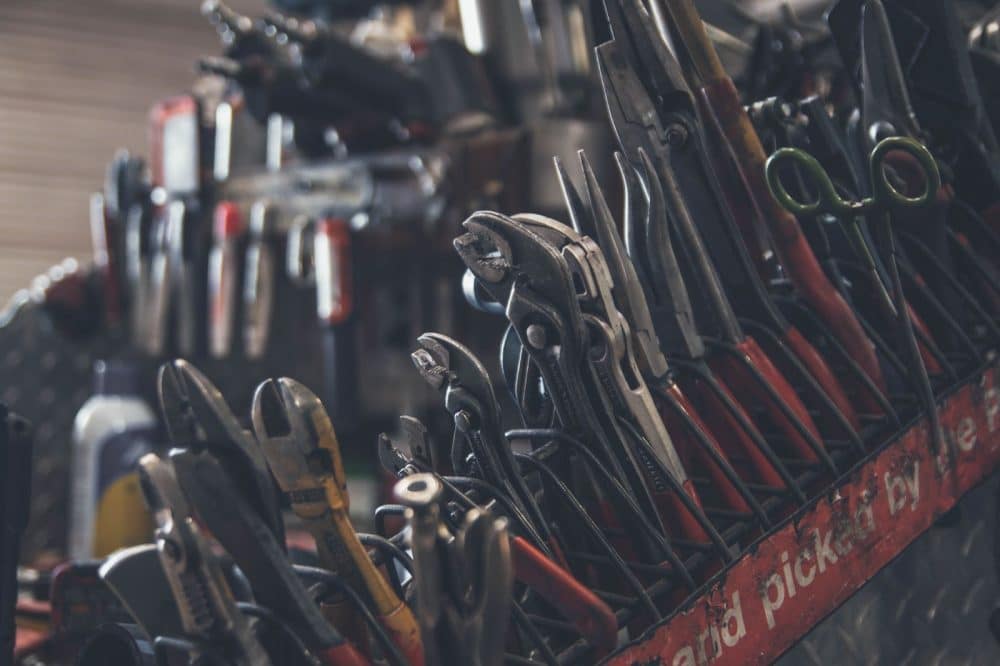 Electricians, like most tradespeople, spend a lot of money on tools to help them perform vital tasks associated with their work.
With this heavy investment also comes a certain measure of risk. Unfortunately, sometimes things happen to tools such as theft, damage, or loss.
While the manufacturer's warranty may cover some instances of these things, it certainly won't cover you in every circumstance.
For example, criminals have stolen electricians, carpenters, and concrete contractors' entire tool trailers.
And in such cases, it's essential to protect yourself and your investment from the financial hardship that's sure to follow such a loss.
And that's where insurance comes in.
What Type of Insurance Do Electricians Use for Their Tools?
Electricians generally protect their tools with a policy known as Inland Marine Insurance.
Now, this may sound unclear, but it's pretty simple.
This type of insurance covers products, materials, and equipment that travel by land — usually by truck or train. However, it also protects equipment housed by a third party (like a storage locker at a job site).
The two most frequent losses covered by inland marine insurance coverage are losses due to collisions and cargo theft.
But it also specifically covers construction and contracting equipment.
As an electrician getting ready to invest some serious money into your tools, you'll want to find a qualified local insurance agent to set up a policy to cover your investment.
Getting your insurance in order should get you on the path to protecting this vital asset and safeguarding your business from related losses.
Read our guide on Insurance for Electricians: What You Need to learn more about the types of insurance that may benefit your business.

---
Conclusion
Now that you've gotten the 411 on the top 12 electrician tool brands, it's time to assemble your professional toolbox.
Of course, expect a bit of trial as you test different brands and choose your favorites. That's part of the fun of it, though, right?
Thanks for visiting us here at Selfgood.
When you're in the market for personal benefits to help cover you as a professional contractor, freelancer, gig worker, or entrepreneur, please don't hesitate to let us know.
We supply independent tradespeople with various benefits — from medical benefits to finance and legal tools.
We'd love the opportunity to talk to you about your independent worker benefits options. You spend money on your tools and profession, but you should remember that you're the most crucial piece of equipment you have.
Subscribe To SelfGood
Get up to date perks and Gigworker news. Easy. Simply. SelfGood. Subscribe.